HaveUHeard.com includes links to third-party websites and advertisements for third-party products and services. Product and service-specific opinions mentioned within the content of our blogs are entirely the opinions of the HaveUHeard.com team and its staff. It is our hope that you will find value in the products and services these third-party organizations represent, and patronize these businesses. Such advertising and marketing partnerships help make our efforts at HaveUHeard.com possible. Thank you for your support and ongoing interest. For additional information, please read our full HaveUHeard.com Disclosure Statement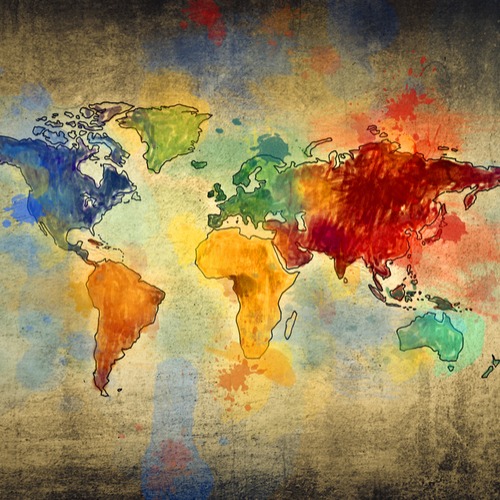 All Aboard the Study Abroad Train!
Two words you'll hear over and over again after orientation, Study Abroad. Study abroad is a wonderful program that gives students the opportunity to travel to their choice of over 20 countries to attend classes while immersing themselves in a different culture. My older daughters chose not to study abroad as they did not want to miss a full semester at their universities. The only regret they had after graduation was not taking advantage of this opportunity. They both have encouraged my youngest daughter, nieces, and nephews to not miss out.
For many majors offered at FAU, study abroad can open the door to many opportunities (international business, for example). We live in uncertain and frightening times so the decision to send your student abroad is very personal. The support FAU students receive from the Center of Global Engagement as it applies to travel warnings and monitoring the global situation was paramount to me allowing her to go. The cost was the second factor as studying abroad is expensive depending on the type and duration of the program.
Applications
To secure your space, students are required to complete the Study Abroad application and pay the deposit or service fee, which ranges from $50 to $250 depending on the type and length of the program. Click here to see the fees. These fees are non-refundable so make sure you have worked out the financial aspect before you pay the deposit. FAU students have the opportunity to choose from 50 different study abroad programs in over 20 countries. Some of the destinations include Australia, China, England, Italy, and Spain, just to name a few.  I would recommend having your students attend one of the information sessions to learn about the different study abroad programs. The Center for Global Engagement can be found on the second floor in General South.
FAU offers 4 different Study Abroad Programs: Faculty-led, Exchange, Direct Enroll and Third-Party program. A Faculty-Led program is a short-term program, ranging in length from 1-6 weeks. Students are abroad, but FAU faculty is there with them. In an Exchange program, FAU students are enrolled at FAU, but take classes abroad at partner universities. Direct Enroll study abroad allows students to directly enroll at one of FAU's partner universities. Finally, a Third-Party Program. This includes but is not limited to study abroad providers, other U.S. college/university study abroad programs, or a foreign institution abroad with whom FAU is not a directly enrolled partner.
My daughter opted for a Faculty-led Study Abroad. As a History Major, many of her own professors participated in the Faculty-led programs. She went to Catania, Italy for 4 weeks to explore ancient Sicily. She was able to tour several ancient cities and an archeological dig where she learned first-hand archaeological techniques, restoration, and documentation.  My daughter took two directed independent study courses and an Ancient Sicily class while abroad, which satisfied the requirements of her major.
Here is what I would recommend:
Make sure your student's passport has a minimum of six months before expiration. You will not be allowed to leave if your passport expires in three months. Passports can be obtained from the Post Office or Courthouse. In the event that you need to expedite a passport or visa renewal, try Fastport Passport. They are registered with the U.S. Department of State.
Register and enroll in the Smart Traveler Enrollment Program (STEP). It is free to U.S. citizens and will give them important safety information from our Embassy and help them to contact you in the event of an emergency.
If they are traveling to a country that is more metropolitan with access to shops and stores, have them purchase their toiletries over there. The exchange rate for the Euro is currently $1.23 but changes daily.
Consider purchasing an unlocked phone that works on international networks. By purchasing in advance, your students can add their contacts and download their apps ahead of time.
Speaking of phones, it is one of the more commonly stolen items in many cities so make sure they are diligent with their phones. That means not putting them in their back pockets or on tables where anyone can walk by and grab them.
While they can pay extra for additional luggage, my daughter limited herself to one large suitcase and a weekend bag. My daughter only studied abroad for 4 weeks, so she was able to just bring essentials and purchase more if she needed it.
When booking your student's travel, keep in mind that the Internet keeps track of all of your searches so you may want to open an incognito window so you can avoid increasing prices (the travel site is then unaware that you already searched for a low price on their website). The best time to book an international flight is typically 2-4 months before your travel date. Another tip is to check one-way tickets each way as sometimes you may actually get a better fare than the round trip price. You can start your search on Expedia.
Try not to call them every day to check-in and do not worry if your student has not spoken to you in a few days. She was in a time zone that is seven hours later so of course, it is challenging to find a time that we are both available. We texted when she was on wifi (which was rare for where she was studying) and she has called me once through Facebook when on wifi. (Many use WhatsApp but you can call through Facebook messenger or Facetime when in a wifi area and the reception is just as good) With everything going on in the world today, I do not feel I am being overly involved asking for a short text.
Consider purchasing student travel insurance for emergencies, which we pray they don't need. HaveUHeard recommends Allianz Travel Insurance.
If they will be traveling around and staying at hotels, HaveUHeard that students can find access to special rates through StudentUniverse?  Click here for more information. Or, they can consider staying at a hostel. Hostels are not all so shabby anymore. Check out HostelWorld to see how nice (and inexpensive) some of them are.
You may want to consider having your student get Global Entry which runs approximately $100 for five years but makes getting through security so much easier. Or, have them download the Mobile Passport app which is free and helps to speed you through U.S. Customs. (officially authorized by U.S. Customs and Border Protection). They will still need their passport but it saves them time.

Students love to travel to different destinations while abroad.

GetYourGuide

gives them guides to unique and unmissable things to do in their destination
Looking for items students heading abroad need or want? Check out our list here.
Pass on these great tips, tell your friends and like us on Facebook, Instagram,  Twitter, and Pinterest. Find out more about how to use HaveUHeard as a great resource here. Sign up for other great tips at haveuheard.com.