HaveUHeard.com includes links to third-party websites and advertisements for third-party products and services. Product and service-specific opinions mentioned within the content of our blogs are entirely the opinions of the HaveUHeard.com team and its staff. It is our hope that you will find value in the products and services these third-party organizations represent, and patronize these businesses. Such advertising and marketing partnerships help make our efforts at HaveUHeard.com possible. Thank you for your support and ongoing interest. For additional information, please read our full HaveUHeard.com Disclosure Statement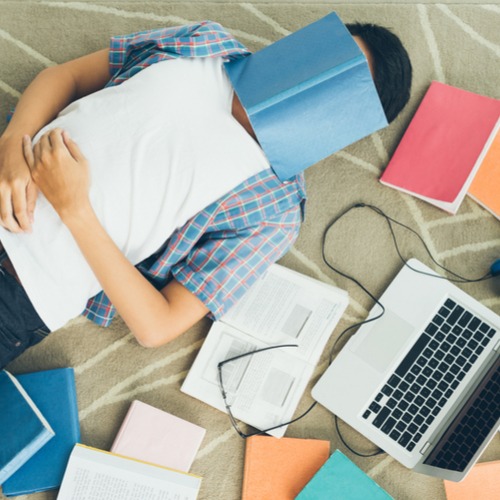 Put a Smile on Their Face
For six summers I worked in the office at the sleep-away camp that my kids went to. Watching the elation on the camper's faces when they opened the care packages that arrived from home was priceless. I didn't want them to miss out on the thrill of knowing they were being thought of or opening a little piece of home, so although I was there, I made some too. When they began college, although I realize they were considered adults, I started sending care packages to college. The contents certainly differed, but the sentiment was the same.
A great parting gift that you can leave in their room or send as a package is this package of Open When College Pack envelopes. We suggest filling them with either a message, picture, or gift cards purchased in advance but we love the messages. When you take your first big test, when you're sick,  when you're tired of dorm food, and more.
I  think I did not want to wait until exam time to show them some extra care, although that is a great time (here is our Exam Care Package Guide to help). They may not admit it, but our students probably miss some of the touches of home life, even if their new-found independence trumps a home-cooked meal. Who doesn't enjoy getting a little something in the mail?
Look at the many options for making your own to going online and having the whole thing packaged and shipped for you (which is nice too). Tetherbox makes it really easy with monthly subscriptions to care packages. Another option is Our Campus Market which has care packages for every occasion. Pinterest has hundreds of creative ideas to make your own. From homemade brownies to teddy bears to my favorite – new underwear or socks, because they probably haven't done much laundry and fresh ones can buy them an extra few days until they have to. Sometimes just a card will do. Etsy has some beautiful care packages from miss-you-boxes with essential oils and a succulent to a homesick gift box to one with fresh baked oatmeal raisin cookies and banana bread to remind them of home.
The FSU bookstore will create and deliver care packages with various themes (get well, birthday, stress-reducing) to your student. Some of what I send mimics what comes in their baskets, but I like the personal touch and knowing that my daughter and her roommates are devouring my homemade brownies (even if Duncan Hines gave me a hand – no judging). There are many college care package companies that you can order from as well or, for you creative types, check out Pinterest. Pinterest is overwhelmingly amazing. Even Amazon sells them. For those that joined sororities, commemorating that occasion with a gift may seem fitting. Dormify has some great sorority must-haves.
Birthday? Sick Student?
When their birthdays roll around it can be just one more reminder that you won't be celebrating together so putting together a care package takes the sting out. Once I filled a box with party hats, blowers, balloons, popcorn, candy, and her birthday gift. The pictures my daughter sent of her and her roommates sitting around with all that silly stuff and big smiles made me happy. If I couldn't celebrate with her at least I knew she was having fun. One of the places we like for unique cupcakes is a company called Wicked Good Cupcakes. They sell birthday boxes as well as thinking-of-you boxes. Their cupcakes come in a jar and are very unique. There are also a few places around town that will deliver cookies like Insomnia Cookies. Who wouldn't appreciate some a cookie cake or cupcakes on his/her birthday?
For those of you that think a little matzoh ball soup can cure anything, the Hillel at FSU will deliver hot soup to your ailing student. (You don't have to be Jewish to order from here.) And if this is the route you want to take there is also GrandmasChickenSoup.com. They actually have complete meals as well as soup and other goodies. I hear that chicken soup can heal anything; perhaps it is good brain food for finals as well. And just because it is too cute to not mention, check out our new favorite; Greetabl. One last note: No matter what sort of package you send be sure to double-check the mailing address. Too many times we have heard of packages arriving, but never getting to the right recipient.
Pass on these great tips, tell your friends and like us on Facebook, Instagram, Twitter, and Pinterest. Find out more about how to use HaveUHeard as a great resource. Sign up for other great tips at haveuheard.com.