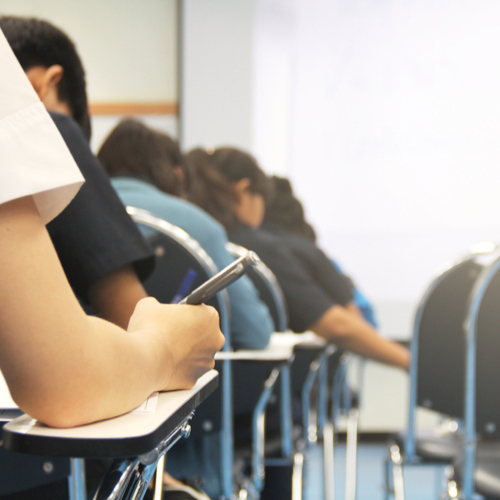 Online Test-Taking For Today's Students
Technology has changed the way students take tests. My daughter was able to extend one of her holiday breaks by scheduling her exam at home. This latest test-taking is known as ProctorU.
ProctorU is a service that lets a student schedule and takes their exams in the comfort of their home (or apartment or dorm). In order to get started, an account has to be made. At the date and time of a student's appointment, all they have to do is click on the begin button and it will automatically connect them to a screen with the proctor. A government photo ID and often a second form of ID is required to be shown at the start of the exam in order to authenticate one's self. They're required to show the proctor their entire room wall by wall. The proctor will then confirm that the monitor and work area is clear of all unauthorized materials, and the test-taker will be asked to move any cell phones or other electronic devices away from the testing area.
They really have every angle covered. But mistakes happen or technology does not always work out so here are some pointers for students using ProctorU:
Make sure to register early and have everything ready beforehand to minimize awkwardness.
When a student is done with the test, the proctor has to be notified and they'll just confirm that it is finished. Then they'll deactivate the screen sharing and leave.
When the service works, it's fine. If an interruption happens during the exam or there is a technical difficulty, it is important to notify the proctor and professor immediately after. My friend had to take her exam in our Airbnb when we were on vacation and the Airbnb host interfered with it by walking through the shot. She was not invalidated nor penalized, but things happen. It is all about communication when things go wrong.
If there are technical problems during the ProctorU session and before the exam begins, the Proctor will run some standard checks on the student's system before sending them to a technician for troubleshooting.
The best way to prevent any problems occurring during the exam is to check out the system before the appointment using their help desk. This will check for basic system compatibility. I suggest testing the same computer that will be used for the exam that day.
Willow Weintraub, HaveUHeard Intern
For more great tips, read through our other blogs, follow us on Facebook and Instagram at haveuheard.com and share with other parents you know.