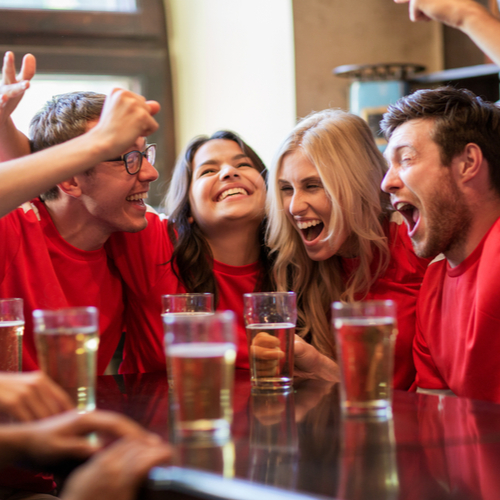 College football … Noles, It's Time
We can't wait for it! Noles football! To start anticipating that our football team will end up nationally ranked and headed to a bowl game. Even after graduation, alumni go to football watch parties where they can hang with other alum. Hanging with other Noles fans is way more fun and it could lead to a job, a rekindled friendship or just a feeling of being back at school.
We've got the places to head to for football game madness. In some cases, bars may have closed or are no longer affiliated with FSU. We highly encourage checking with the bar prior to your arrival. Be sure to dress in your Noles school colors – you can find some great gameday outfits here.
Florida FSU Noles Football Watch Locations
Bradenton
Motorworks Brewing – 1014 9th St. West, Bradenton, FL
Brevard:
Buffalo Wild Wings, 4325 Norfolk Pkwy, West Melbourne, FL
Murdock's Southern Bistro– 600 Brevard Ave., Cocoa, FL
Rusty's Seafood & Oyster Bar – 628 Glen Cheek Dr., Cape Canaveral, FL
Boynton Beach:
Carolina Ale House – 365 N. Congress Ave., Boynton Beach, FL
Clermont/Orlando Area
Buffalo Wild Wings – 2465 S. Highway 27, Clermont, FL
Daytona Beach
Dave & Buster's – 1507 Cornerstone Blvd, Daytona Beach, FL
Delray
Mellow Mushroom, 25 SE 6th Avenue, Delray Beach, FL
Florida Keys
Blue Room – 1128 Simonton St., Key West, FL
Bottlecap – 1128 Simonton St., Key West, FL
Broward/Fort Lauderdale
Slackers Bar – (995 W State Rd 84, Fort Lauderdale, FL)
American Social (721 E. Las Olas Blvd., Fort Lauderdale, FL
Bru's Room – 235 S. Federal Hwy., Pompano Beach, FL
Fort Myers
Sidelines Sports Bar & Grill, 4451 Veronica Shoemaker Blvd., Fort Myers, FL
Jacksonville
Surfer The Bar (200 1st St N, Jacksonville Beach, FL)
Miami
American Social – Brickell- 690 SW 1st Court, Miami, FL
The Tank Brewing Co. – 5100 NW 72nd Ave., Miami, FL
Naples
Pelican Larry's – 1046 Pine Ridge Rd, Naples, FL
Orlando
Harry Buffalo, 129 W Church St, Orlando, FL
Panama City:
Sharky's Beachfront Restaurant, 15201 Front Beach Rd., 32413 Panama City Beach, FL
Pensacola/Gulf Breeze
Seville Quarter – 130 E. Government St., Pensacola, FL
Pompano Beach/Broward North
Bru's Room – 235 S. Federal Hwy., Pompano Beach, FL
Port St. Lucie
St. Lucie Draft House – 6630 S US 1 Hwy., Port St Lucie, FL
Sarasota
Miller's Ale House – 3800 Kenny Dr., Sarasota, FL
St. Petersburg
Bar: The Avenue Eat + Drink, 330 1st Ave S, St. Petersburg, FL
Tampa
The Blind Goat Food & Drink Co.- 4106 Henderson Blvd, Tampa, FL
Top Shelf Sports Lounge -3173 Cypress Ridge Blvd, Wesley Chapel, FL
Soho Backyard – 610 S Armenia Ave, Tampa, FL
Irish 31 Pub House – 1611 W Swann Ave, Tampa, FL
Bar Louie – 2223 N Westshore Blvd #202, Tampa, FL
81Bay Brewing,- 4465 W Gandy Blvd #600, Tampa, FL
American Social Bar & Kitchen, 601 S Harbour Island Blvd #107, Tampa, FL
West Palm Beach
Grease Burger Bar, 213 Clematis Street, West Palm Beach, FL
Out of State Locations for Fans
Alabama
Birmingham
The Ridge Eat & Drink – 3325 Rocky Ridge Plaza, Vestavia Hills, AL
Mobile
Nexus Cinema Dining – 7070 Bruns Drive, Mobile, AL
Alaska
The Peanut Farm Sports Bar & Grill – 5227 Old Seward Hwy, Anchorage, AK
Arizona
Phoenix/Scottsdale
Half Moon- Windy City – 2121 E Highland Ave., Phoenix, AZ
Arkansas
Buffalo Wild Wings, 6938 W Sunset Ave, Springdale, AR
California
Los Angeles
JT Schmid's Restaurant & Brewery – 2610 E. Katella Ave., Anaheim CA
Big Wangs – 1562 N Cahuenga Blvd, Hollywood, Los Angeles, CA
Prince 'O Whales – 335 Culver Blvd, Playa del Rey, CA
Sacramento
Serpentine Fox – 2645 El Camino Ave., Sacramento, CA
Lazy Dog Restaurant & Bar – 238 Gibson Drive, Roseville, CA
San Diego
Tap Room – 1269 Garnet Ave., Pacific Beach, CA
Beach Side Bar & Grill- 806 South Coast Highway 101, Encinitas, CA
Patriot House– 2 Embarcadero Center, Level P, San Francisco, CA
San Francisco
The Napper Tandy – 3200 24th St., San Francisco, CA
Stadium Pub – 1420 Lincoln Ave., Walnut Creek, CA
Colorado
Brothers Bar & Grill – 1920 Market St., Denver, CO
The Bench – 424 S. Nevada Ave.,  Colorado Springs, CO
Lazy Dog Tavern – 4801 Thompson Parkway, Johnstown, CO
Kenosha Breck – 301 S Main St, Breckenridge, CO
District of Columbia
Dudley's Sport and Ale – 2766 S Arlington Mill Dr, Arlington, VA
Georgia
Atlanta
Big Sky Buckhead – Large contemporary eatery & bar featuring Latin- & Asian-inspired comfort eats, plus 2 patios, 3201 Cains Hill Pl NW, Atlanta, GA
Dive Bar Buckhead – 3184 Roswell Rd. NW, Atlanta, GA
Fetch – Spacious off-leash dog park with an open-air bar offering cocktails, beer, wine & shaded seating. Owned by FSU alumna and often hosts watch parties
Grindhouse Killer Burgers – 433 N. McDonough St., Decatur, GA
Hudson Grille – 7955 North Point Pkwy., Alpharetta, GA
Murph's – 1 Galleria Pkwy. SE, Atlanta, GA
Rivals on Five – 1227 Rockbridge Rd., Stone Mountain, GA
The IVY – lively lounge in a grand home. Serves sandwiches, burgers, pizza, plus brunch with bottomless mimosa, 28 flat screens & Buckhead's largest outdoor 300 inch TV, 3717 Roswell Road, Atlanta, GA
Hawaii
Rivals Waikiki – 2211 Kūhiō Ave, Honolulu, HI
Illinois
Chicago
The Country Club – 3462 N. Clark St. 1st and 2nd, Chicago, IL
Indiana
Thr3e Wise Men -625 South High St., Muncie, IN
Kentucky
Molly Malone's St. Matthews – 3900 Shelbyville Rd., St. Matthews, KY
Buffalo Wild Wings – 10206 Westport Road, Louisville, KY
Sal's Pizza & Sports Pub – 812 Lyndon Ln., Lyndon, KY
Brothers Newport – 1 Levee Way #2126, Newport, KY
Louisiana
New Orleans
The Ugly Dog Saloon – 401 Andrew Higgins Dr., New Orleans, LA
Maryland
Baltimore
Pratt Street Ale House, 206 W Pratt St, Baltimore, MD
The Ale House Columbia – 6480 Dobbin Center Way, Columbia, MD
Massachusetts
Boston
Battery Park Bar & Patio – 33 Batterymarch St, Boston, MA
Kings Bowl America – 50 Dalton St, Boston, MA
Minnesota
Minneapolis/St. Paul
The Local – 931 Nicollet Mall, Minneapolis, MN
Mississippi
Mugshots – 417 Riverwind Drive, Pearl, MS
Missouri
St. Louis
Big Daddy's Bar & Grill – Soulard – 1000 Sidney St, St. Louis, MO
Kansas City
Sully's Pub – 5436 Johnson Dr, Mission, KS
Nebraska
The Good Life Sports Bar and Grill – 1203 S. 180th Street,  Omaha, NE
Nevada
Las Vegas
Miller's Ale House – 6683 S Las Vegas Blvd, Las Vegas, NV
New York
New York City
Wicked Willy's – 149 Bleecker St., NY, NY
The Royal-127 4th Avenue, New York, NY
The Three Monkeys – 236 West 54 Street, New York, NY
Saloon NYC -1584 York Avenue, New York, NY
Syracuse
Tully's – Syracuse, NY
North Carolina
Asheville
Hickory Tavern – 30 Town Square Blvd., Asheville, NC
Charlotte
All American Pub – 200 E Bland St., Charlotte, NC
The Local – 105 East 5th Street, Charlotte, NC
Greensboro
Cooper's Ale House – 415 S Swing Rd, Greensboro, NC
Raleigh
Wild Wing Cafe– 7900 Brier Creek Parkway, Raleigh, NC
Winston-Salem
BJ's Restaurant & Brewhouse – 192 Hanes Mall Circle, Salem, NC
Ohio
Cincinnati: Brothers Newport – 1 Levee Way, Newport, Kentucky
Dayton
TJ Chumps – 1100 E Dayton Yellow Springs Rd, Fairborn, OH
Oregon
Portland
Pour Sports – 832 SE Grand, Portland, OR
Pennsylvania
Philadelphia
Tavern on Broad – 200 S. Broad Street, Philadelphia, PA
Rhode Island
Providence G Pub – 61 Orange St, Providence, RI
South Carolina
Charleston
Charleston Sports Pub – 1124 Sam Rittenberg Blvd, Charleston, SC
Columbia
Wild Wing Cafe Columbia Harbison– 1150 Bower Parkway, Columbia, SC
Greenville-Spartanburg
Palmetto Ale House – 103 East Beacon Drive, Greenville, SC
Tennessee
Chattanooga
Beef 'O Brady's– 5958 Snow Hill Rd, Ooltewah, TN
Memphis
Craft Republic – 5101 Sanderlin Ave Suite 100, Memphis, TN
Nashville
Live Oak – 1530 Demonbreun St., Nashville, TN
Green Hills Crows Nest – 2221 Bandywood Dr. Nashville, TN
Smokin' Thighs – 611 Wedgewood Ave, Nashville, TN
Texas
Austin
Green Light Social Club – Austin, TX
Star Bar – 600 West 6th Street, Austin, TX
Hurricane Grill & Wings (Round Rock) – 2701 Parker Road, Round Rock, TX
Dallas – Ft. Worth
Dave & Buster's – 9450 North Central Expressway, Dallas, TX
Pluckers Wing Bar -190 E Stacy Rd, Suite 1800, Allen, TX
Houston
Jack & Ginger's – 2416 Brazos Street #C, Houston, TX
242 Pub & Grill – 6062 FM 2920, Spring, TX
San Antonio
Anchor Bar – 4553 N Loop 1604 W, San Antonio, TX
Brick House Tavern & Tap – 1011 N Loop 1604 E, San Antonio, TX
Utah
Legends– 677 200 W, Salt Lake City, UT
Virginia
Kreggers at Hand – 2614 W Cary St, Richmond, VA
Buffalo Wings– 101 S Independence Blvd, Virginia Beach, VA
The Tailgate Sports Club – 344 Constitution Dr, Virginia Beach, VA
Finn Mccool's Fish House & Tavern – 3388 Princess Anne Rd, Virginia Beach, VA
Wild Wings Cafe– 820 W Main St, Charlottesville, VA
Washington
Seattle
Henry's Tavern South Lake Union – 501 Fairview Ave. N., Seattle, WA
Wisconsin
LJ's Sports Tavern & Grill– 8 N Paterson St, Madison, WI
Of course, you can always stay home and live stream the game. Check it out here.
Perhaps next, you may want to check out our blog on student budgeting. Pass on these great tips, tell your friends and like us on Facebook,  Instagram,  Twitter, and Pinterest. Sign up for other great tips at haveuheard.com. Are you new to HaveUHeard? Here is how to best use the site.