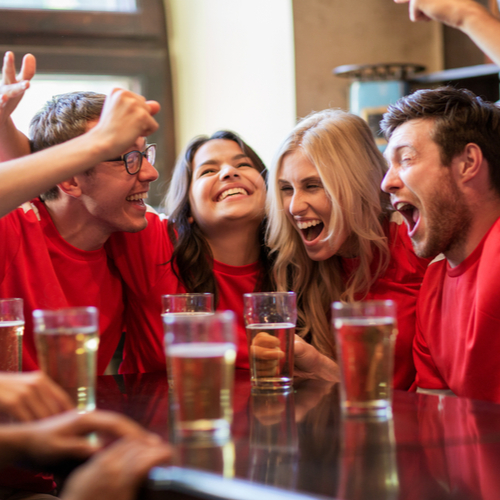 College football … Noles, It's Time
We can't wait for it! Noles football! To start anticipating that our football team will end up nationally ranked and headed to a bowl game. Even after graduation, alumni go to football watch parties where they can hang with other alum. Hanging with other Noles fans is way more fun and it could lead to a job, a rekindled friendship, or just a feeling of being back at school.
We've got the places to head to for football game madness. In some cases, bars may have closed or are no longer affiliated with FSU. We highly encourage checking with the bar prior to your arrival. Be sure to dress in your Noles school colors – you can find some great gameday outfits.
And since going to the actual games is sort of different this year, you might just want to watch them locally in Tally. If so, we think these are some great places to watch:
Brass Tap Beer Bar – 1321 Thomasville Rd, Tallahassee, FL 32303
Proof Brewing – 1320 S Monroe St, Tallahassee, FL 32301
World of Beer – 830 E Lafayette Street, Tallahassee FL, 32301
Florida FSU Noles Football Watch Locations
Bradenton
Brevard
Boynton Beach
Clermont/Orlando
Daytona Beach
Delray
Florida Keys
Broward/Fort Lauderdale
Fort Myers
Jacksonville
Miami
Naples
Orlando
Panama City
Pensacola/Gulf Breeze
Pompano Beach/Broward North
Port St. Lucie
Sarasota
St. Petersburg
Tampa
West Palm Beach
Out of State Locations for Fans
Alabama
Birmingham
Mobile
Nexus Cinema Dining – 7070 Bruns Drive, Mobile, AL
Alaska
Arizona
Phoenix/Scottsdale
Arkansas
California
Los Angeles
Sacramento
San Diego
San Francisco
Colorado
District of Columbia
Georgia
Atlanta
Hawaii
Illinois
Chicago
Indiana
Kentucky
Louisiana
New Orleans
Maryland
Baltimore
Massachusetts
Boston
Minneapolis/St. Paul
Mississippi
Missouri
St. Louis
Kansas City
Nebraska
Nevada
Las Vegas
New York
New York City
Syracuse
North Carolina
Asheville
Charlotte
Greensboro
Raleigh
Winston-Salem
Ohio
Cincinnati
Dayton
Oregon
Portland
Pennsylvania
Philadelphia
Rhode Island
South Carolina
Charleston
Columbia
Greenville-Spartanburg
Tennessee
Chattanooga
Memphis
Nashville
Texas
Austin
Dallas – Ft. Worth
Houston
San Antonio
Utah
Virginia
Washington
Seattle
Wisconsin
Of course, you can always stay home and live stream the game.
Pass on these great tips, tell your friends and like us on Facebook, Instagram, Twitter, and Pinterest. Find out more about how to use HaveUHeard as a great resource. Sign up for other great tips at haveuheard.com.