HaveUHeard.com includes links to third-party websites and advertisements for third-party products and services. Product and service-specific opinions mentioned within the content of our blogs are entirely the opinions of the HaveUHeard.com team and its staff. It is our hope that you will find value in the products and services these third-party organizations represent, and patronize these businesses. Such advertising and marketing partnerships help make our efforts at HaveUHeard.com possible. Thank you for your support and ongoing interest. For additional information, please read our full HaveUHeard.com Disclosure Statement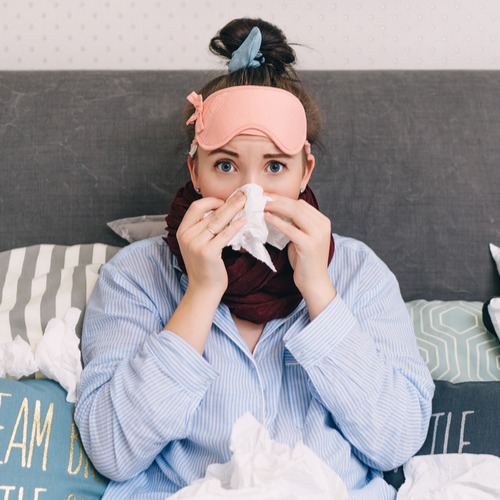 You just want someone to make you a cup of tea.
When our kids are sick, regardless of the fact that they are supposedly considered adults, it feels awful when they are far away; rendering us unable to tend to help. However, you would be amazed at how quickly a care package can get to them and it will surely make you both feel better. (UPS is generally overnight from one Florida destination to another.) Depending on what is ailing them, even the most simple of care packages filled with soft tissues, lozenges, some Kind bars, Emergen-C, a few fun teas, Sudafed, Clorox wipes, cozy socks and maybe some homemade brownies can feel so good.
For those of you that think a little matzoh ball soup can cure anything, the Hillel at UCF will deliver hot soup to your ailing student through the Jewish Penicillin Hotline. (You don't have to be Jewish to order from here.) And if this is the route you want to take, there is also GrandmasChickenSoup.com. They actually have complete meals as well as soup and other goodies.  I hear that chicken soup can heal anything. If they are really too weak to shop for themselves there are a number of delivery companies that will bring them what they need too.
Check out our blog on delivery companies here.
Or you can just type in care packages for sick college student into your Amazon page and find a bunch of choices. If you have Prime, it should be there quickly. There are a few other companies that have pre-made "Get Well" baskets and packages as well. Etsy has some great get well soon care packages with lip balms, candles and herbal rubs, teas and more).
A fresh pair of sweatpants or pajamas can feel pretty nice if they are spending a fair amount of time in bed. Many companies, like Macy's or Nordstrom, will rush order for a fee. Gap makes these pajamas called print joggers made from a soft, lightweight modal jersey knit. My daughters love them because they are super soft, comfortable and when they are not feeling well, that is usually what I find them wearing- they "borrowed" mine and well, let's just say, I never saw them again. Make sure you search using the print joggers in modal.
Locally there are Insomnia Cookies, which should also do the trick.
No matter what sort of package you are sending be sure to double-check the mailing address. Too many times we have heard of packages arriving, but never getting to the right recipient.
Nothing cheers any college student up more than a handwritten letter from home so no matter what you send, add one of those in there too. I usually like to send it with a print out of our dog, because that always brings a smile to all our faces.
Care packages when they are sick can make you both feel better. I've been known to send some things from Mouth that has a sick care package filled with tea, honey sticks, crackers, and a wellness care package filled with tea and snow honey, fruit jerky, relaxing digestive bitters, healing turmeric elixir, an antioxidant-rich dark chocolate bar, healthy granola, and a hand-made candle. You may want to take a look at our Sick At School blog in case they need to be seen by a doctor or will be missing class and need to notify their professor. Hope they get well quickly.
Here are a few ideas for sick-day care packages:
Sick Day Box: This box can be delivered to you and has everything you need to get through a sick day
This website, Spoon Full of Comfort, lets you choose which soup you want and how you want it. It also lets you choose cookies as well!
Grandma's Chicken Soup has packages with different soups, bread (challah), teddy bears, and more.
Ace Cafe Orlando is a very interesting place! It is a bit out of the way, but if a student is recovering from a cold and wants something warm then this place has delicious chicken soup.
And just because we recently came across this one and think it is great, check out Greetabl.
Should you need your student's official dorm address check here.
All the apartment complexes have their own front office where packages are delivered. You are usually sent an email when a package has arrived for you and you have to go to the front office and show them a picture ID to get the package. Occasionally packages like flowers and Edible Arrangements go straight to the door. For food prep packages, like Hello Fresh or any of those companies, they still go to the office. Very rarely are Amazon packages delivered straight to their doors; they go to the office.
Pass on these great tips, tell your friends and like us on Facebook, Instagram, Twitter, and Pinterest. Find out more about how to use HaveUHeard as a great resource. Sign up for other great tips at haveuheard.com.