HaveUHeard.com includes links to third-party websites and advertisements for third-party products and services. Product and service-specific opinions mentioned within the content of our blogs are entirely the opinions of the HaveUHeard.com team and its staff. It is our hope that you will find value in the products and services these third-party organizations represent, and patronize these businesses. Such advertising and marketing partnerships help make our efforts at HaveUHeard.com possible. Thank you for your support and ongoing interest. For additional information, please read our full HaveUHeard.com Disclosure Statement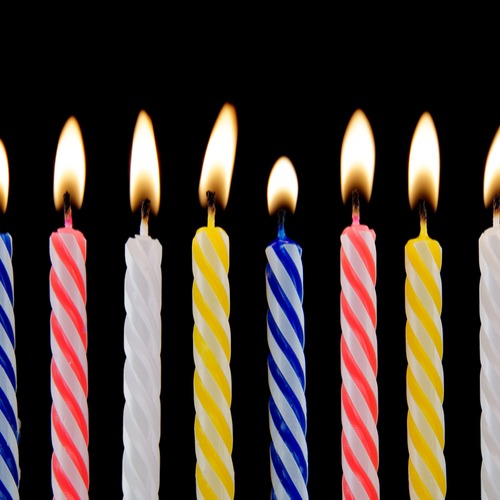 Blow out those birthday candles!
When their birthday rolls around, it can be just one more reminder that you won't be celebrating together so putting together a care package takes the sting out. Once I filled a box with party hats, blowers, balloons, popcorn, candy, and her gift. The pictures my daughter sent of her and her roommates sitting around with all that silly stuff and big smiles made me happy. If I couldn't celebrate with her, at least I knew she was having fun.
Want to send a very cool Pop Up Card to mark the occasion? We love these.
Some of the local places like Insomnia Cookies and Sweets by Holly will deliver the most amazing cupcakes (12 cupcakes for $20, plus a delivery fee). Who wouldn't appreciate a customized cookie cake or cupcakes on their birthday? You can also have a cake delivered from Publix through Instacart and Shipt. Also, read our blog on delivery companies here to see what else you can have sent.
I recently tried the birthday cake and cupcakes from Bake Me A Wish. It comes delivered in dry ice and then a birthday box with a card. From the presentation to the cake itself, it was seamless and delicious.
Just as popular is the Happy Birthday Gift Box from Baked by Melissa which ships from New York (you can grab this on Amazon and get free shipping) or Wicked Good Cupcakes Birthday Box. Just make sure you get enough for their roommates. One of my personal favorites was when a mom had a bunch of donuts delivered right to her son's frat house in honor of his birthday.
Who doesn't like birthday cake?
Orlando Cakes: available for pick up or delivery (based on how far)
Yumm Cake has everything from birthday cakes to chocolate-covered strawberries
Bake Me a Wish is pretty reasonable and has a great variety of cakes to choose from
Gluten-free and Vegan
For those that are looking for gluten-free or vegan options, we recommend the following:
Baked by Melissa – GF, V
Bake Me A Wish – GF
Wicked Good Cupcakes – GF
Sweet! by Holly – GF, V
If balloons are their thing, here are a few places that deliver in the area:
Who doesn't like receiving flowers? Some can even be combined with balloons. Check out:
A few more fun ideas:
CookiesByDesign also delivers in the Orlando area, but note that they are closed on Saturday and Sunday.
Edible Arrangements – Delicious and they can send balloons too.
Cold Stone has amazing desserts that can be delivered through door-dash, uber eats, and more!
Postmates now have a deal called Postmates Party where you can get items delivered without a huge fee. Postmates gives you a list of places that others in your area are ordering from and kind of acts like a rideshare app to save you money. When you order, you can select "join the party" to share your delivery with others in the same neighborhood.
Krispy Kreme delivers with the Grub Hub app.
For students who are 21+ then parents can deliver drinks through Drizly. Parents can order any type of alcohol, mixer, and even energy drinks
Perhaps a gift card to some of their favorite places to shop if they do not have a wishlist. Consider having it sent to their roommate who can be sure to hand deliver to them for you at just the right moment (be sure to prearrange this with the roommate first).
Don't worry; sending a care package for their birthday does not preclude you from fulfilling any family birthday traditions when they get home. Our personal favorite is the family march where the birthday person sits and we all march up to them singing as we deliver our gifts.
For their 21st birthday, there are some great gift ideas here.
And just because we recently came across this one and think it is great, check out Greetabl.
One last note: No matter what sort of package you send be sure to double-check the mailing address. Too many times we have heard of packages arriving, but never getting to the right recipient.
Should you need your student's official dorm address check here.  For students in dorms, if they put their dorm office on the address to send the package, the dorms all have a mail center and the package will go directly to their mail center. Someone at the office signs for UPS and the postal services and the student is notified when they have a package. They are allowed to receive food/flowers and the student will be contacted via the office. It is not the office's responsibility though and it is up to the student to pick it up.
There is an Amazon store located on campus near Towers so it's also an option to send Amazon packages to this location. You can also return items to Amazon here.
Pass on these great tips, tell your friends and like us on Facebook, Instagram,  Twitter, and Pinterest. Sign up for other great tips at haveuheard.com. Are you new to HaveUHeard? Here is how to best use the site.