HaveUHeard.com includes links to third-party websites and advertisements for third-party products and services. Product and service-specific opinions mentioned within the content of our blogs are entirely the opinions of the HaveUHeard.com team and its staff. It is our hope that you will find value in the products and services these third-party organizations represent, and patronize these businesses. Such advertising and marketing partnerships help make our efforts at HaveUHeard.com possible. Thank you for your support and ongoing interest. For additional information, please read our full HaveUHeard.com Disclosure Statement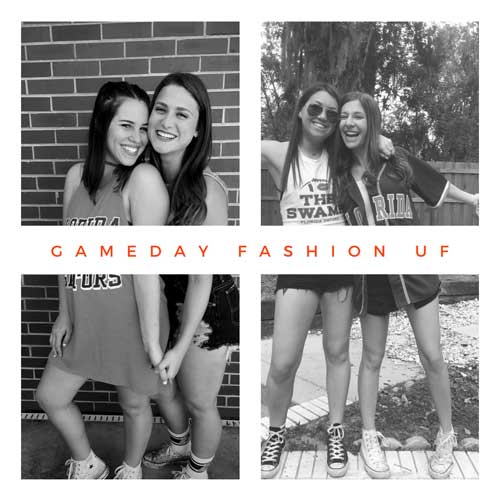 Try these great gameday outfits!
Picture this- It is a beautiful Saturday, your roommates and you are getting ready for pregaming, there is not a cloud in the sky and the Gators kickoff at 7:30 pm. Tailgate season is upon us and I'm here to bring you up to date with the latest fashion attire.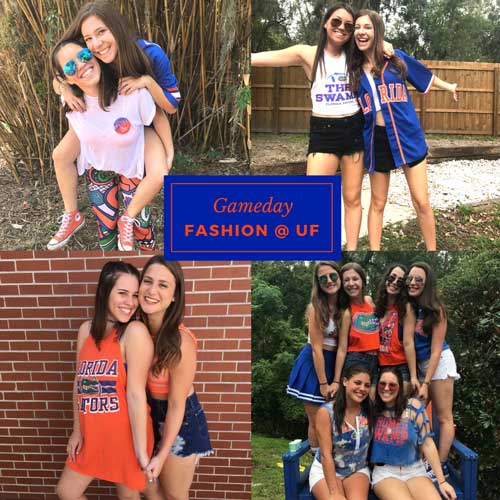 Although it looks like you're in a Bring It On sequel, Cheerleading skirts are one of the popular bottoms that girls pair with a customized college tube top. Did I mention that they're affordable too? I have also purchased a UF bralette top on Etsy from a store called Cougar Cutz.  Hype and Vice offers all the necessities you need (in every style and color there is). If you're not feeling a skirt and want to go more with an edgy look—you can rock a pair of leggings here or at redbubble.com, distressed overalls or plain jean shorts. Another popular website for customized trendy Gameday Gear is GameBaes.
Girls also like to wear a bralette with their outfits. They can also grab a UF sporty bralette and other Game Day attire at lojobands.com. When it comes to tops, the options are endless. Any bottom goes with a crop top, halter top, bandeau, or DIY shirt. Personally, I have never been skilled in cutting or distressing t-shirts so I have either bought them from Etsy or have had my roommate style it for me. You can also check out Cuts by C&R. There are also YouTube tutorials and resources online if you are into doing it yourself. Many of the girls will wear college chokers. Etsy has some fun customized ones including this one.
Locally, the girls will get their UF outfit from the local stores including Copper Closet in Oaks Mall that has fancier clothes. You may also want to grab a pair of UF kicks in either high tops or low tops, Converse or Adidas to complete your Gameday outfit. If sneakers are not your style, pick out some trendy sandals. Another popular clothing line is Life is Good which has a collegiate collection. Here, both the girls and guys can grab some cool tees (long and short sleeve tees).
HaveUHeard that American Eagle now has a collegiate collection so you can grab their plush tees, hoodies and more for both men and women for 25% off (just sign up for their emails).
For the guys, they mostly wear polos or dry fit collared shirts. These can come from Vineyard Vines, Johnnie-O; even Macy's has logo'd button-down shirts. For t-shirts, sweatshirts, sweatpants – really just about anything that screams their college logo, check Fansedge, Fanatics, and Life Is Good. Lately, some guys can be seen wearing a thing called "Jorts" (cut off jeans made into shorts). A lot of guys wear them for what I hope is a joke.
Both guys and girls can also be seen wearing orange and blue striped overalls.
And don't forget about your cell phone. Get a with a customized UF Gator skin from Skinit. Use code huh25 and you will get 25% off your order (excludes gift cards, e-cards and shipping)
It's also a good idea to buy a few shirts with your friends and split them so you can all share because most people only wear certain things at one time. Confidence is key. If you like what you put on and are looking good, it changes how you carry yourself and also the way you interact with others.
Sure, I gave you a lot of trendy and cute suggestions for every tailgate and college game day of the season, but it is important to pick something that you're comfortable in. Remember we may lose a game, but you have never lost a tailgate. Finally, don't forget your Gator face tattoo or eyeblack.
Have U Heard that the collegiate stadiums have a Clear Bag Policy for football games? Carry all your must-have items with you on Florida Gators game days in this one-of-a-kind Clear Game Day crossbody purse is the perfect choice to carry all of your essentials in a way that also highlights your intense fervor. Use HUH15 and then you will receive 15% off
Go Gators!
-Rebecca Strauss, HaveUHeard Intern