HaveUHeard.com includes links to third-party websites and advertisements for third-party products and services. Product and service-specific opinions mentioned within the content of our blogs are entirely the opinions of the HaveUHeard.com team and its staff. It is our hope that you will find value in the products and services these third-party organizations represent, and patronize these businesses. Such advertising and marketing partnerships help make our efforts at HaveUHeard.com possible. Thank you for your support and ongoing interest. For additional information, please read our full HaveUHeard.com Disclosure Statement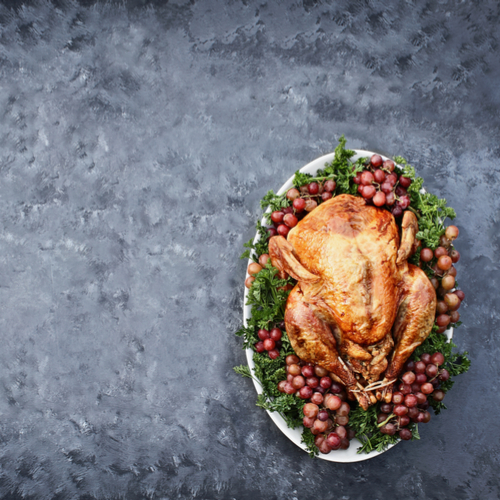 Make it a Friendsgiving
Although UF is officially closed from November 27th – December 1st, 2019, not all students will be going home for the holiday. Flights can be incredibly expensive around this time. Some students may have to work and others may go home with a local friend for a little turkey dinner. Perhaps you've decided to switch things around a bit instead, and this year go to Gainesville for Thanksgiving. Whichever way it works out, there is plenty to do if you are going to be at UF for Thanksgiving this year.
Let Someone Else Do the Thanksgiving Cooking!
Restaurants
Many restaurants put together a great traditional meal for Thanksgiving. Some are less traditional but sound delicious. Check out some of these:
Best Western Gateway Grand – Reservation Only. 4200 NW 97th Blvd, Gainesville, FL 32606 (352) 331-3336
Francesca's Trattoria – 4410 NW 25th Place, is serving a traditional Thanksgiving dinner buffet from 11 a.m. to 5 p.m., for $39.95. Reservations are suggested by calling (352) 378-7152.
The Great Outdoors Restaurant – Reservations Only. 65 N Main St, High Springs, FL 32643 (386) 454-1288. Thanksgiving Buffet from 11am-4pm, $28.99 per person
Haile Village Bistro – Reservations Only. 5323 SW 91st Ter, Gainesville, FL 32608 (352) 378-0721
Boston Market, 6483 Newberry Road, 11 a.m. to 7 p.m., sliced roasted turkey breast or chicken, two sides, cornbread, apple or pumpkin pie, $10.99.
The Clock Restaurant, 2010 N. Main St. The 24/7/365 American diner is serving a traditional dinner with sliced turkey breast for $12.99.
Cracker Barrel, 4001 SW 43rd St., open from 6 am – 10 pm, select Thanksgiving-style entrees available after 11 am, with adult and children's pricing. Reservations recommended.
IHOP Restaurant, 3613 SW 13th St., has turkey and ham dinners on their menu.
Leonardo's 706 – 706 W University Ave, Gainesville, FL 32601 (352) 378-2001
Metro Diner  2130 SW 34th St, Gainesville, FL 32608 (352) 353-2889 Open until 3:30pm
Mildred's Big City Foods, 3445 W.University Ave., is serving a three-course meal with entree choices of turkey, steak, lamb or seafood, the exact selection depending upon what is available fresh to their kitchen the week of Thanksgiving. Expect prices to range from $32-$38. Call (352) 371-1711 to see if reservations are still available.
Shula's Steakhouse– located in the Hilton University of Florida Conference Center, 1714 SW 34th Street. Seatings  are from 11 am- 5:30 pm. They will be serving a prix fixe menu for $45.95, with their regular children's menu available for those 11 and under. Choose a starter of salad or butternut squash soup, with entree selections of turkey, seasoned pork chops, a selection of steaks (some with a surcharge) or a vegetarian option, and family-style sides of mashed potatoes, sage stuffing, and green bean casserole.  Pumpkin pie cheesecake and caramel apple blossom will be served for dessert. Make reservations as they will be booked up. (352) 384-3460
Mi Apa Latin Café– 114 SW 34th St, Gainesville, FL 32607 (352) 376-7020 Open 7 am-3 pm
Mother's Pub – 1017 W University Ave, Gainesville, FL 32601  (352) 378-8135 Special Thanksgiving Menu
For Students Who Are Staying
Maybe your student will plan a Friendsgiving with some of their friends who decided to stay at UF. Cooking a turkey meal is ambitious so don't be surprised if they call home to have mom help them out (or they can call 1-800-Butterball). Have each person make a dish or order your turkey and sides from The Fresh Market, Lucky's Market or Publix and decorate the table (Pinterest has some great suggestions for decorating on a budget). They can grab some great disposable tableware at Party City, making clean up a breeze!
There is always Football…
An unrivaled Thanksgiving tradition is the annual UF- FSU game. It doesn't seem to matter about records when it comes to this rivalry; it's all about bragging rights. This year the game is in Gainesville so you may want to head up for the game. You can try to get tickets on StubHub or watch it locally at almost anywhere in midtown. Read our blog on Where to Watch the Gators.
Other Events
If you are staying in Gainesville, check out these holiday events:
AEC (Agricultural Education and Communication UF) Friendsgiving– Friday, November 22nd, 2 pm – 5 pm. Lake Wauburg. 133 Regatta Drive, Micanopy. There will be dinner, games, and an opportunity to talk and network with others.
TurkeyTrot 5k & 10K – Thursday, November 28, 2019, benefiting Tacachale and the Agency for Persons with Disabilities. The 10K is a friendly, off-road course through the turkey-filled forest surrounding Tacachale as well as the running trail encircling the perimeter of campus. The 5K course will stay on paved surfaces throughout the campus. These are both beautiful trails and safely free from traffic. Registration is open online and in-store until race day. They will also have on-site registration! $25 for 5K, $30 for 10K – prices go up after Nov. 18th
Gator Campus Ministry – Wesley Foundation – Friendsgiving, Monday, November 18th, 7:30 pm – 9:30 p.m. Celebrate the Thanksgiving holiday. Bring a food item for the potluck! Emerge is Gator Wesley's freshmen social group. The Gator Wesley Foundation is the United Methodist campus ministry for UF and Santa Fe.
Giving Back…
Perhaps you prefer to spend your Thanksgiving giving back to the community. There are many organizations, churches and synagogues, and homeless shelters that would be happy to have your help. If you are affiliated with a religious organization in Gainesville, you may want to start by asking if they have any plans; if not, perhaps you would like to read our blog about local places of worship. It is a wonderful feeling, being able to feed those who have nowhere else to go.
St. Francis House – 413 S. Main Street, Gainesville (352) 505-3311. One of the longest-running homeless shelters and soup kitchens in the country. Volunteers are needed 24/7 to help cook, serve and clean up the holiday meals.
Bread of the Mighty Food Bank – Provides holiday food boxes to needy families in the community. Takes donations for traditional holiday meal items including stuffing, rice, corn, cranberry sauce, and vegetables. Needs volunteers to help keep food organized in the stockroom. Donations can be dropped off from 8 a.m. to 4 p.m. Monday through Friday at 325 NW 10th Ave.
Trinity United Methodist Church – Runs a Thanksgiving Basket Drive where they donate about 2000 Thanksgiving baskets to people in the community. Accepts food items, cash donations, Publix gift cards (increments of $10 and $15). These are distributed Nov. 21-23, with volunteers needed Nov. 18-21.
The Salvation Army in Gainesville – Volunteers are needed to serve on Thanksgiving Day for various shifts between 3 pm and 5 pm.
North Gainesville Baptist Church – Church Service & Thanksgiving Meal, Tuesday, November 26th, 7 pm – 9 pm. 6203 NW 39th Avenue
Housing is Open…
School is officially closed, but the housing communities will not be closing for Thanksgiving. If your student will be staying on campus and has a meal plan, dining centers are closed for the Thanksgiving holiday.
Pass on these great tips, tell your friends and like us on Facebook,  Instagram,  Twitter, and Pinterest. Sign up for other great tips at haveuheard.com. New to HUH, here is how to use the site.