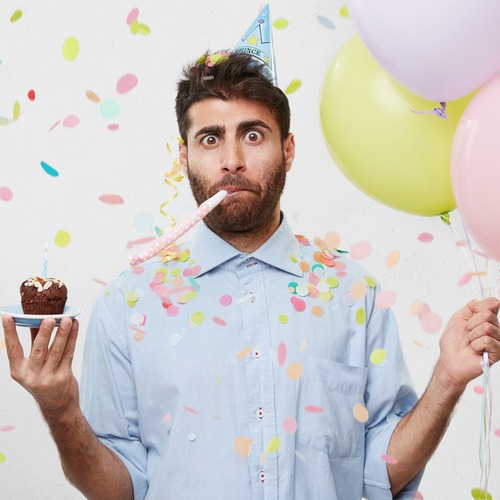 Blow Out The Candles!
When their birthday rolls around, it can be just one more reminder that you won't be celebrating together so putting together a care package takes the sting out. Our family tradition involved putting streamers across their bedroom door so they have to tear through them in the morning to get out.  Since I knew my daughter would not be home on her birthday, I placed balloon and cake orders and had their roommates or sorority sisters set it all up. They loved that I brought our tradition to them and that they were able to make their friends a part of our traditions. If I couldn't celebrate with her, at least she knew I was thinking of her.
Keep in mind there are no perishable items are allowed to be sent to the front desk of any University of Miami dorm. That includes food and flowers. If you wish to have a perishable item delivered to your student must be sent either US mail, UPS or FedEx in a box or have someone available to meet the delivery in person. The front desk will not sign for any perishable item under any circumstance.
Buttercream Cupcakes- Imaginative cupcakes, specialty coffees & teas presented in bright, compact quarters. Phone: (305) 669-8181, Address: 1411 Sunset Dr, Coral Gables, FL 33143
Todo Dulces- Small bakery specializing in custom & ready-made cakes & cookies. Phone: (305) 667-6150, Address: 6360 Bird Rd, Miami, FL 33155
Cloud 9 Bakery- Phone: (786) 250-4672, Address: 12723 S Dixie Hwy, Pinecrest, FL 33156
Edda's Cake Design- Celebrated bakery whips up a wide range of gourmet creative cakes & desserts in a spartan interior. Phone: (305) 666-6999, Address: 4315 SW 72nd Ave, Miami, FL 33155
You can also have a cake, flowers, and balloons delivered by Publix through Instacart. Read also our blog on delivery companies here to see what else you can have sent. Another great birthday suggestion is the Wicked Good Cupcakes Birthday Box. I sent these to my daughter last year and she loved them. Just make sure you get enough for their roommates.
Perhaps flowers are something they would prefer. Or even better, combining balloons with flowers. Many florists- like most of these- deliver balloons as well.
Coral Gables Florist – 1825 Ponce De Leon Blvd (305) 663-0272
The Blonde Tulip – 3390 Mary St. (305) 444-9899
Trias Flowers & Gifts- 6520 SW 40th St. (305) 749-0316
Isa Entreflores – 4100 Salzedo St. (305) 640-8657
Mega Flowers Miami – 3250 Grand Ave (305) 476-9556
Of course, there are all the regulars, like Best Buy, Bloomingdales, Target and so on, that you can order a gift to for your student on their big day. Perhaps a gift card to some of their favorite places to shop if they do not have a wish list. Consider having it sent to their roommate who can be sure to hand deliver to them for you at just the right moment (be sure to prearrange this with the roommate first).
I don't think I will ever get used to not celebrating their birthday with my daughter; we've spent their entire childhood throwing parties and making a big deal of their day. But now it is a different type of acknowledgment. Don't worry; sending a care package for their birthday does not preclude you from fulfilling any family birthday traditions when they get home.
For more great tips, read through our other blogs, follow us on Facebook and Instagram at haveuheard.com and share with other parents you know.