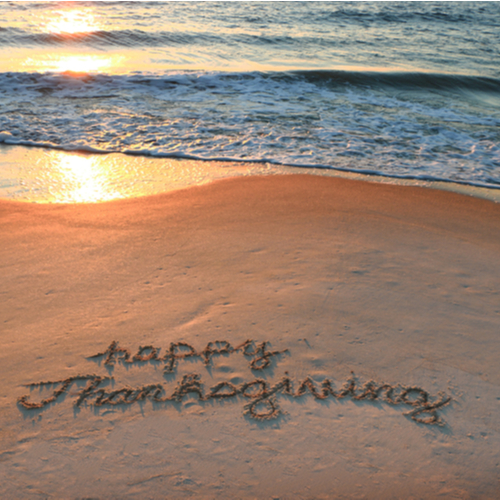 Make it a Friendsgiving
Although UNF's classes are canceled from November 25th – December 1st, 2019, the dorms will be open and not all students will be going home for the holiday. If your child is staying on campus there will be limited on-campus dining locations. Flights can be incredibly expensive around this time. Some students may have to work and others may go home with a local friend for a little turkey dinner. Perhaps you've decided to switch things around a bit instead, and this year go to Jacksonville for Thanksgiving. Whichever way it works out, there is plenty to do if you are going to be at UNF for Thanksgiving this year.
Let Someone Else Do the Cooking
Many restaurants put together a great traditional meal for Thanksgiving. Some are less traditional but sound delicious. Check out some of these recommendations for families or if your Osprey is staying in Jax for the week:
Arden's Kafe – A different option for students as Arden's Kafe will be serving a traditional Thanksgiving buffet from 10:00 am-5:00 pm.  No reservation is needed. (904)559-5660.
Azurea at One Ocean – They will have a custom a la carte menu for Thanksgiving dinner from 11 am – 8 pm
Buddha's Thai Bistro Jacksonville Beach – Something a little different will be serving at Buddha's.  Serving a vegan Thanksgiving brunch from 11:0 am-2:00 pm. Reservations are requested (904)-372-9149
Fogo de Chao Brazilian Steakhouse – Enjoy a Thanksgiving feast with fire-roasted meats and traditional Thanksgiving menu items. Dinner price all-day
Maggiano's – Standard Menu with some specials.  Reservations recommended. Close to campus (904)380-4360.
Moxie's – Thanksgiving meal mixed in with their standard menu.  Reservations are recommended (904)998-9744
North Beach Bistro – Their Thanksgiving meal will include their live grill station, carved turkey, homemade stuffing and trimmings. $36.95 adults, $14.95 children under 12
Roy's Jacksonville Beach – Roy's will be serving a three-course Thanksgiving dinner including pan-roasted teriyaki glazed turkey served with Portuguese sausage stuffing. Roy's classics will also be available. Dinner served from 12 pm to 9 pm
Seasons 52 – Serving Thanksgiving Plate along with their regular menu.  Price not yet determined. Reservations are highly recommended. (904) 645-5252.  In Town Center.
The Blue Fish Restaurant – This is the 12th year they will have their Thanksgiving Day buffet with turkey, ham, shrimp & grits and more and over 25 sides. $31.95 adults, $12.95 children 12 and under. Seating times of 11 am 1 pm, 3 pm, and 5 pm.
The Capital Grille – Dinner menu will be served all day.  No lunch menu. Reservations are highly recommended.  (904) 997-9232. In Town Center.
For Students Who Are Staying
Maybe your student will plan a Friendsgiving with some of their friends who decided to stay at UNF. Cooking a turkey meal is ambitious, so don't be surprised if they call home to have mom help them out (or they can call 1-800-Butterball). Have each person make a dish or order your turkey and sides from Trader Joe's or WalMart or Publix and decorate the table (Pinterest has some great suggestions for decorating on a budget). They can grab some great disposable tableware at Party City, making clean up a breeze!
Other things to do in Jacksonville:
Thanksgiving Day 5k and Half Marathon – What a better way to burn calories pre Thanksgiving Dinner!
Jacksonville Light Boat Parade – Saturday, November 30th, downtown 6:30-9:30 pm.
San Marco Fine Art Festival – Saturday, November 30th and Sunday, December 1st.  San Marco square.
Giving Back…
Perhaps you prefer to spend your Thanksgiving giving back to the community. There are many organizations, churches and synagogues, and homeless shelters that would be happy to have your help. If you are affiliated with a religious organization in Jacksonville, you may want to start by asking if they have any plans; if not, perhaps you would like to read our blog about local places of worship. It is a wonderful feeling being able to feed those who have nowhere else to go.
Here is a list of local food banks.  Hours may vary during holiday time.
Mandarin Food Bank – At Thanksgiving, the food bank provides a box of food for a complete holiday meal for about 400 families.  Contact the food bank for hours (904)292-1675
Feeding Northeast Florida – Wonderful projects during the holiday season.  (904)513-1333
Daily Manna Serving Center – (904)423-6361
Pass on these great tips, tell your friends and like us on Facebook, Instagram,  Twitter, and Pinterest. Sign up for other great tips at haveuheard.com. New to HUH, here is how to use the site.