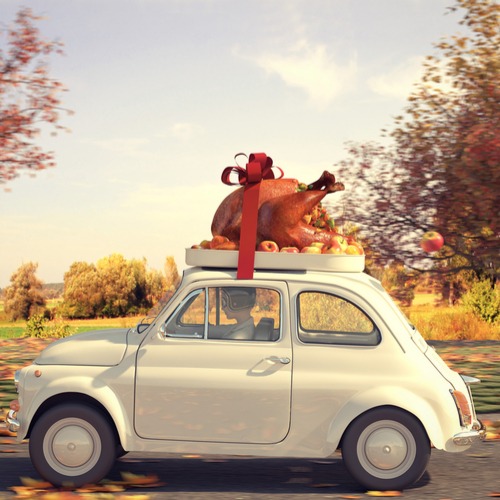 They're Back… Home for Thanksgiving
Thanksgiving break is the first long official break when students come home after move-in.  That being said, there are years, like last year, when hurricanes change that schedule, and you may see your student earlier than expected.  Those lovely summer storms create new breaks when classes get canceled, your kid comes home or at least stays with a friend. If the weather is easy in Florida, then Thanksgiving will be your time to reunite with your Bull.  As parents, it's an exciting time. We've been living on texts, phone calls, and hopefully some face time sessions, and now we get the chance to see how they have grown when they come home for the first time. As excited as you may be, I am warning you to be prepared.  Your child has become an independent person with their own ways of doing things, living, and taking care of themselves. Let's face it. They have been eating at all hours, running around with friends at all times, and probably creating piles of things in their rooms as their new way of "organization." So, as a parent who did the same thing back in the day, I gave my daughter a little slack.  A quick conversation reminding her of basic things expected at home was made: a reasonable curfew, cleaning up after herself around the house, helping with basic chores, and making time to spend with family. (By the way, I let her just shut her door and clean it all up before she went back to school; pick your battles). They will want to see their friends too, so come up with plans to entertain both.
As far as food is concerned, remember that they have been living on meal plan choices, fast food, or the obligatory ramen noodles.  They will be yearning for their favorite home meals. Ask them beforehand if they would like anything special. It's a big food weekend, so even special cookies or breakfast is fun. And then there is laundry… My daughter drove home, so there was a ton.  They have had to haul their baskets/bags down a hallway, so the home laundry room seems like a luxury to them.  Plus, it's free at home. I decided to help her out with that to allow for more time for other things. On other visits, she does it herself.  To each his own.
Our Thanksgiving traditions have remained our traditions.  The Macy's Thanksgiving Parade is a must-watch, cooking/prepping all day, some shopping, and of course football.  Any USF student's tradition includes the football game on Friday. It is always against our biggest rival, UCF and it rotates being home/away each year.  If you live in Florida, many families will travel to either city, Tampa or Orlando, to attend the game. It is one of the best games of the year for USF.
Finally, as much as you want to savor every last minute of this short break, send them back with some wiggle room for arrival.  Airports will be hectic, and roads will be packed with traffic. It will save you some unneeded stress worrying about delays, and traffic accidents.
Should your student be unable to come home or you decide to switch things up this year and head up to Tampa to spend it with your student, read our blog on Staying at USF for Thanksgiving. It's stuffed with places to eat, events to see and ways to help others less fortunate. Remember USF is playing UCF in Orlando on Friday, November 29, 2019. Heading to the game is guaranteed fun.
Pass on these great tips, tell your friends and like us on Facebook,  Instagram,  Twitter, and Pinterest. Sign up for other great tips at haveuheard.com. New to HUH, here is how to use the site.