HaveUHeard.com includes links to third-party websites and advertisements for third-party products and services. Product and service-specific opinions mentioned within the content of our blogs are entirely the opinions of the HaveUHeard.com team and its staff. It is our hope that you will find value in the products and services these third-party organizations represent, and patronize these businesses. Such advertising and marketing partnerships help make our efforts at HaveUHeard.com possible. Thank you for your support and ongoing interest. For additional information, please read our full HaveUHeard.com Disclosure Statement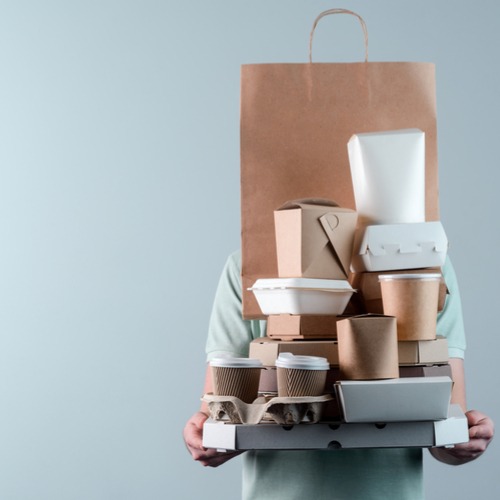 A College Student's Guide
to Meal Services
I remember when I was younger, my mom made spaghetti and sauce from scratch for a childhood friend. She tasted it and pushed the food aside. My mom could see she was not enjoying it and asked her if everything was okay. She stated she had not tasted sauce like my moms and was used to her mom's recipe. My mom asked her about the recipe; it was straight ketchup. I use this story to illustrate that everyone has different tastes. With that in mind, we turned to college students to sample various meal kits as an alternative to signing up for a meal plan or cooking on their own. Votes are in. Read on, for thoughts, comments, and opinion.
Overall Review
While Plated and Blue Apron tasted the best, I don't think most college students have 40 plus minutes to cook a meal with our busy schedules. Spoon University is geared toward college students with many items being microwavable plus the fresh fruit and snacks. And they are certainly comparable to the meals I get in my sorority house. I personally would add some additional spices to them.

Hellofresh was my favorite in terms of the time it takes to prepare and the quality. Before signing up, I would definitely look on Groupon, RetailMeNot, and Facebook for coupons making it even more reasonably priced.
A College Student's Review
I am not sure what is worse; realizing that all you have in your pantry is ramen and goldfish or dishing out the bucks for delivery every night. Meal delivery services are a great way to keep your kitchen stocked without taking one trip to the grocery store. Not to mention, there are so many options for vegetarians, meat-lovers or students who just want to eat healthily. Well, here it is folks, your go-to guide to meal kits from a college student's (hungry) perspective. 
Green Chef: This was a great meal kit for the price! It was a little tedious, but the meals were yummy. The portions were large and I was able to split the meals between 2 people and still have room for lunch. Green Chef is a great vegetarian option with a lot of variety! The miso tofu bowl was delicious, as was the Mediterranean couscous and vegetable pasta. The meals were great for the amateur to average chefs. They definitely beat the dining hall vegetarian options! Check Groupon for discounts.
Hungry Root: Very ideal for college students! You only need minimal kitchen tools and extra ingredients (oil, etc) and can make a variety of yummy recipes. The sauces are premade which is great for new chefs and efficiency. These were by far the quickest meals to make. However, they were also the simplest, often consisting of only a few ingredients. If you're looking for super quick, healthy and easy meals this is a great choice! They have a ton of vegan options, but also some non-vegan. Loved that the pasta was Banza and they had well-known healthy brands such as Kite Hill. My order came with a bonus free chickpea cookie dough which was soooo good!
Purple Carrot – This vegan meal kit literally blew my mind. If you're comfortable in the kitchen and spending 40 minutes for restaurant-worthy meals, this is definitely worth trying. These kits come with every ingredient, and the outcome was delish! I tried the following:
Muhammara stuffed sweet potatoes topped with chickpeas, cucumber mint relish, and a red pepper vinaigrette
Coconut Cauliflower ramen (much easier and quicker than the above!)
Punjabi Kadhi with Spinach Dumplings and Mango Chutney
Moroccan Carrot Pancakes
Italian Cannellini Bean Stew
It can be difficult cooking and finding new vegan recipes, especially in a college town, so if you're looking for gourmet vegan meals made with quality ingredients, I would highly recommend giving Purple Carrot a try! Even for just a few meals a week, this meal kit is a great substitute for your usual vegan chicken nugs and veggie burger!
Veestro – Different from many meal plan options, Veestro comes fully prepared with only 5-10 minutes of cooking time. No prep, no dicing, and slicing, and most importantly, no dishes needed. Veestro makes having a fully vegetarian and organic meal quite simple for those that get home from class late at night or don't have the equipment and supplies to sauté and bake. Veestro arrives at your door packed with ice to ensure it stays frozen until you get home. Once you receive it, simply keep it in your freezer until it's mealtime. We tried multiple ways of preparing the dish, in the microwave and on the stovetop, and both delivered results that made the meals taste as though you cooked it from scratch. Most of the meals were great and we would definitely recommend this delivery company. The only setback would be that some of the meals may come across bland as there's very little salt and sodium in the product. If this is the case, simply spread some seasoning or sauce on your food depending on your personal taste.
 A solid vegetarian option for the student who loves to cook and has about 30 minutes to spare! Hello Fresh has definitely expanded their vegetarian options and our choices turned out delish. We chose two vegetarian dishes and one with shrimp since we're pescatarian. The sweet potato fajitas were easy to prepare and had just enough spice! After 30 minutes of prep and cooking, I was always really happy and satisfied with the turnout! The quantity is also plenty for 2 people (Split with your roommate like us for cheaper prices!) or if you want to save the rest for leftovers (library lunch!) The shrimp tacos were also an amazing yummy dinner and suppressed my craving for Chipotle that week (mission impossible.) Another great vegetarian meal was the mediterranean couscous, which I brought to work for a few lunches and it really filled me up. Not to mention, I got tons of compliments on how good it looked and smelled, so now my coworkers think i'm a great chef.  I ordered mine by purchasing from Groupon which was for three recipes to serve two (I had leftovers since it was just for myself) or a total of six meals. Hello Fresh also offers $30 off the first box. Just click on Hellofresh link.
My Blue Apron box came on time with ice packs and cute packaging (they label their spaces and small items as knick-knacks.) There was an extensive menu, but I narrowed it down to the Ancho Chicken Chili and Dukkah Spiced Shrimp. On the real: Blue Apron made me feel like a fancy restaurant chef. The meals came out SO GOOD. However, they took very long, around 45 minutes each. Not for the faint-hearted. The Ancho Chicken Chili is tomato-based and the sweet potatoes make it really hearty. The servings were huge, I was eating chili for days. My favorite was the shrimp with Mediterranean seasoning and tahini and served with roasted cabbage and potatoes. I might still be salivating just thinking about it. Blue Apron runs specials for first meal deliveries. Click here to get that offer.
Plated has a great first-time user promotion and its delivery was quick and efficient, with a large box and plenty of ice bags. I ordered Beef Bolognese over Roasted Spaghetti Squash and Roasted Chicken Au Jus. Both meals were restaurant quality- I was seriously impressed with myself. However, they were a little difficult and took quite a long time- around 40 minutes each. The Breaded Herb Chicken was the easiest and tasted just like Chicken Française. Seriously. Plated does a great job of combining healthy dishes with sophisticated ones. You can save $25 off your first two orders by clicking here.