HaveUHeard.com includes links to third-party websites and advertisements for third-party products and services. Product and service-specific opinions mentioned within the content of our blogs are entirely the opinions of the HaveUHeard.com team and its staff. It is our hope that you will find value in the products and services these third-party organizations represent, and patronize these businesses. Such advertising and marketing partnerships help make our efforts at HaveUHeard.com possible. Thank you for your support and ongoing interest. For additional information, please read our full HaveUHeard.com Disclosure Statement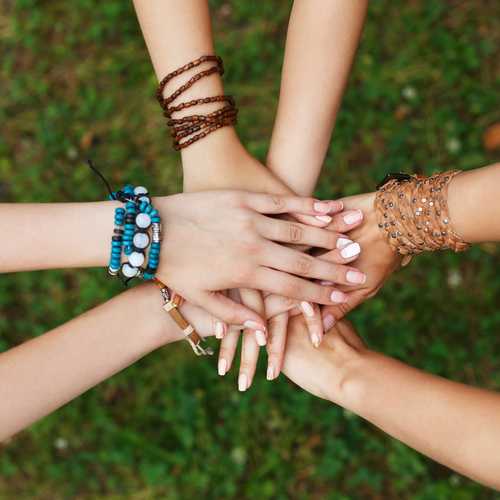 Sororities Have Advantages.
For parents of incoming freshman, you probably are starting to hear whispers about rushing, or sorority recruitment. What is rushing her way and your way through this whole process? Talk to any parent at any school, and you will not find too many who love the process.  But like the process or not, sororities do have their advantages, especially at a large college.
This is an unusual, unprecedented time. The situation and circumstances continue to evolve daily. Please start your planning for any event by checking your university website.
Before my daughter mentioned she was interested in joining a sorority, I heard all of the common misconceptions of rushing a sorority. However, after seeing all three of my daughters recruitment and enjoy all that sororities have to offer, there is so much more to these organizations than I had previously thought.
As a mother of three daughters who joined three different sororities, I've seen it all. I've attended more than my fair share of mother/daughter weekends, mother's brunch, and family weekends. All of my daughters had very different experiences when they rushed; two went through formal fall recruitment while my middle daughter opted into the more casual style of spring recruitment, yet they achieved their common rushing goal. All three of my girls set out to find a place to call their home away from home for the next four years. After a very long, emotional week, their goal was accomplished. My second two daughters were considered to be legacies of their sister's sorority; meaning that their sister was considered an alumna. She could write a letter of recommendation on their behalf as could any other family member, no matter what university they went to. Click here for the email address to send a letter of recommendation.
All students that wish to join Sorority Recruitment must complete an online module entitled: Hazing Prevention: It's everyone's responsibility before they will be able to accept any bid requests. A link to this will be included in the confirmation page after registration.
Rushing
When my student was accepted into FAU, her journey through recruitment gave me a whole other perspective than I had with my older daughters because my FAU owl was closer to home. FAU sorority recruitment follows a typical schedule of other larger universities, the major difference being that there were fewer sororities to choose from, which isn't necessarily a bad thing. Most of the women going through recruitment have heard both the positives and negatives of each chapter; this includes which of the six are the most popular. There is a preconceived belief amongst those going through sorority recruitment that they want to wear certain letters (all of the sororities have different combinations of Greek letters).
I am not going to chocolate coat sorority recruitment- it is based on first impressions, judgments, and appearances; certainly in the first few rounds where conversations last about 10-15 minutes. The Panhellenic Council tries very hard to promote the positive aspects of joining a sorority and in recent years have scaled back how much the sororities decorate their on-campus rooms. Sorority recruitment at FAU is moving towards a Value-Based Recruitment model; this model focuses on showcasing each chapters values and finding the women who best meet these values. Be this as it may, there is still the preconceived ideas and of course judgments made by first impressions.
We've got some great suggestions from our interns about what to wear for recruitment. You can read that here.
Speaking Greek
If I am speaking Greek, let's address some of the particulars. Recruitment will begin August 30th and ends with Bid Day on September 6th.  Registration for recruitment opens in the summer. There is a fee, but this fee will get her a Panhellenic T-shirt and a bag. Due to the current situation, Recruitment will be held via a hybrid model. The Potential New Member orientation, Open House Round, and Invitational Round will be held virtually. Preference Round will be held in person. However, if a Potential New Member feels uncomfortable attending in person, there will be a virtual option. This is subject to change according to current CDC recommendations and local ordinances.
Florida Atlantic University has six sororities on campus. The sororities do not have houses on campus at this time. Each sorority gets a room in the student union to call home for the week and use it during rush. These rooms are typically fully decorated around a central theme for the week. For meetings and other events, each sorority chapter is assigned a room, typically in the student union, to use for the duration of the semester. Students who would like to participate in Sorority rush must be enrolled in at least 12 credit hours and have a GPA of 2.75 or higher.
Recruitment involves four rounds and a bid day. As your daughter goes through each round, she will go to fewer sorority houses. She may not get invited back to every house; chances are likely that she will not; however, she will have options that hopefully are one of the houses she was considering.  If your daughter is registered for recruitment, she is expected to attend every round and to visit every sorority on her schedule. If she must miss a round due to class, she can inform a member of the Panhellenic council so she is excused for the evening.
Perhaps your daughter will be able to look past the process and focus more on finding like-minded young women and a place where she will fit in. I have witnessed girls joining sororities because of specific Greek letters only to realize after a few weeks, their choice was not the right choice for them.
Yes, there are judgments being made based on the brand of clothes being worn, disingenuous conversations and misrepresentations.  The advice I gave my daughters is to be true to themselves. Creating a false persona just to get into a specific sorority would not result in making true friendships. When one of my daughters had her selection narrowed down to just a few, she called me panic-stricken, asking which sorority she should choose. I simply told her to go with the sorority she felt most comfortable in and to pick a Sorority where she could truly see herself calling the women her sisters.
Many parents like to send their daughters a gift on Bid Day. We recommend holding off as they will be getting gifts from the sorority they pledge on Bid Day and continually going forward from tank tops to water bottles and everything in between. Should you decide to get them a congratulatory gift, we have some suggestions here from:
Desert Cactus Greek, Brit and Bee, Alexandra and Company, Go Greek Chic, Cotton Sisters, Sorority Shop, Signature Tumblers and Gild the Lily.
Once they have chosen a sorority, read out blog Sorority Girl to learn more about sorority life.
Learn the facts about Florida Atlantic University Sorority Recruitment.
Pass on these great tips, tell your friends and like us on Facebook, Instagram,  Twitter, and Pinterest. Find out more about how to use HaveUHeard as a great resource here. Sign up for other great tips at haveuheard.com.