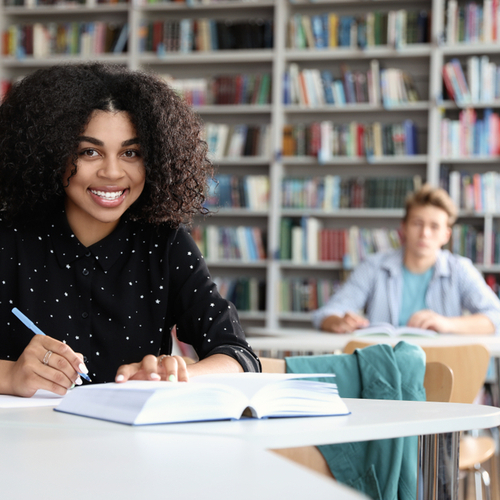 Learn About Your Internship Options
I'm the type of girl who wants to have her life planned out. I like to stay organized, set goals, and reach for the stars. When it came to getting an internship in junior year, I knew I wanted to start my search early. Boy did it pay off too because I was the first of my friends to get an internship which was honestly so exciting- and allowed me to be less stressed. Although I got an internship before my friends, it wasn't the early application that let me stand out from the other candidates longing for the job. Fine, I guess I will share my secrets towards getting your dream internship…
The first step towards getting your dream internship is doing your research about the industry. Know what's currently going on and stay up to date on current events. I extensively researched the best companies to work for in my industry, then did a deep dive into each company to see which companies' values were similar to mine. From there is where the fun begins!
Once I had my list of companies I was interested in, the networking began. I would say one of the biggest things that made me different and stand out was my networking skills. We have so many platforms in front of us- Linkedin, Indeed, Glassdoor, Internmatch.com. They are just a few of the excellent resources available. Although most students don't use these resources to the full extent and that's the problem! I personally love using Linkedin.
A LinkedIn Jobseeker account allows you to view profiles and send InMail messages starting from $29.95 per month. HaveUHeard that LinkedIn has a version specifically designed for students looking for their first jobs? The LinkedIn Students app is free, and lets you research jobs, view companies where alumni from your schoolwork, and connect with more people. You can create an account and get started right away without spending a dime.
Make sure that your profile is always completely up to date, has a professional photo, no spelling errors, and a good headline. Once you go to a company's Linkedin page, there is actually a filter that allows you to see which employees are IU grads. At this point, I go on a network field day and ask as many IU alumni for advice as I can. It's great to talk to people that work for the company you are longing to intern for. It also shows employees how eager you are to learn, and you never know, they may pass that onto their boss. Either way, it's great to form those connections within your desired companies.
From there, I would make sure that your resume aligns with the internship job description. If they list specific skills in their job description, they are practically giving you freebies. Make sure your resume stands out from the rest. Go the extra mile and get a part-time job while in school, volunteer, or get a certification relating to the industry you want to go too. When applying on LinkedIn, I have often found that sadly most of those applications will go untouched. After you apply, try to find the recruiter's email and send them a message letting them know you applied. They will most likely look out for your application and be more intrigued with yours rather than others. Even if it's just an interview you get, congratulations!
Getting an interview should be an honor because that can be hard to get. I swear each interview you go through you will get stronger and better at the interview process so, even if you don't get the job, it's gained knowledge. When interviewing, make sure you are prepared! Have a basis for what you want to say. Know how to answer all the basic interview questions. When answering it is important that you aren't bland and obvious. Tell the interviewer what's not on your resume. Let your personality shine through, I promise, recruiters love that! Be prepared with really good questions to ask the interviewer as well because as much as they are interviewing you, it's important to interview them as well. After all, you're the one that will potentially have to be working for them.
Once the interview is complete is where the waiting game comes in. Always make sure to ask the interviewer their time frame when it comes to the job you applied for so I don't get too stressed out waiting patiently for an answer! Make sure to follow up with the recruiter and thank them for their time. Trust me, I know it's easier said than done, but I promise if you go with, or at least try my process, it will lead you to success! Don't get me wrong though, I probably sent out 50 different applications and only heard back from half, but that's just the name of the game. Leave a few hours for applying every week and I promise you will eventually start getting the hang of things.
Another great place to network is on the IU campus. IU typically has a fall and spring career fair. These fairs are an amazing opportunity to get in with companies. There are about one hundred different companies that are at your school just to meet you! Make sure to be prepared when entering the career fair, dress professionally (read our blog Dress for Success), know what companies you want to talk to, and know what the company does. Make sure you have plenty of resumes and business cards printed and ready as well. Searching for an internship, like trying to find a job is not easy and takes time, patience, and a positive attitude; however, receiving an offer letter from your dream job is the best payoff!
HaveUHeard which companies were selected as the 100 best internship programs in the U.S.? WayUp presents its Top 100. Vault also has its list of the Top 20 Most Prestigious Internship Programs for 2020.
Pass on these great tips, tell your friends and like us on Facebook, Instagram, Twitter, and Pinterest. Find out more about how to use HaveUHeard as a great resource. Sign up for other great tips at haveuheard.com.