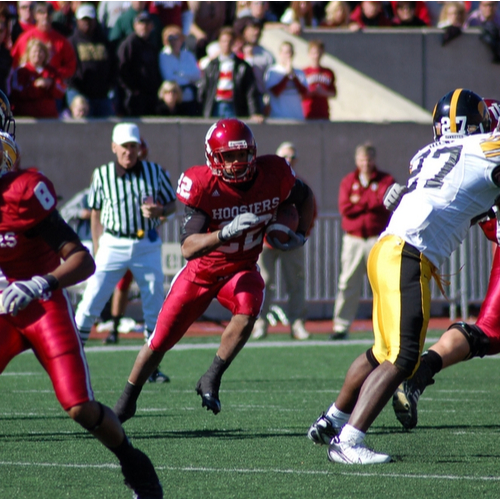 You can almost hear the crowd roar…
***Note: The Big Ten Council of President and Chancellors have decided to continue the football season starting on the weekend of October 23rd, 2020. Per Big Ten guidelines, football fans will not be allowed to the football games throughout the 2020 football season. Football players, coaches, trainers, and any other individuals that are on the field have to partake in daily antigen testing.
If you are planning on attending any football games this fall, plan ahead!! If the crisp fall air and promise of changing foliage don't draw you in, then make it about the spirit of the game, jump at the chance to order your tickets early, check out the 2020/2021 football schedule and order your tickets. You will be glad you did as hotels and tickets go fast.
My choice of home games, and the top choice of many others, is the Penn State game in October. I confess I am not a huge sports fan but putting on your cream and crimson outfit, getting your game face on, heading out on a cool fall day with thousands of other emphatic fans is pretty exciting. Not to mention a cold beer and a hotdog or a full spread of food and drink with hundreds of others tailgating in the parking lot before the game, including, tents, grills, and more spirit than you can imagine.
A Hoosier home game is an experience. Just two hours before each home football game, IU's players and coaches will make a pregame walk into Memorial Stadium, giving fans a chance to gather around them and show their support. The Marching Hundred (marching band) and IU cheerleaders are also present and lead fans in the singing of "Indiana, Our Indiana." Following every IU touchdown, a rendition of the school fight song is belted out around the stadium. After each IU victory, a giant IU flag is raised above Memorial stadium to proclaim that a Hoosier victory occurred.
A single-game pricing structure includes four price points for each of IU's home games. A single-game, a general public ticket is available for as little as $20. Single-game ticket prices increase based on opponent and tier selection. Single-game student tickets are only $15 and must be purchased with a valid college student ID. IU Football season tickets for students are $105.  Check prices for the Football/Basketball season ticket combo. No matter what sport you want to enjoy, be sure to check out trophies, banners, and mementos on display at Simon Skjodt Assembly Hall, Cook Hall, and other facilities around campus.
Tickets on Sale NOW!
If your plan is to come up for a game to visit your student, you may want to start booking your hotel now too. There are some that are already sold out. When looking for a hotel, prepare for some sticker shock as you will notice the rates are sometimes double what you would pay for a weekend with no events. Check out our blog on hotels.
The Indiana Hoosiers football team represents Indiana University Bloomington in NCAA Division 1 Football Bowl Subdivision college football and in the Big Ten Conferences. The Hoosiers have played their home games at Memorial Stadium since 1960.
What to Wear
For students, check out our blog on Game Day Attire. Parents, we've got your game day wardrobe recommendations here. Cream and crimson gear are a must or join the students in wearing candy-striped pants.
Pass on these great tips, tell your friends and like us on Facebook, Instagram, Twitter, and Pinterest. Find out more about how to use HaveUHeard as a great resource. Sign up for other great tips at haveuheard.com.