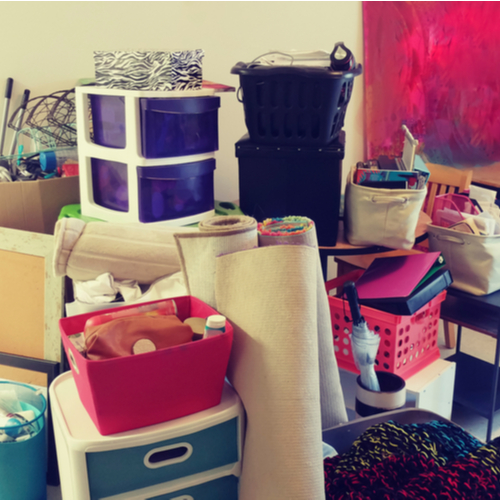 Is Moving Out Harder?
Moving out can be almost as hectic as moving into the dorms and apartments. It does not make sense to drag the entire contents of the dorm home for the summer, only to send everything back up in the fall, especially for us, seeing as we live out of state. Many will transport their things home for the summer while even more will rent an air-conditioned storage unit.  (Sharing a unit is recommended to keep the cost down and air-conditioning is key). You may be lucky in that your student may have a friend that will let them store their belongings in their apartment, but that is unusual.
Some students are able to move their belongings into storage themselves by packing boxes in between studying for finals.  At move-in, you can actually break down some of the boxes and leave them flat under their beds throughout the school year so they are able to re-use them, rather than hunt down boxes. Giant, sturdy garbage bags work well too. There were items that they no longer needed (nor did we want). Most dorms collect these items in a common area and donate them to a local community collection organization.
Some students can recruit friends to help them move. You may want to go up yourself if they are moving out of a dorm and you feel they will need the additional help. Remember they are packing up to leave at the same time as studying and taking finals. This includes having an RA come and inspect the room for damages once it is empty and returning their keys.
There are also moving companies that will pack, move, and store items for your student. This is a great alternative given the time crunch during finals. Below is a list of a few companies in the area that do just that as well as storage units throughout IU and local moving companies. While their rates vary throughout the year, many facilities offer a number of attractive deals for students.
Bloomington Affordable Self Storage's – Located just north of IU's campus, its name lives up to its reputation.
Soft Touch Moving and Storage on South Walnut Street. While it specializes in moving, it offers the ultimate deal for students: the Dorm In a Box Moving Special. They will move your belongings out before they are stored at the facility for three and a half months. Come August, they will then move your stuff into your new living quarters for a reasonable fee.
 Storage Express is another option. Assistance is available 24-hours a day, 7 days a week with three locations in Bloomington.
Apartments?
If your student is moving out of an apartment or subletting their apartment, you may need to pay a moving company if the furniture is involved. This is, by far, the more expensive way to go (and one of the reasons I recommend renting furnished apartments). Recommended moving companies are as follows:
When moving out take note of these few pointers to avoid damage fees. Take pictures of everything as you leave so they cannot tell you something was damaged when it was not. Yes, it happens. As a matter of fact, hopefully, you took pictures upon move in too. If not, do it next time.
Make a run to Lowes and find paint that matches the interior of the living room and individual bedrooms. This can be split among the roommates and usually going over little holes or chips will save you some damage charges. If there are any damages in the common area, they equally charge all residents and bill them for cleaning or repairs regardless of who did it.
Do not leave anything behind. Even if you think you are being nice by leaving that extra chair or end table, residents often get charged for leaving behind personal items. Consider cleaning really well or hiring someone to do it when your apartment is empty. Many apartment complexes will charge to clean even though they technically have to clean for the next tenant. We recommend several cleaning companies.
Pass on these great tips, tell your friends and like us on Facebook, Instagram, Twitter, and Pinterest. Find out more about how to use HaveUHeard as a great resource. Sign up for other great tips at haveuheard.com.