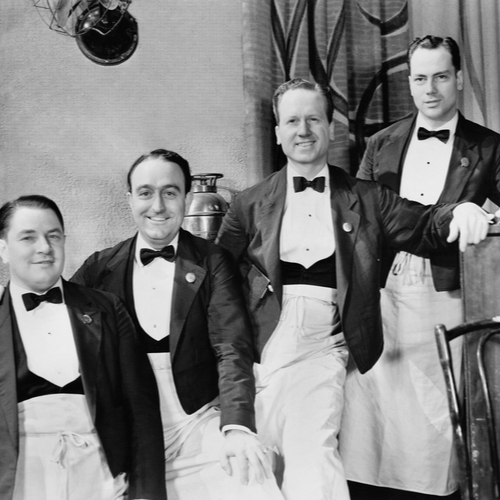 Working it – Make Some Moola While at School
Growing up, working was normal for me. I have always loved having a job. I actually met my best friend from my first job working at the local pizza shop. Going to college, I always wondered if other students would be working like me. I soon found out that not only do most college kids have jobs, but a lot of students pay for a lot on their own like food, being in a sorority or fraternity, going out to the bars, or even rent. Whatever the reason, students get so much work experience when getting a job, whether it is to pay tuition or housing, plan for their spring break trip (see our spring break blog for more information on that) or to backpack through Europe after graduation or simply to augment their wardrobe; working, while in school, is not new.
If you visit the Career Development Center, IU will personally help students find the perfect part-time job that suits them. IU also has a system called myJobs where students can easily see part-time jobs that are currently available on and off-campus. Throughout the school year, IU also hosts several Career Fairs, which give IU students the opportunity to directly speak to companies or local businesses that are looking to hire. Students can also check on CraigsList, Indeed, SimplyHired, Snagajob, Monster, and WayUp for possible opportunities.
Check out what students are doing at IU to make money.
Bartending – Sophomore year is when I traded in babysitting for bartending. Love them both but it's hard to resist the fun atmosphere and overloading tip jar.
Becoming a dog/cat walker or dog/cat sitting, apply to be a pet sitter at Rover. You will need to pass a basic background check.
CARE.com – students can sign up and post availability to babysit, dog sit, tutor, etc. The average pay is about $12 an hour. I have babysat local families by using care.com. They were truly great experiences and I would definitely recommend care.com to any other students. Most importantly, when first meeting individuals, it is always safe to meet them in a public area rather than going to their house- I always meet at a coffee shop (better to be safe than sorry).
The Mall – Yes, many students have said that there are many jobs at the College mall that has about 140 stores.
Fiverr – Fiverr is an online marketplace for freelance services. It got its name from the original price of jobs being $5 per task. This is a great place for students to list the services they offer (or parents) or even find inexpensive tutors. Look for highly rated sellers with a lot of good reviews. The old saying is clear: you get what you pay for. In a nutshell, the quality of service is not always great, but there are good sellers on Fiverr® but expect those services to start at more than $5.
Resident Assistant– This is a great way to get reduced housing and make $8.35 an hour. Students have to apply the year before (applications for the 2020-2021 school year are no longer being accepted, but keep this in mind for the future as it can be a great way to cut living costs.)
Get paid to play with dogs by becoming a sitter with Rover to gain access to the nation's largest network of pet parents.
Shipt – Become a shopper for Shipt.
Tutoring – If there is a subject that you have already mastered, share that knowledge for $20-25 an hour with a student that needs some guidance in that subject.
UBER – Yes, some students with their own cars drive for UBER.
Waitress/Hostess – There are so many places to eat near campus and they all need help at some point. The local coffee shops always need hard workers and they aren't open too late which gives you plenty of time to study or hang out with friends during the evening.
StudySoup Notetaker – This is a great job because it doesn't really require any extra time. If you are an excellent notetaker you can make up to $500 a semester by taking notes as an Elite Notetaker.
Internships – This is a great way to get real-world experience. You may start a broader search through the Career Center. For a narrower search, we recommend looking at your individual college or looking up specific companies that you may be interested in working for. Chegg has an internship site or look at some of the job sites including Indeed.com. Don't rule out Linked In as a resource either. And, if you have contacts through friends, families, acquaintances, ask if they know of any internships. Even HaveUHeard has a paid internship program. Internships can be a great way to earn money and gain experience.
When students are ready to start interviewing for jobs it is important that they know all the tips and tricks when it comes to interviewing. Each college at IU has mock interview sessions that will help develop and perfect personal interview skills.
Remember, students that hold part-time jobs may not be able to leave for school breaks, which may mean spending Thanksgiving, spring break, or some of the winter break up at school. Some dorms are not open during breaks so keep this in mind or discuss this with your employer when you get a job offer. In a college town, most businesses know that students will be out of town for holidays and that is typically fine considering the town is pretty dead anyway!
Pass on these great tips, tell your friends and like us on Facebook, Instagram, Twitter, and Pinterest. Find out more about how to use HaveUHeard as a great resource. Sign up for other great tips at haveuheard.com.