HaveUHeard.com includes links to third-party websites and advertisements for third-party products and services. Product and service-specific opinions mentioned within the content of our blogs are entirely the opinions of the HaveUHeard.com team and its staff. It is our hope that you will find value in the products and services these third-party organizations represent, and patronize these businesses. Such advertising and marketing partnerships help make our efforts at HaveUHeard.com possible. Thank you for your support and ongoing interest. For additional information, please read our full HaveUHeard.com Disclosure Statement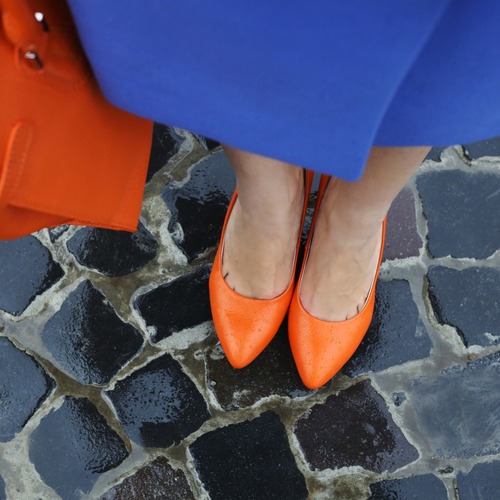 Time to look the part!
As they get closer to graduation, one of the greatest changes our students are about to experience is the need to abandon their shorts, t-shirts, and yoga pants.  Alas. It's time to dress for success in their new roles, or — as my older daughter states — dress for adulting. Dressing for success can be daunting in different ways, but the one that stands out most is often cost.
Beginning with the career and internship fairs they attend, students need to look professional. For the young men, this often means a suit and tie. For the young women, there may be a few more options, but most successful looks will center around a suit or suit pieces, a pantsuit, a skirt and blouse, or dress. Then there are the shoes. Flops and sneakers are not going to cut it. Even when you are able to borrow or cheaply acquire appropriate clothing, shoes can make or break you as well as your outfit. It's not just about the look. It's about a fit that's comfortable enough not to take your mind off the business at hand while looking the part. Consider making a shoe purchase early on in your collegiate years — and on sale, if possible — so you can spend those dollars once and wisely. And buy shoe polish!
Gator Connections to Success
For the many students who may not have the means to purchase a new business outfit, UF has the Gator Career Closet, a lending service where students can borrow professional clothes and accessories for a one week period. It is open to all UF students with their Gator 1 card.  This is a donation-driven service so not all sizes and types of items may be available. And it's a place worth keeping in mind for donations as well, when closets at home and in Gainesville are being cleaned out. HaveUHeard that there are often special days and locations near the end of semesters to make those donations easier if you have any new and gently used professional clothing and accessories to share forward?
Do Your Homework
Students — Research the companies you will be interviewing with and are hoping to work for! Know whether their company culture is conservative and if their dress policies require business attire. You'll find other companies that are more business casual. Trends change, but the dress-for-success basics still require a polished look. Most department stores will have suit(able) options. (Don't you just hate when we can't avoid those bad yet self-evident puns?!?) You can check Macy's, Dillards, Bloomingdales, Nordstrom and their discount offspring, Nordstrom Rack.
I have to admit having great success buying quality business apparel at very reasonable prices for my daughter at Dillards. We really appreciate that their business apparel department carries a consistent line of separates through multiple seasons so that you can build a cohesive and coordinated wardrobe a few pieces at a time. Also at the Oaks Mall location, the Gainesville J.C. Penney holds a recurring "Suit Up Event" that allows anyone holding a UF ID to claim a 40% discount on all career apparel.
In a sideways direction, one of my daughter's roommates was ecstatic to discover that Lands End carries washable Men's and Women's suits. The cost of drycleaning in the budget of a young professional is every bit of a pretty penny, and that's before we even start the sustainability conversation. So, the options are plentiful and suited(!) to many budgets and dress codes. Research works as well for shopping as it does for academia.
Of course, do not rule out some of the reliable discount department stores including TJ Maxx, Marshalls, and Ross. Other good suggestions are included in our blog on Thrift Stores. Your student may be able to find a great outfit that fits them, their business style, and their budget.
Don't Discount Successful Discounts!
As they begin to upgrade their wardrobe, your student will be happy to know the following stores regularly provide discounts to students.
ASOS – Students get 10% off when they fill out their form.
Club Monaco – Show your student ID to save 15% to 20% at the store.
Express – Students can get a 15% discount
J.Crew – Show college student ID for 15% off all full-priced items.
Kate Spade – According to student reports, students get a 15% discount with a student ID.
Lulu's – students get 10% off when they join with their college email (or through Unidays)
Madewell – Students can get 15% off by showing their ID.
Medelita – Lab coats, scrubs, clogs, at a discount of 25% off or more for students.
Toms – Students receive a 10% discount with the code STUDENT10.
TopShop – Get 10% off online and in-store.
Union Bay – get 15% off when you click the link and use code STUDENT. They also have uniforms and work pants
Another suggestion is to sign up online and download the Unidays. Once your student is verified, it allows them to easily find out which of their favorite brands or stores offer student discounts.
Welcome to the stylin' side of adulting!
Pass on these great tips, tell your friends and like us on Facebook, Instagram, Twitter, and Pinterest. Find out more about how to use HaveUHeard as a great resource. Sign up for other great tips at haveuheard.com.