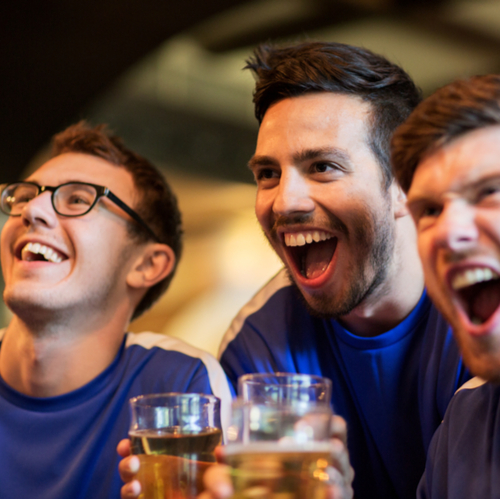 College football … Gators, It's Time
We can't wait for it! To start anticipating that our football team will end up nationally ranked and headed to a bowl game. Even after graduation, alumni go to football watch parties where they can hang with other alum. Hanging with other Gator fans is way more fun and it could lead to a job, a rekindled friendship or just a feeling of being back at school. We've got the places to head to for football game madness. Be sure to dress in your school colors, here are some tips.
Florida UF Football Watch Locations
Bradenton
Bar: Motorworks Brewing (1014 9th Street W, Bradenton, FL)
Clearwater
Bars:
Yard of Ale (St. Petersburg – 260 1st Avenue North, St. Petersburg, FL)
Kelly's (Dunedin – 319 Main Street, Dunedin, FL)
Crystal River
Bar: Beef 'O' Brady's (6738 W Gulf To Lake Hwy, Crystal River, FL)
Daytona
Bar: Houligan's Speedway (1725 W International Speedway Blvd, Daytona Beach, FL)
Delray
Bar: Batch Gastropub: Delray Beach (14813 Lyons Rd., Delray Beach, Florida)
Destin
Bar: Harry T's (46 Harbor Blvd., Destin, Florida 32541)
Florida Keys
Bar: Jimmy Johnson's Big Chill (104000 Overseas Hwy, Key Largo, FL 33037)
Fort Lauderdale
Bar: Twin Peaks (2000 S. University Drive, Davie, FL)
Fort Myers
Bar: Stevie Tomato's Sports Page (9510 Marketplace Rd, Fort Myers, FL)
Bar: World of Beer in the Bell Tower Shops, 13499 S Cleveland Ave Suite 111, Fort Myers, FL
Gainesville
The Swamp
The Social at Midtown
Any bar at Mid (Salty Dog, Fat Daddy's, JJ's, Rowdy Reptile, etc)
Gators Dockside
Miller's Ale House
Hooter's
Mother's Pub & Grill
Jacksonville
Bar: Blackfin Ameripub (4840 Big Island Drive, Jacksonville, FL)
Jacksonville Beach
Bar: Sneakers Sports Grille (111 Beach Blvd, Jacksonville Beach, FL)
Jupiter
Bar: JJ Muggs Stadium Grill (1203 Town Center Drive1203 Town Center Drive, Jupiter, FL)
Key West
Bar: Turtle Kraals (231 Margaret Street, Key West, FL)
Kissimmee
Bar: Broadway Pizza Bar (Kissimmee – 403 Broadway, Kissimmee, FL)
Lantana
Bar: Old Key Lime House (300 E Ocean Ave, Lantana, FL)
Melbourne
Old School Pizza (Melbourne – 1316 S. Babcock Street, Melbourne, FL)
Miami
Bars:
Batch Gastropub (Brickell – 30 SW 12th St, Miami, FL)
Sunset Tavern (South Miami – 7230 SW 59th Ave, South Miami, FL)
Naples
Bar: Zookie's Sports Pub & Grill (7740 Preserve Ln, Naples, FL)
Orlando
Bar: Elixir (Downtown Orlando – 9 W. Washington St, Orlando, FL)
Pensacola/Gulf Breeze
Bar: Seville Quarter (130 E Government St, Pensacola, FL)
Plant City
Bar: Duke's Brewhouse (Plant City – 2212 James L. Redman Pkwy, Plant City, FL)
Pompano Beach
Bru's Room (235 South Federal Hwy, Pompano Beach, FL)
Sarasota
Bar: Gecko's Grill & Pub (6606 South Tamiami Trail, Sarasota, FL)
Tallahassee
Bar: Hobbitt American Grill (400 Capital Circle SE #16, Tallahassee, FL)
Tampa
Bars:
The Patio (South Tampa) – 421 S MacDill Ave, Tampa, FL
Ducky's (Downtown) – 1719 West Kennedy Blvd, Tampa, FL
Glory Days (North Tampa) – 14457 N Dale Mabry Hwy, Tampa, FL
Lee Roy Selmon's: 14457 N Dale Mabry Hwy, Tampa, FL
Scooter's Saloon: 9847 E Adamo Dr. Tampa, FL
Temple Terrace
Graffiti Junktion: 11401 N 56th St, Temple Terrace, FL
Titusville
Bar: Dixie Crossroads (Titusville – 1475 Garden Street, Titusville, FL)
Treasure Island
Gators Cafe: 12754 Kingfish Dr, Treasure Island, FL
Vero Beach
Riverside Café (3341 Bridge Plaza Drive, Vero Beach, FL)
Westchase
Tap City Tavern: 12227 W Linebaugh Ave, Westchase, FL
West Palm Beach
Bar: Dorrian's Red Hand West Palm Beach (215 Clematis Street, West Palm Beach, FL)
Batch Delray (14813 Lyons Road, Delray Beach, FL)
Out of State Locations for Gators Fans
Alabama
Birmingham
Bar: Moe's Original BBQ (731 29th St S, Birmingham, AL)
Huntsville
Bar: Bison's Cafe (8020 Madison Blvd, Madison, AL)
Arizona
Phoenix/Scottsdale
Bar: Buffalo Wild Wings (8870 E Indian Bend Rd, Scottsdale, AZ)
California
Los Angeles
Bars:
Rec Room (Valley Village – 12430 Riverside Dr, Valley Village, CA)
Hooters (Costa Mesa – 1507 S Coast Dr, Costa Mesa, CA)
Tequila Hoppers (Upland – 60 N Mountain Ave, Upland, CA)
Tony P's (Marina Del Rey – 4445 Admiralty Way, Marina Del Rey, CA)
Hooters: (Costa Mesa) – 1507 S Coast Drive, Costa Mesa
Rocco's Tavern: 77 North – 12514 Ventura Blvd, Studio City
Goal Sports Cafe – 8334 W. 3rd Street, West Hollywood, CA
Sacramento
The Bank – 629 J St, Sacramento, CA
San Diego
Bars:
Quad Ale House (Downtown – 868 5th Ave, San Diego, CA)
Oggis Encinitas (305 Encinitas Blvd, Encinitas, CA)
San Francisco
Bars:
Pete's Tavern (San Francisco – 128 King Street, San Francisco, CA)
The Sports Page (Mountain View – 1431 Plymouth St, Mountain View, CA)
Ricky's Sports Theater and Grill (San Leandro – 15028 Hesperian Blvd, San Leandro, CA)
Santa Monica
The Brixton- 2827 Pico Blvd, Santa Monica
Colorado
Denver
Bar: Jackson's Denver (1520 20th St, Denver, CO)
District of Columbia
Bars:
Courthaus Social (Virginia – 2300 Clarendon Blvd, Arlington, BA)
TAPP'D (Maryland – 4915 St Elmo Ave, Bethesda, MD)
Lou's City Bar (DC Headquarters – 1400 Irving Street NW, Washington, DC)
The Bungalow (Sterling, Virginia – 46116 Lake Center Plaza, Sterling, VA)
The Ugly Mug (723 8th St. SE, Washington, DC)
Georgia
Atlanta
Bars:
Sidebar (Downtown Atlanta – 79 Poplar St NW, Atlanta, GA)
Fado Irish Pub (Buckhead – 273 Bulkhead Ave NE, Atlanta, GA)
Savannah
Bar: PS Tavern (11 W Bay St, Savannah, GA)
Valdosta
Bar: Austin's Cattle Company (2101 W Hill Ave, Valdosta, GA)
Illinois
Chicago
Bars:
Sully's House (1501 N Dayton St, Chicago, IL)
Federales (180 N. Morgan St., Chicago, IL)
Kentucky
Lexington
Bar: The Cellar Bar & Grille (Lexington – 3265 Lansdowne Drive, Lexington, KY)
Louisville
Bar: Saints Pizza Pub & SkyBar (Louisville – 131 Breckenridge Lane, St. Matthews, KY)
Louisiana
Baton Rouge
Bar: Bleachers Sports Bar & Grill (124 W. Chimes St., Baton Rouge, LA)
New Orleans
Bar: Dat Dog (3336 Magazine Street, New Orleans, LA)
Maryland
Baltimore
Bar: City Limits Sports Bar (1700 E Fort Ave, Baltimore, MD)
Massachusetts
Boston
Bar: Warehouse Bar & Grille (40 Broad Street, Boston, MA)
Minnesota
Minneapolis/St. Paul
Bar: Billy's On Grand (857 Grand Avenue St. Paul, MN)
Missouri
St. Louis
Bar: Fox & Hound (17416 Chesterfield Airport Road, Chesterfield, MO)
Nevada
Las Vegas
Bar: Miller's Ale House (6683 Las Vegas Blvd S, Las Vegas, NV)
New York
New York City
Bars:
John Sullivan's (Midtown West – 201 W 35th St, New York, NY)
Sidebar (Union Square – 118 E 15th St, New York, NY)
Rathbones (Upper East Side – 1702 2nd Ave, New York, NY)
Roebling Sporting Club (Brooklyn/Williamsburg – 225 N 8th St, Brooklyn, NY)
The Tailor Public House, 505 8th Ave, New York, NY
North Carolina
Asheville/Black Mountain
Bar: Juicy Lucy's Burger Bar and Grill (620 Hendersonville Rd, Asheville, NC)
Charlotte
Bar: Ri Ra Irish Pub (208 N Tryon St, Charlotte, NC)
Greensboro
Bar: J Butler's (1022-J S. Main St., Kernersville, NC)
Raleigh
Bar: Rally Point Sports Grill (1837 N Harrison Ave, Cary, NC)
Ohio
Cincinnati
Bar: Buffalo Wild Wings (4550 Glendale Milford Road, Cincinnati, OH)
Cleveland
Bar: Winking Lizard Tavern (25380 Miles Rd, Bedford Heights, OH)
Columbus
Bar: The Winking Lizard Tavern (1380 Bethel Road, Columbus, OH)
Oregon
Portland
Bar: Grand Central Restaurant and Bowling Lounge (808 SE Morrison Street, Portland, OR)
Pennsylvania
Pittsburgh
Bar: The Sports Grille Cranberry (1294 Freedom Road, Cranberry Twp, PA)
Philadelphia
Bar: Field House Philly (1150 Filbert St, Philadelphia, PA)
Fox and Hound (1501 Spruce St, Philadelphia, PA)
South Carolina
Chapin
Tipsy Toad Tavern (103 Beaufort Street, Chapin, South Carolina)
Charleston
Bar: Creekside Brewhouse (2600 Savannah Hwy., Charleston, SC)
Columbia
Bar: Dave and Buster's (100 Columbiana Circle #5, Columbia, SC)
Greenville
Bar: Carolina Ale House (1115 Woodruff Rd, Greenville, SC)
Lexington
OHara's Public House (131 East Main Street, Lexington, SC)
Tennessee
Chattanooga
Bar: Pinstrikes (6241 Perimeter Dr., Chattanooga, TN)
Knoxville
Bar: Carolina Ale House (9045 Kingston Pike, Knoxville, TN)
Memphis
Bar: Fox & Hound (5101 Sanderlin Ave #100, Memphis, TN)
Nashville
Bar: Check their FB page for up-to-date details on watch party locations.
Texas
Austin
Bar: Draft Pick (1620 E Riverside Drive, Austin, TX)
Dallas
Bars:
Fox & Hound Sports Tavern (Dallas – 112 W Campbell Road, Richardson, TX)
Stan's Blue Note (Dallas, Young Alumni – 2908 Greenville Ave, Dallas, TX)
Fort Worth
Bar: The Brass Tap (Fort Worth – 901 Houston St. Suite 102, Fort Worth, TX)
San Antonio
Bar: The Lion and Rose (17627 La Cantera Pkwy, San Antonio, TX 78257)
Utah
Bar: Buffalo Wild Wings (2132 S. Highland Dr., Salt Lake City, UT)
Virginia
Richmond
Bar: Hurley's Tavern (4028 Cox Road, Suite J, Glen Allen, VA)
Washington
Seattle
Bar: St. Andrews Bar and Grill (7406 Aurora Avenue North, Seattle, WA)
Pass on these great tips, tell your friends and like us on Facebook, Instagram,  Twitter, and Pinterest. Sign up for other great tips at haveuheard.com.