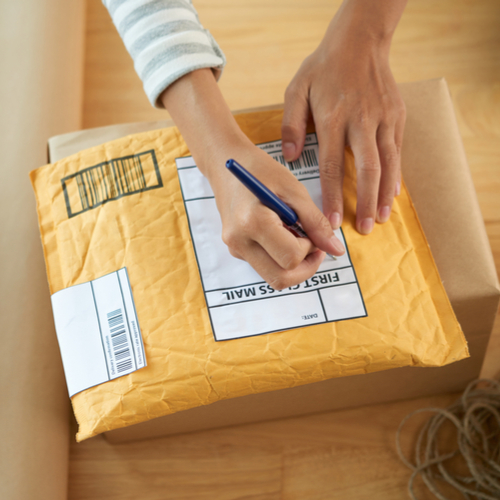 Make Sure It Gets There
There are many reasons that a student receives a package. Whether it is just their usual Amazon delivery or a care package for midterms or because your student is under the weather, there are a few things that will make package delivery simpler. If you have a student living on campus, UF utilizes package lockers. This allows students to pick up their packages anytime, day or night, 24/7. Students receive an email when their package is delivered to their area locker with two codes to pick up their item.
We, actually, recommend using UPS (or FedEx) in comparison to USPS as it is just timelier, especially for in-state shipping. Typically, if you are sending packages from one Florida location to another, it arrives in one day at no additional fee. (barring any weather issues). If you are sending packages purchased or fulfilled through Amazon, you might want to consider having them sent directly to an Amazon Locker that is located at 3490 SW Archer Road at Whole Foods. Sometimes picking it up from Amazon is easier than having to navigate the package delivery to dorms or even apartments.
Each Residence Hall address includes an eight-digit number and the name of the hall. The first two digits are for the building, the next 4 are the room number, and the last two are assigned to the individual residents, usually in the range of 01-04. The Zip code for Residence Halls is 32612 and the "+4" add-on varies by building. It is composed of the two-digit number for the building followed by 01.
The address must show legibly – Example:
SUZIE STUDENT
16043401 YULEE HALL
GAINESVILLE FL 32612-1601
Resident Hall Addresses- The range of address prefixes for Residence halls is shown below.
11 Beaty West
12 Beaty East
13 Jennings Area
14 Broward Area
15 Mallory Hall
16 Yulee Area
17 Reid Hall
18 Rawlings Hall
19 Hume Hall East
20 Hume Hall West
21 Graham Hall
22 Simpson Hall
23 Trusler Hall
24 Tolbert Hall
25 North Hall
26 Riker/South Hall
27 Weaver Hall
28 East Hall
30 Murphree Area
31 Thomas Hall
32 Sledd Hall
33 Fletcher Hall
34 Buckman Hall
35 – 43 Keys Complex
45 – 50 Springs Area
51 – 55 Lakeside Area
UF Mail Services also provides UPS services at their Radio Road location.
You may want to take a look at some of our Care Package blogs for ideas on what to send and when.
Pass on these great tips, tell your friends and like us on Facebook and Instagram. Sign up for other great tips at haveuheard.com.