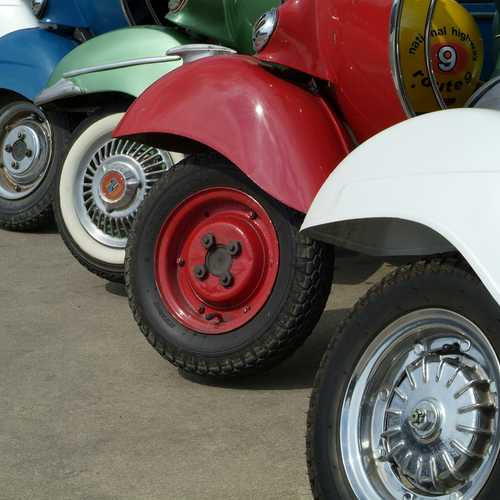 Trains, Planes, and Automobiles…All the Transportation You Can Think Of
Freshmen who bring their cars will quickly learn that parking during the fall and spring is at a premium and will most often not want to move their cars should they nab a great spot. Sure many will state the convenience of having their car if they want to go to a store off-campus and do not want to carry heavy belongings back to their dorms if they are living in a dorm. Both my daughters brought their cars but aside from the occasional drive home, mostly relied on public transportation to get around because it was easier. For parking information should they bring their car, click here.
Bicycles and Scooters
HaveUHeard that part of the activity and service fee you pay goes into a fund used by the student government to provide services for all students? One of these services is free bike repair. SG Bike Repair is located on the ground floor of the Reitz Union. Some items will be for sale including lights, tires, locks, chains, and cables. For more information, go to click here. Many students use bicycles or scooters in lieu of a vehicle. It is strongly advised that your student not only register these modes of transportation with the University Police but also that they familiarize themselves with the bicycle or scooter rules.
Bicycles must have lamps in front of bicycle visible for 500 feet and tail reflector/lamp visible for 600 feet for night time use and students may not wear earbuds while riding. Other rules your student will want to be aware of may be found here.
Airport
Gainesville Regional Airport is the major airport if flying is your means of transportation. There are five major airlines that service Gainesville. They are American, Delta, Silver, U.S. Airways and United. Because it is a regional airport, the number of flights in and out are not as plentiful so many out-of-state students will drive to Jacksonville, Florida or Orlando, Florida. It is approximately an hour and a half drive to Jacksonville and an hour and fifty minutes to Orlando.
By flying out of a larger airport, you then have to consider the cost to either get yourself to that airport including long-term parking fees. For those that perhaps live in South Florida, unfortunately, there are no direct flights from West Palm Beach or Fort Lauderdale International airport. The only non-stop is to Miami International Airport and those fares can be costly.
Bus
Other options include taking a bus or renting a car if you do not have an automobile. Red Coach brands itself as a luxury bus line with complimentary wifi (additional fee), no fee for the first two bags, reclining seats, standard power outlets, and other amenities. The bus does make frequent stops so plan for the time being substantially longer than if you were to take your own vehicle.
GMG Transport is another bus line that offers transportation throughout the state of Florida. Some of their buses include complimentary wi-fi but they are more of an economical alternative to Red Coach.
And, of course, Greyhound is an option too. They are not our parent's bus service having upgraded their buses; more than 85% of their buses are either brand new or recently refurbished inside and out. Features onboard include free Wi-Fi, extra legroom and power outlets.
Train Service
If all else fails, there is always Amtrak to go home or head back to school. It stops in Lakeland so it is a long ride but still an option. The station is only about a 5-minute car ride from UF so at least that part of the trip is short. They can carry on baggage and check-in baggage at certain stations but they have wifi so students can study (or binge-watch their favorite shows)
Ride Share
For students looking to get home for a weekend or needing a ride back, there is a UF Ride Board Facebook group. When I went to UF, there was a bulletin board with tear-off strips for those looking for rides home. I would still speak with the person before agreeing to a ride; basic safety rules; however, a lot of the students use this board. There is also a large Facebook group called FSU-USF-UCF-UF carpool with over 8900 members. Students from those colleges post about where they are going or if they need a ride.
Pass on these great tips, tell your friends and like us on Facebook,  Instagram,  Twitter, and Pinterest. Sign up for other great tips at haveuheard.com. New to HUH, here is how to use the site.