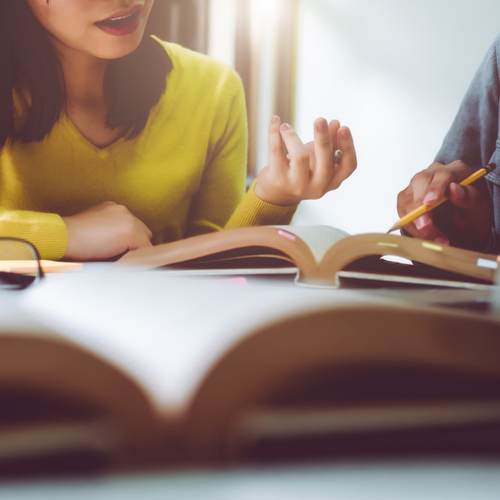 Tutoring Can Be The Key
If you are a new student at the University of Georgia, then you already know the challenges that classes and professors at a competitive school can pose. You've probably learned to balance your academics with your civic and social life, but actually living the college life can sometimes cause you to fall behind, or need extra help to stay on track. Tutoring is the answer. Time-management issues may arise along with the new rigors of harder classes, so if this happens, you'll need to know where to go for help.
Parents, if your student mentions that they are having difficulty, there are many resources that you can recommend. The first thing that students should do is to speak with their professor, teaching assistant, or both. Take advantage of those office hours as they can be vital to that professor/student relationship. It is always advised to meet your professor during the beginning of the semester, building that relationship can be vital to your knowledge and even grade.
UGA offers an Academic Coaching program that offers students the opportunity to create plans for note-taking, time-management, test-anxiety, as well as other challenges. Students can make an appointment with certified and trained academic coaches by logging into SAGE with their UGA MyID and password. They can also fill out an intake survey before their first appointment to better prepare the coach on what challenges you are having.
HaveUHeard that UGA offers help with presentations and public speaking assignments? The Presentation Collaboratory is the place to go with help in these areas. You can drop in or make an appointment with a Communications Consultant located on the first floor of Milledge Hall. Personally, I would make an appointment, so you can have complete one-on-one help. They also offer workshops for students and can provide rubrics and practice evaluations to make your presentations and speeches perfect!
The Division of Academic Enhancement offers different workshops for students each semester. Students who attend at least five different workshops and complete the evaluations can receive a $30 gift card.
The Academic Resource Center offers tutoring with students that have successfully completed courses. Located on the first floor of Milledge Hall, the ARC also has satellite locations in Russell Hall, the Science Learning Center, and the Miller Learning Center. It's free and students can walk-in or make an appointment. They cover areas in Business, Computer Science, Foreign Languages, Math & Statistics, Physics & Engineering, Sciences, and Writing. A cool resource with this center is the Study Pod. This is a group of students from the same class with one tutor. Pods are held weekly and are 1 ½ hour long. They provide a more intensive tutoring session for that class, as opposed to a quick session.
If you are fearful that you may need to drop a class in ENGL 1101, MATH 1101, or MATH 1113, try to enroll in a Drop Back course. This will move you from the original class to a preparatory class to better prepare you for the core class in the future. You will receive 3 elective credit hours for this course.
Another great resource is to use Science Guyz. They are not affiliated with UGA but offer extensive tutoring in many areas. Located on Broad Street, students can take the UGA bus to the Arch stop to get there easily. For classes in Chemistry, Biology, and Physics, students get detailed review packets and mock exams to help them with their class. The tutors are grad students and past professors, and there are fees. The best deal is the semester plan, but they do also offer private tutoring sessions, as well as mock exams and exam reviews at a lesser cost.
The textbook rental and purchase company Chegg offers Chegg Study. Students have found success in working with their specialists. They offer study help in business (finance, economics, accounting, operations management). Engineering (computer science, electrical, mechanical and civil engineering), Math (algebra, calculus, stats and probability, and other math) and science (physics, chemistry, biology). It is a great tool for help with homework. Learn from step-by-step solutions for 2,500+ textbooks in Math, Science, Engineering, Business, and more. Also, get answers in a pinch from experts and subject enthusiasts for your courses, 24/7. Stay ahead in your classes with Chegg Study for $14.95/month or $99.95/year. Another Chegg material is EasyBib Plus, with this software, students can use the plagiarism checker to find missing citations, and fix them before submitting their paper. Also, easily catch writing style and grammar errors with easy-to-understand explanations on how to improve their writing for next time. No matter what citation style (APA, MLA, Chicago etc.), EasyBib Plus will help create the right bibliography. Right now, students get a 3-day free trial of the product.
Another company, Fiverr, is an online marketplace for freelance services that started in 2010 and got its name from the original price of jobs being $5 per task. This is a great place for students to list the services they offer (or parents) or even find inexpensive tutors. The old saying is clear: you get what you pay for. In a nutshell, the quality of service is not always great, but there are good sellers on Fiverr®, just expect those services to start at more than $5. To find the best tutors, we recommend looking for highly-rated sellers who have a lot of reviews and make sure you filter by seller details when searching.
Pass on these great tips, tell your friends and like us on Facebook, Instagram, Twitter, and Pinterest. Find out more about how to use HaveUHeard as a great resource. Sign up for other great tips at haveuheard.com.