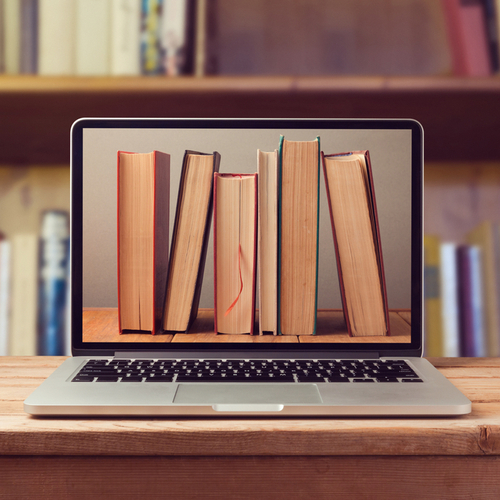 To Buy or Rent books, That is the Question.
I remember when I went to college, the lines at the bookstore were forever. The first day of class, the professor handed out the syllabus with the required books on the first day of class.  Immediately after class, I went to the book store, bought all of my books, carried them back to my dorm and hoped that the "used" books didn't have too many highlighted pages.
Well, some things have changed since then.  Students are now able to find their classes online, see what books they need, order the books and have them waiting at the UNF bookstore before classes begin.  If they prefer, they don't have to buy the actual textbook they can rent or get a downloaded digital version. Some students, however, prefer to wait until classes have started because many professors either change the requirements at the last minute or others are ok with the online version – which is a huge cost saving.
Deciding which is the most cost-efficient and the easiest way for your student to use it are important factors. The price of new books, whether hardcover or digital, are skyrocketing each year.  A very cost-effective way of acquiring required textbooks is to use various websites to buy or rent or purchase or rent from the bookstore.
Listed below are a few different websites that can be used for renting or buying books – Happy Shopping!
UNF Bookstore: Located on campus easy pickup and return.  Offers new, used and digital books. Largest in-store and online rental program in the country. Normal highlighting and note-taking are acceptable. Free return shipping if you rent online as a registered user.
Chegg:  You can read the online version of your textbook for free while Chegg ships you the hard copy of your book. There's access to homework help, including step-by-step solutions to textbook problems, and 24/7 online tutoring services (free for up to 30 minutes and rates as low as 50 cents per minute after that). There's a 21-day satisfaction guarantee, and return shipping is free. Aside from books, you can explore career profiles and internship opportunities to immediately apply.
Amazon Prime:  Students can use their UNF email to get six months of Amazon Prime for free (free 2-day shipping) and then only $50 per year. You can choose your exact rental length and pay only for that specific time.  A preview feature allows you to "look inside" some books to see a sample of the text. Several e-textbooks are available for a free seven-day trial. While reading your book, the X-Ray feature (available on the Kindle Fire HD and free Kindle app) lets you look up words in a dictionary, translate text and get relevant information from sources like Wikipedia and YouTube.  There's the option to trade in old textbooks for Amazon gift cards.
Half.com:  The site is an eBay subsidiary offering a crazy amount of cheap media and textbooks. Your Half.com account links directly to your eBay account. You can pay for purchases easily and securely with PayPal.  Return shipping is free.
BarnesandNoble.com –   You can pick from 60, 90, or 130 days for your rental and you can extend it if needed. You will see the shipping cost after adding the book to your shopping bag and returning your rental is free.
VitalSource – For digital textbooks, you can highlight text, take notes and search for specific content online.
Textbooks.com– offers free shipping on $25 orders and 30-day returns. Guarantees 50% back at the end of the semester if you purchase a guaranteed cashback book.
Bookbyte – Search for your textbook and then review rental term options. You can rent the book for 30, 60, 90, or 150 days, priced accordingly. Bookbyte offers free shipping for receiving and returning the book for orders of $49 and up.
eCampus – offers rentals for three different rental options: short-term (think summer session), quarter and semester. Make sure to sign up for their e-rewards program. free shipping for orders over $35 and they offer discounts just by texting them a code.
Textbook Underground – Whether renting or buying, they offer a 21-day guarantee so if you drop a class, you can return for a full refund. Rental periods are customizable so if you need it just for a test, you can choose that too.
It is, as I said above, a matter of weighing the options. I personally think renting is the least expensive way to go. Students can save as much as 80% by renting a textbook for the semester. There have been a proliferation of other online and smartphone apps for buying and selling college textbooks. Now, when it comes time to sell back any books that were purchased, consider the website Sellbackbooks.com. It is somewhat like how CarMax works- simply put in the ISBN number and they will give you a quote on what they are paying. The quote is valid for 7 days.
Let the studying begin!
Pass on these great tips, tell your friends and like us on Facebook,  Instagram,  Twitter, and Pinterest. Sign up for other great tips at haveuheard.com. New to HUH, here is how to use the site.