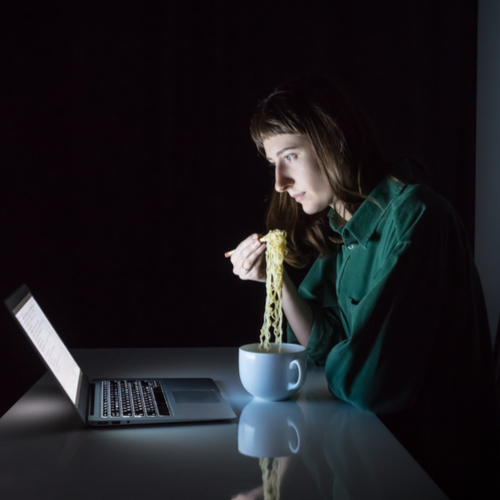 Teach Them To Budget And The Rest Is Easy
Eating on a budget is hard to do at any age.  Teaching my three kids how to budget their money was not an easy chore.  I am currently in the process of teaching my daughter and, let's just say, girls, are worse than boys.  I watch her bank account go lower and lower each week and am so grateful that she has her meal plan!
The summer before they each went off to college, I sat down with them and tried to explain how to budget their money, however, the reality is much different than just having a conversation.  Remind your student there is no shame in eating a peanut butter and jelly sandwich – it costs pennies to make. I really believe that businesses know college kids are broke. Luckily there are plenty of places to eat on and off campus that help them to keep their budgets.  Having their Osprey1card and asking businesses if they have a discount for students is a great way to eat out and still stay within their weekly budget.
Here are a few places that offer discounts.
Brass Tacks – $1-off Wednesdays for Ospreys. Plus, Brass Tacks does a "name of the day" every day. If it's your name, you can get free coffee.  And once it's back in season, definitely try the lavender latte!
Chick-fil-a – Every Monday, show your student ID to buy one get one free chicken sandwiches
Dairy Queen – 10% off
Mini-Bar Donuts – 10% off for Ospreys! Every single day.  Except for Mondays. Because they're closed. If you go closer to the weekend, they do cereal milk lattes! The cereal changes each week, but if it happens to be a cereal you like, definitely try it when you go.
Panera's – 10% off with student card
Papa John's 10-20% off pizza
Yogurt Mountain at Town Center – Check their Facebook page because of the discount changes.
The following places have excellent freebies for birthdays!
Denny's – Free Grand Slam breakfast
Dunkin Donuts – Free drink when you download their app
Einstein's – Right on Campus! Free Egg Sandwich
IHop – Free stack of pancakes.
Jamba Juice – Conveniently located on campus – Free Smoothie or Juice
Jersey Mike's – Free Sub & Drink
Seasons 52 – Free dessert
Students won't get a discount if they don't ask. They will soon find their go-to places for cheap meals.  Once they get the hang of budgeting, they will (hopefully) make it a habit. If you visit your Osprey, don't plan on seeing any of these places, as they will want you to take them to restaurants they presently can't afford. For a list of those restaurants, see our blog on restaurants.
For more great tips, read through our other blogs, follow us on Facebook and Instagram at haveuheard.com and share with other parents you know.