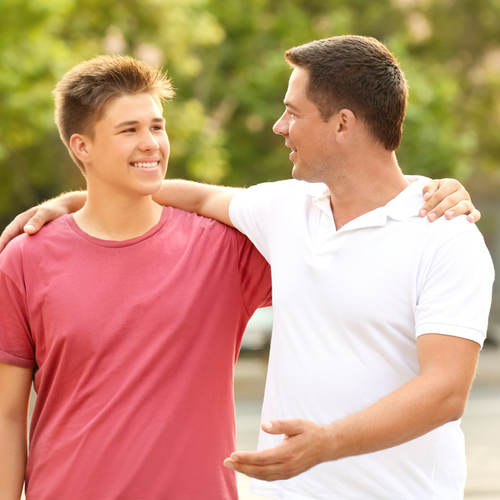 Officially, unofficial for Father.
There is nothing like a father and son or father and daughter weekend to get the bonding time flowing!  I truly believe there is nothing more valuable than one on one time with your dad and, if you are a mom reading this blog, it also gives you the opportunity to have some alone time as well to catch up on things that you like to do (i.e. sleeping, yoga classes, reading, shopping, etc.).
Dad's weekend isn't exactly official at UNF, meaning there isn't one specific weekend that it is called for, but many sororities and fraternities have one. Some will rotate years with mother-daughter or mother-son weekends but when they come for an "unofficial" visit, it is all about Dad and your son or daughter.
UNF and the Jacksonville area offer so many things for dads and their college students to do together.  Jacksonville has a ton of parks, sporting events, and outdoor activities. I have attached a blog regarding activities in Jacksonville, however, I have also listed a few more ideas as well.
Jacksonville is home to the largest urban park system in the nation, with 10 state and national parks, there are also a bunch of local parks that are a must-see as well.  Click here for the top 10 parks in the Jax area.
If parks are not your thing then how about:
Class Axe Throwing – Located in Arlington, Axe throwing is the latest craze.  My son and I threw axes near our home and had a blast!
The Great Escape Room – Can be done as a duo but also great as a group.  Put your minds together and figure out how to escape your room!
The Jacksonville Zoo and Gardens –  Located at 300 Zoo Pkwy.  Since 1914 the Jacksonville Zoo has supported wildlife conservation on a stunning riverfront landscape. It has a Tiger Exhibit, an Africa Overlook, an Australian Adventure, and even a Jaguar show.
Riverside Arts Market – Located at 715 Riverside Arts Market.  The market is located along the St Johns River and under the Fuller Warren Bridge.  The Riverside Arts Market is every Saturday from 10 a.m. – 3 p.m., rain or shine. RAM features a variety of small businesses, everything from artists to farmers to makers and bakers.
TIAA Bank Field – If your trip coincides with football season why not grab a Jaguars football game?  The stadium is located about 20 minutes from UNF.
Topgolf Jax – Located within minutes of UNF at 10531 Brightman Blvd.  TopGolf is a great way to golf and also enjoy great food, drinks and fun times.  They are open 7 days a week and up to 12 players can enjoy each booth. Reservations are highly recommended especially on the weekends.
Click here for some dinner and breakfast suggestions while enjoying your stay.
Regardless of how the time is spent with your student, the weekend will be so memorable and meaningful.  Enjoy!
Pass on these great tips, tell your friends and like us on Facebook,  Instagram,  Twitter, and Pinterest. Sign up for other great tips at haveuheard.com.