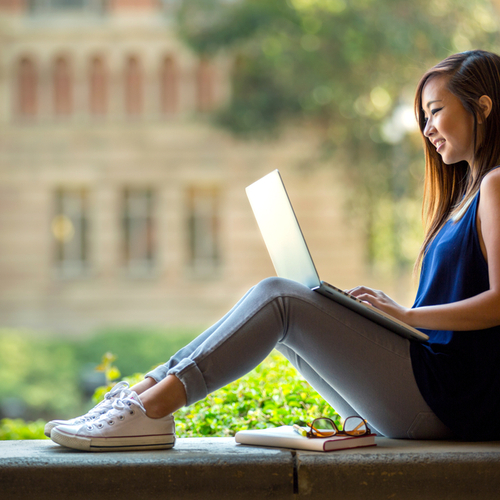 We have the inside scoop on places to live ON-Campus!
You can certainly read about the dorms and where to live from UNF's web page Housing and Residence Life and get most of the information that you need.  I decided to ask my freshman daughter and her friends to see what they thought of the dorms and get more of an insider's point of view. When you start during the summer of freshman year, the dorms that are open are limited.  This past summer there were only two dorms that were open – Osprey Cove and Osprey Landings. These two dorms are typically all freshman year round so it would make sense that they would be the two that were open.  During the school year, however, the following are all the dorms available to students.
Osprey Cove – Freshman dorm.  This is where my daughter lived this past summer.  At first, I was concerned because of the dorm doors open to a covered walk as opposed to a traditional dorm, however, the rooms are huge and she absolutely loved it.  Each room has two beds, one bathroom, wood floors and the room itself is huge. The Cove is also next to the Clubhouse where students get their mail, packages, can swim in the pool and eat at Pita Pit.
Osprey Landings – This is exactly the same layout at Osprey Cove.  My daughter currently lives here. Both the Cove and the Landings are right next to each other with the Cove being next to the Clubhouse and the Landings being just a bit closer to campus.
Osprey Hall – Osprey Hall is a traditional college-style building.  Each floor has a communal bathroom. This style is perfect for a freshman who doesn't want to walk out their door to the outside covered walkway and who doesn't mind sharing a bathroom with the other students on their floor.
Osprey Crossing – A freshman dorm that is a little bit further away from the center of campus.  Although the campus is not that big so it won't be that much of a walk, it is not as close as the Cove or Landings.  The Crossings has carpeted floors which may not work for some students who suffer from allergies.
Osprey Village – This dorm is mainly for upperclassmen.  It is more of apartment-style living.
Osprey Fountains – The Fountains is also for upperclassmen.  My daughter stayed here for orientation last year and when we pulled up, I was amazed at how incredible the building was.  The lobby has a place to eat, workout, study and hang out. The Fountains has its own pool and is home to the famous lazy river at UNF.
The Flats at UNF – The Flats are the newest addition to UNF.  They offer 2 and 3 bedroom furnished and unfurnished apartments.  If you are familiar with the campus, The Flats are near One-Stop Student Services.  These apartments are only for upperclassmen and allow pets.
To submit a contract to live on-campus, visit the myHousing web portal and log in with your UNF myWings credentials.  Make sure to keep your preferences updated and ensure you and your desired roommate(s) have mutually accepted one another.
Information for online Room Selection for Summer B 2020 will be available online on May 2020 and will also be sent out to contracted students' UNF e-mail accounts during the summer. Of course, we have a ton of recommendations for decorating dorms here.
Pass on these great tips, tell your friends and like us on Facebook, Instagram,  Twitter, and Pinterest. Sign up for other great tips at haveuheard.com.