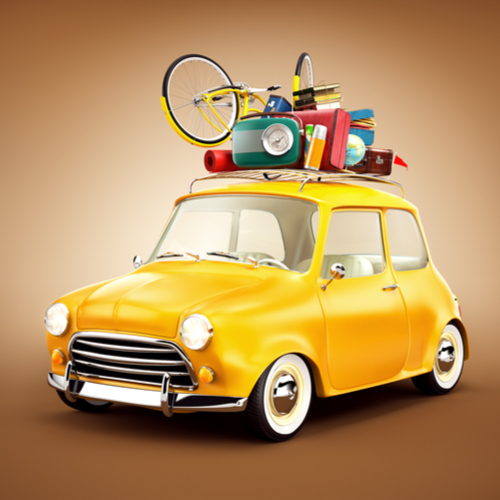 Managing the Gap
Did you know there was a time gap? Although it feels like you just moved your students into their dorms, you now have to move them out. The worst part, aside from the grueling heat, is that some may be returning in just a few weeks to move back in somewhere. And, if they have to be back early in August, whether it be another dorm or an apartment, having to schlep their stuff back home to return in just a few weeks seems a little silly. I know how many carloads it took to get our daughter moved in and, frankly, I am not prepared to rent a U-Haul to get her home and back again. I recommend your student start bringing things home if they are making any trips home between now and end of the semester or if you are visiting, bring some items home.
Also have your student check with their apartment complex, depending on when their lease starts.  Students can often store their items in their new apartment or even in a storage area within the apartment complex. Another inexplicable frustration is for students who live off-campus in apartments over the summer but are not planning on renewing their lease. Most leases end on July 30th but classes do not end until August 2nd. That leaves those students in a bind as to where they should live for that 2 day period and store their stuff all while heading into finals. Check with the apartment rental to see if they will extend the lease.
It's not ideal to have to move while studying. If they are graduating, perhaps find a good friend to put you up or look at an inexpensive hotel or Airbnb. As for their belongings, there is no easy solution. It is one of the many reasons I am not a big fan of students changing living arrangements every year. And for those students who have to be back a week early to help with sorority recruitment, they will have to find someplace to start since their lease doesn't start yet. My daughter is staying with her big sister for the week and then I will have to drive her stuff up to her when the lease on her apartment starts, which is the weekend before school starts. That should be so much fun for me, however, at least I get to see her again!
I have listed a few "gap" storage units for your convenience.
Cube Smart Self Storage –  8585 Touchton Rd, Jacksonville.  Offers the first month free and has several locations around the UNF area.
Extra Space Storage – 10523 Deerwood Park Blvd, Jacksonville.  Offers the first month free.
Public Storage– 3424 Southside Blvd, Jacksonville.  Offers $1 for the first month and monthly rentals.  Several locations.
For more great tips, read our other blogs, follow us on Facebook and Instagram at haveuheard.com and share with other parents you know. New to HUH, here is how to use the site.