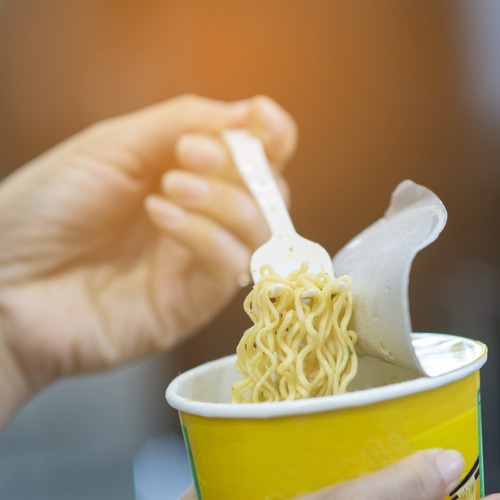 Eating on a Budget
One of the not-so-fun things parents do is to teach their children to budget, about money and how to handle it.  We've all heard it; teach them about money young, and they will be more responsible as adults. For me, I can say that I tried, but we truly started when my children were in high school.  They each had their own bank accounts with their own debit cards. They did their best, but if there was money in their account, they spent it. Turning 18 does not mean that they don't need guidance in this area because they do.  So, the summer before my oldest went to college, we had a "meeting" explaining how her money situation was going to be handled. We explained the amount per month she would have, what we were willing to pay for, and that if she was running low, then she better plan on eating peanut butter sandwiches for a while (she was not on a meal plan).  If that meant having to say no to friends making a frozen yogurt run, or no to Saturday sushi, then so be it. It's not fun "putting your foot down", but that's parenting.
That being said, if your student is planning their money wisely, then they won't need to miss out on much.  Luckily, there are plenty of places to eat on and off campus that help them to keep their budgets.
If they are on a meal plan, encourage them to bring back an extra apple, banana, or even dry cereal for a snack later.  Also, on campus, the Marshall Study Center has many food specials and doorbusters for places in the food court/restaurants in the Marshall Center.  Free cookie breaks, free apples and trail mix, and even a Subway picnic are some of the treats offered. Most of these are offered during exam time, so check their schedule.
A useful app for USF students is Discount-A-Bull.  It can save you up to 50% off your next meal at places around USF.  Just pick the discount and show it to your server. For some reason, some students don't like to ask if there is a discount for USF students.  "You never know, unless you ask" applies here. Have them ask everywhere they go because some places will offer a discount that is not published anywhere.  And some places will give you a discount if you "check-in" tagging their Facebook page.
There are tons of places that give discounts and can help students keep their budgets.
These places offer a 10% discount with a USF ID:
Jason's Deli
Wings Express
Dunkin Donuts
Firehouse Subs
Moe's
CDB Pizza
Which Wich
Denny's
Village Inn
Evos – Located on Fowler Ave. Get a 12% discount on value meals and they deliver to campus.
Takara – Gives USF students 20% off.
SoFresh – Has student deal Saturdays where they get 20% off a meal, and on Fridays, they have Facebook Fan Special offering soup for 99 cents if you mention their Facebook ad.
Five Star Pizza – Gives a 25% discount with ID plus $1.50 delivery charge to campus.
Chipotle – Gives 15% off.
Qdoba – Offers a free drink with a student ID.
Chick-fil-A – Offers a free drink with a student ID.
Saki House – Offers $5 sushi rolls after 10 pm every day.
Again, students won't get a discount if they don't ask. They will soon find their go-to places for cheap meals.  Once they get the hang of budgeting, they will (hopefully) make it a habit. If you visit your Bull, don't plan on seeing any of these places, as they will want you to take them to restaurants they presently can't afford. For a list of those restaurants, see our blog on restaurants.
Pass on these great tips, tell your friends and like us on Facebook, Instagram,  Twitter, and Pinterest. Sign up for other great tips at haveuheard.com. Are you new to HaveUHeard? Here is how to best use the site.