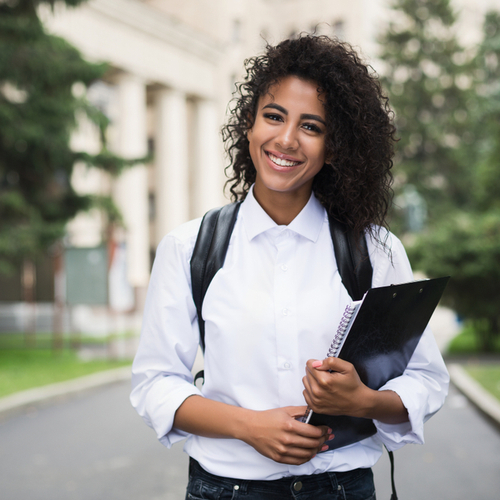 USF Sorority Recruitment: What to Expect & What to Wear Tips & Tricks
You want to know what to expect and what to wear for the best recruitment result, we have suggestions. The great thing about recruitment at USF is that it does not overlap with your first week of classes. Once you are settled and know where your classes are, you'll spend your first weekend at school going through Panhellenic recruitment. USF Panhellenic is made up of ten different chapters which you will visit over the next week.
Girls going through Recruitment are referred to as PNM's (Potential New Members). At the end of each day of recruitment, PNM's and the sororities will rank each other making it a mutual selection. The sororities you rank at the bottom could potentially be dropped if the sorority also ranked you at the bottom.
Pre-Recruitment Orientation
Orientation night will be August 27th at 6 p.m. At orientation, you will learn about the process of recruitment and meet your Rho Gammas, which are the Panhellenic counselors. You can dress very casually for this but make sure you bring a jacket as it can get cold. Girls are divided into groups with two Rho Gammas. During orientation night, the Rho Gammas will let you know where you will meet each day of recruitment an hour before each round begins. During this time, you will receive your schedule for the day.
Round One: Spirit Day
Welcome to the first round of recruitment! Over the span of the day, you'll be visiting all ten houses, so make sure you bring the essentials that we recommend, along with your patience and smiles. This round is referred to as Spirit Day as you should be wearing USF's colors – green and gold. During your stop at each chapter, you'll speak to about 3-4 chapter women for about five minutes each. This will allow you to briefly get to know the sorority and ask questions that are important to you when choosing a chapter at the end of recruitment. Since this round is about the basics, keep in mind that you may be having very similar conversations throughout the duration of the day. This round lasts about an hour.
Some questions you can ask the chapter women are:
What made you choose this sorority?
What's your favorite memory in the sorority?
How much of a time commitment is the sorority? How will it affect school?
What to not talk about: You'll hear the term 'The Three B's' quite often throughout the recruitment, which is boys, booze, and bars. Stay away from mentioning these subjects as they are not important topics during recruitment. PNM's drop two houses after round one.
What to wear: Green and gold! You can wear green and pair with gold jewelry but definitely stay away from heels as you'll be on your feet all day.
Outfits: Forever 21 H&M   Lulus Revolve Clothing
Jewelry:  Princess Polly     Baublebar   Francescas

Round Two: Philanthropy Day
Welcome to Philanthropy round! Each sorority aligns with a non-profit organization to raise money throughout the year. You'll be able to visit up to eight chapters this round, which lasts about an hour, but keep in mind that you may have less and that is totally normal! In each chapter, you can ask questions about the organization the chapter raises money for, and how they do so. Remember, no 3 B's! At the end of this round, PNM's drop two houses.
Some questions you can ask the chapter women:
How has the philanthropy affected you or other members of the sorority?
What's your favorite event that you do for your philanthropy?
What other philanthropies do you typically participate in?
What to wear: Each round you'll get a bit more dressed up, so consider wearing a romper/sundress along with comfortable sandals. This can be something you would wear to a fun brunch with family or friends. Some girls may wear wedges or platform shoes, so if you choose that route, just make sure you are comfortable. Show your style!
Outfits: Revolve    Forever 21   Lulus
Shoes: Macy's   Lulus   Nordstrom  Macys
Jewelry:  Nordstrom    Bauble Bar
Round Three: Sisterhood Day
After round two, you'll take a brief break from recruitment to continue with the school week. The following Saturday, you'll experience the third round of recruitment, which is referred to as Sisterhood Day. During this round, which lasts about one hour, you'll visit up to six chapters and will likely talk to two sorority members. Each sorority will share events that the sisters do together and show you videos that will give you a glimpse inside their sisterhood. It is important to get to know the chapter the most during this round as you will drop four houses, narrowing down your selection to two houses when round three concludes.
Some questions you can ask the chapter women:
Does your sorority plan sisterhood events, and if so, what is your favorite?
What events do you hold throughout the year?
How can you get more involved with the sorority? (i.e. holding positions, committees, etc)
When did you know you wanted to be in this sorority?
How has the sorority changed your life?
What to wear: Again, time to get more dressed up for this round! We recommend a nicer sundress, jumpsuit, or romper paired with jewelry and wedges that are comfortable to walk in. If heels bother your feet, you can always bring flats in your bag to walk from house to house.
Outfits: Lulus    Forever 21   Revolve  Revolve
Shoes: Nordstrom  Nordstrom   Macy's
Jewelry: Nordstrom   Baublebar   Baublebar
Round Four: Preferential Day a.k.a. Prefs
You made it to the last round of recruitment! Round Four is referred to as Preferential's and the Day you'll have a better understanding of where you see yourself. During this round, you'll visit up to two houses and will get to learn more about the chapter's rituals and initiation process. This round lasts about an hour and will provide you with more time to talk to a chapter member and will likely be with someone you have previously spoken to. Since you have asked a lot of the basic questions at this point, you are able to be more open and honest with the chapter women. If you see yourself fitting in with a particular chapter, you can absolutely tell them! Ask what is important to you, and be yourself. Make sure you don't hold back, as you want to be confident in the decision you are making at the end of the evening. You rank your two houses left from the one you want the most to least. You can still get the house you put below your top house.
Some questions you can ask the chapter women:
Did you know you wanted to be in this sorority on preference night?
How did you know the sorority was right for you?
What to wear: This is definitely the most formal round. We recommend a dress you would wear to a daytime wedding or graduation. Think of a semi-formal dress paired with heels. Again, you can put flats in your bag if needed.
Outfits: Forever 21  Missguided  Lulus  Revolve
Jewelry:  Nordstrom   Baublebar   Baublebar
Bid Day
It's finally here, the day you've been waiting for – Bid Day, Best Day! Today you'll receive a bid to your chapter and get to meet all your future sisters. This is one of the most fun days as you'll be meeting so many new people and celebrating the start of your sorority experience. Enjoy it!
What to wear: Panhellenic will provide you with a shirt to wear, so you can wear a basic tee before meeting up with the rest of the potential new members. You can pair the tee with shorts or a skirt and fashion sneakers. Once you get to your sorority, one of your sisters will give you a shirt that matches their bid day theme.
Clothes: Revolve  Lulus  American Eagle
Shoes: Nordstrom   Revolve   Lulus
Jewelry:  Nordstrom   Baublebar   Baublebar
Congratulations and welcome to the University of South Florida Panhellenic!
Lindsay Fine, USF Intern
Find more great outfits, shoes, and jewelry at the stores below. We hope you will look them over.
Pass on these great tips, tell your friends and like us on Facebook, Instagram, Twitter, and Pinterest. Find out more about how to use HaveUHeard as a great resource. Sign up for other great tips at haveuheard.com.