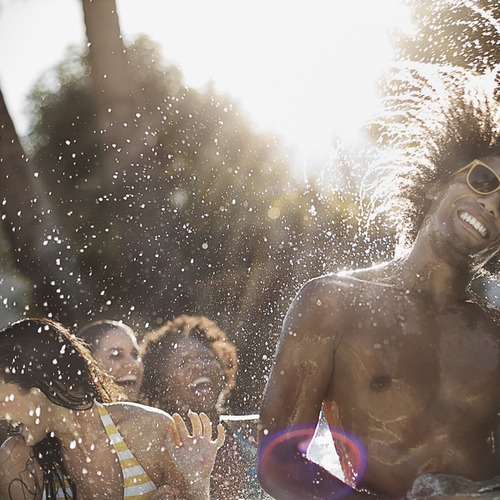 Spring Break
The words 'Spring Break' brings up visions of beaches, partying, and sunburn to many of us. Why? Because we were once teenagers and we looked forward to letting loose with our friends as much as our kids do today. I grew up in Miami, FL, so most of my Spring Breaks growing up were spent at many of the Miami area beaches or in the Keys. With my own kids, we spent those breaks together on a trip or on a "staycation" at home.
Your Bull's first college Spring Break may be a little different.  This year, it is March 16th-22nd. I know you have been dying to see your student, but get ready to hear about their plans, as they have been probably working on them for a while. Now that they are adults, they may want to travel with a friend or a group. Some parents won't allow their kids to go to a popular Spring Break destination, while others have no problem letting them enjoy their freedom. There are arguments for both sides. The news reports alone each year are enough to put real fear into parents' heads. And there is always finances to think about.
Being that USF is in central Florida, there are many popular destinations that are not too far away. Clearwater Beach is a popular trip for students all over the country. It has that "party" atmosphere during the Spring months and it gets very crowded, so make your plans early. Daytona Beach is a 2 ½ hour drive from Tampa and Miami Beach is a 4 ½ hour drive. Key West is always a popular choice that does not lack in 24/7 fun. It's a long drive (7 ½ hours) but a relatively cheap and short flight from Tampa.  Cocoa Beach, the surfing capital of Florida, is just a 2-hour drive and the beaches get pretty lively. Cruising is popular with college kids because they don't have to worry about driving, and all of the fun is in one spot. Check with the cruise lines, as usual, one person must be 21 or older in each room.
For those that have students who are looking for an alternative for Spring Break, USF offers Bulls Service Breaks. You must apply for these small groups, domestic trips that focus on learning more about social issues and injustices and creating a better world for us to live in. You must apply early and go through an interview process. Find more information here. There are also trips abroad during Spring Break. You can look into those here.
Wherever you Bull and their friends go, they are bound to have fun. It's a hard task to let them go while missing them already. But, sometimes freedom comes with guidelines, especially if we as parents are helping to fund Spring Break. Keeping them safe comes first.
Kid Rules:
Never, ever go off with anyone other than friends and never, ever let a friend go off with someone they do not know. I gave that same advice to her sister even going so far as to say "I don't care if it is Joe Jonas (fill in your student's famous love interest here); you do not go off with anyone. I had to trust that she understood the seriousness of my words.
Never accept a drink from anyone- again, this is a safety tip she has heard even when she goes out in our hometown.
Check-in with a text daily. I do not need to speak to her on the phone; I just want a text saying, I am okay.
Be aware of laws (open container, alcohol restrictions on beaches, etc.)
Those are my hard-fast rules for when she leaves. Now for the parents, if you do have a student going off with friends for Spring Break.
Parent Rules:
If they will be traveling out of the country, make sure you add an international phone plan to their number.
If they have a credit card, make sure you let the credit card company know they will be out of the country so they are able to use the card.
Make sure you have their friends' phone numbers just in case you need to reach them (or do not hear from them). Maybe it dropped in the pool or ocean or they lost it on the beach. This will allow you a backup option.
Following that same thought, make sure you have their friends' parents' numbers as well in case you need to get in touch with them.
Activate the Find My Friends app so if you need peace of mind to know where they are located, you will be able to find them. This is non-negotiable for my daughter and me.
Make sure your passport is valid as well. Again, if an emergency arises, you will need a valid passport to travel out of the country.
Spring Break is sort of a rite of passage. Let's face it, in just a very short few years they will (hopefully) be out in the working world and vacations will take on a whole new look for them.
Pass on these great tips, tell your friends and like us on Facebook, Instagram,  Twitter, and Pinterest. Sign up for other great tips at haveuheard.com. Are you new to HaveUHeard? Here is how to best use the site.