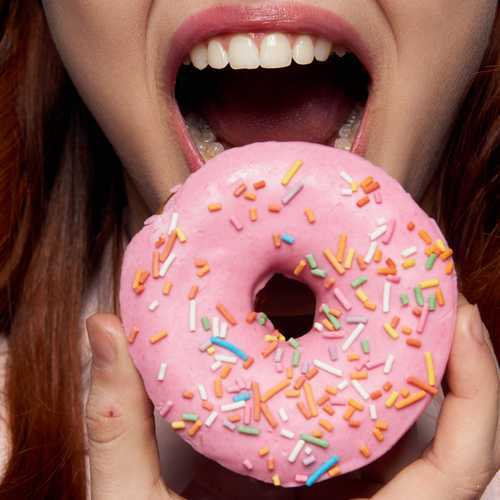 Eating Donuts are Not on the Eat Healthy List!
Eating healthy can be a difficult task on a college campus. Meal plans, rushing to and from classes and activities, budgets, the amount of burger, pizza and fast-food restaurants surrounding FAU, and, of course, late-night food runs definitely compromise our student's plan to not gain the Freshman 15 and stay in shape.
Recently, college students everywhere have demanded healthier and higher quality food options. While it may be easy to grab that slice of pizza in the Café, FAU offers a wider variety of healthy options for eating in the dining halls. FAU is located in Boca Raton, a city that is ideal for the health-conscious. There are many healthy dining options surrounding FAU that have quickly become student favorites.
Beehive Kitchen: Located at Fifth Avenue Shops 1914 NE 5th Ave, Boca Raton about 10 minutes from FAU, they are known for their build your own bowls.
Fit Foodz Café:  Located on Clint Moore Road, Fitz Foods takes a healthier spin on many classic dishes. Fit Foodz also has a smoothie and juice bar as well as a bakery.
Fresh Kitchen: Located on Military Trail, Fresh Kitchen is a casual, counter-service restaurant offering healthy, fast food. Fresh Kitchen strives to use local produce and proteins, therefore, their menu changes based on availability…
J&J Fresh Kitchen: Located on St. Andrews Blvd. Offers a variety of Juices, protein shakes, soups, salads, and wraps. J & J Fresh kitchen only uses locally sourced produce, therefore the menu can change based on what local produce is available that day.
Muscle Maker Grill: Located on S Federal Highway, Pride themselves on making healthier versions of everyday meals. They have large and small meals, smoothies, bowls, soups, pasta, and meal plans too.
Nature's Way Café: located on FAU Boulevard (near the back entrance to FAU) Fresh, healthy breakfast and lunch fare. Nature's way offers a variety of healthy sandwiches, wraps, and soups.
Playa Bowls – Located near FAU on E. Palmetto Park Road. Great place for smoothies, Acai bowls, juices, poke bowls and more.
Raw Juce: Located on Glades Road. Raw Juice uses local and organic fruits to create their cold-pressed juices and Acai Bowls.
Souvlaki Fresh: located on NE 2nd St, a Casual Greek restaurant, Souvlaki Fresh prides itself on using Mediterranean style cooking while using the freshest and highest quality ingredients.
Below are a few great tips that helped my student make healthier choices while on campus:
Wake up thirty minutes earlier and have breakfast. Breakfast is the most important meal of the day, and a healthy start will make the rest of the day smoother. A healthy, filling breakfast will help to curb the cravings for that bag of cookies in a vending machine. Make a quick shake in the morning, or keep oatmeal packets, or get to the dining hall early enough to eat. A veggie omelet makes a great start to your day. Eating right gives you an advantage in studying!
Plan ahead. Think about your schedule of classes and everything else. Even study time, when snacking can be practically essential, takes planning. It will just make it easier and studying will go better if you have smart snacks rather than things that will make you full and tired. My student, when she was getting ready to start studying for finals, would make up little snack bags. She would put sliced apples, grapes, nuts, or carrots in these snack packs and just take them along wherever she was going to study. For those of you that have kitchens in their dorms or live in an apartment, meal prepping is your friend. Invest in some plastic storage containers. You can cook rice, quinoa, or even whole-wheat pasta in bulk. Then you already have a healthy base to top with some chicken or add to almost any meal. You can even add the quinoa to a salad.
And, of course you will want to combine exercise with that healthy eating regimen. Check out our suggestions in our blog Staying Fit.
Pass on these great tips, tell your friends and like us on Facebook, Instagram, Twitter, and Pinterest. Find out more about how to use HaveUHeard as a great resource. Sign up for other great tips at haveuheard.com.