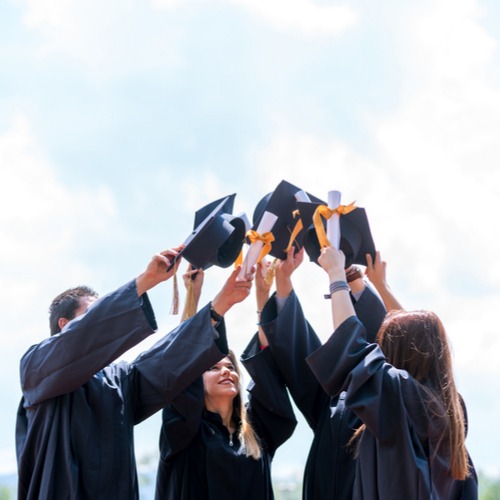 Graduation Restaurant Reservations
Finally, graduation is here, yay! Family and friends will want to join you for a fest, here are our tips on local restaurants and the reservation specifics. FSU holds graduation ceremonies three times per year with May being the largest ceremony, broken down by each college. Spring Graduation dates are May 3rd and 4th, 2019. You can check the commencement schedule to see which date and time pertain to you. Hopefully, you have read our blog, Graduation at FSU, and already arranged your hotel rooms. But if you are coming up with your entire family, you may want to make your restaurant reservations as many of the restaurants get extremely busy.
The next few graduation dates are the weekend of and May 1st. 2020.
To help you out, we are including in the listings the restaurants that take reservations and if they require a deposit. For other restaurant recommendations, see our blog on restaurants. We will continue to add to this list regularly as we find more information but our suggestion is to make your plans early, especially for the Fall and Spring graduation weekends.
Andrews Capital Grill –  Takes reservations for parties of 10 or more. Call a couple of weeks in advance.  Just below the restaurant, there is a boutique meeting space -The Private Rooms at Andrew's. With a separate entrance and three unique rooms, they can host groups of up to 25, 35, and 60, or 120 across all three rooms.
Backwoods Crossing – Takes reservations for parties of 6 or more.
Bella Bella -Does not take reservations.
Bird's Aphrodisiac Oyster Shack– Does not take reservations.
Blu Halo – open for lunch, brunch, and dinner. They take reservations and also offer private dining but definitely call in advance
Cabo's Island Grill and Bar – Does not take reservations. Recommend calling a couple of days in advance to let them know and then call an hour before so they can confirm you are still coming.
Cypress – 320 E Tennessee St. Raved about as a prime dinner spot for special occasions.
Fifth and Thomas – 1122 Thomasville Rd. If you're looking to have a small private party.
Food Glorious Food – Takes reservations. For a private room, a deposit required.
The Edison – Takes reservations. For parties of 15 or higher, email event coordinator at Ashley@edisontally.com.
Georgio's Fine Food & Spirits – Traditional Greek, Italian and American dishes. Open for dinner only.
Harry's Seafood Bar and Grille – Does not take reservations.
Il Lusso – They start accepting reservations one month out.
Kool Beanz Cafe – No reservations unless it is a large party, however, one of our favorites in Tally.
Little Italy – We saw a grad dinner there with long tables outside under the canopy. Restaurant in the courtyard area and very pleasant for outdoor dining.
Lucilla – 1241 E Lafayette St. They also do catering for holiday gatherings and birthday parties.
Marie Livingston's Steakhouse – A popular steakhouse. Best to call ahead for reservations.
Masa – Takes reservations.
Melting Pot – Takes reservations but does not require a deposit
Midtown Caboose – Does not take reservations. For larger parties, call before going to minimize wait times.
Netafaro's – If you are looking for something a little different, this is more of a dining and entertainment experience centered around the "Royal Experience" Queen Nefetari and King Ramesses enjoyed. Fare includes international dishes and fresh, organic, farm-to-table culinary creations. Reservations are taken and if you are a large party, request the "Lotus Room" or "Queen's Table" which requires a $100 fee to reserve for the entire day or evening.
Primetime Lounge & Restaurant – Does not take reservations.
Sage Restaurant – Takes reservations- Suggest do it way ahead of time. Credit-card kept on file.
Sakura Japanese Sushi & Grill – Reservations taken for parties of 5 or more. Call in advance for larger parties.
Shula's 347 Grill – Located in Hotel Duval and recently opened, this Don Shula namesake is known for their aged beef and other classics. For private dining, call ahead to reserve the Legends Room and Coach's Corner.
Spear It -Takes reservations
Table 23– Takes reservations. For large parties, book in advance as a manager must approve before accepting reservations. A lovely porch with a canopy of moss-oak covered trees makes it pretty too.
Ted's Montana Grill – Takes reservations. They recommend making a reservation three months prior. It does not take a deposit.
The Blu Halo – Takes reservations. They take a minimum of 14 people inside. Have patio seating as well. They have a private dining room for private parties. Call for information.
The Wilbury – Does not take reservations. For large parties, call in advance
Wells Brothers Bar and Grill – does not take reservations. Call ahead of time the day you want to come in and they can usually accommodate. Recently renovated the kitchen.
Z Bhardis Italian Cuisine – White tablecloth Italian restaurant with outdoor seating, specialty pizzas, and wine list. Reservations are recommended. Call ahead.
Pass on these great tips, tell your friends and like us on Facebook, Instagram, Twitter, and Pinterest. Find out more about how to use HaveUHeard as a great resource. Sign up for other great tips at haveuheard.com.