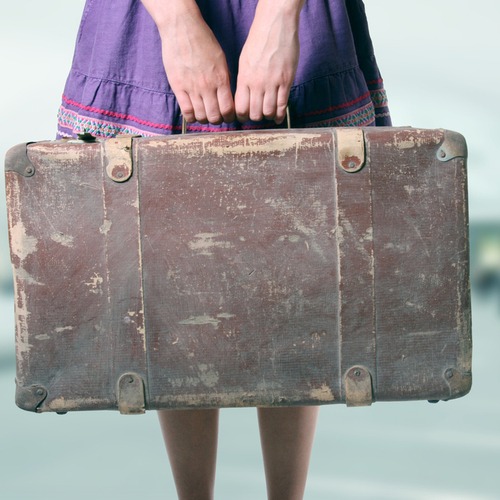 Where Will They Live?
Although it feels like you just moved your students into their dorms, you now have to move them out. The worst part, aside from the grueling heat, is that some may be returning in just a few weeks to move back in somewhere. And, if they have to be back early in August, whether it be another dorm, sorority or fraternity house or an apartment, having to schlep their stuff back home to return in just a few weeks seems a little silly. I know how many carloads it took to get our daughter moved in and, frankly, I am not prepared to rent a U-Haul to get her home and back again. So, my first piece of advice is to recommend that they start bringing things home over Spring Break or if you visit, take home a few things that they really aren't using. I guarantee there is something.
Sorority recruitment starts the week before students are able to move into the dorms and sometimes new apartments. If they will be living in the sorority house, they are all set. If they are staying in the same apartment they lived in the previous year, then all should be fine too. If it is a new apartment, it will depend on how quickly the complex can flip the apartment and have it ready for move in. Of course, an earlier move-in date than specified on the lease might mean paying a fee. Some apartments charge by the day and others have a flat rate; they generally change each year.
Some apartments offer "As-Is" to move in early. Word of caution – you most likely will be walking into an enormous mess with food left in refrigerators, overfilled garbage cans, chips in the paint on the wall and well, you get my point… it is why they call it "As Is." You can decide if being able to move in is more important than moving into a cleaned apartment. You can always hire a cleaning company at your own expense. Click here for names of cleaning companies.
Some sorority sisters that already have apartments may open them up to sisters that would otherwise be basically homeless for Spirit Week. Other girls will bunk in their sorority house, but that can get very crowded. Sometimes students with apartments will rent out rooms for that week. Lastly, some girls have suggested finding an Airbnb in the area. It should be less expensive than a hotel, which some students share as an option, as well. The fee for the early move into a dorm is usually per night, which is much less than sharing a hotel room.
The next question is what to do with all their stuff. If they are living on someone's couch during Spirit Week, they will need to store their things or perhaps have them brought up to school later when they can actually move into their new place. Or, and this is my preference, leave their things in short-term storage for the few weeks between semesters. Some companies will pack and move for them too. DormRoomMovers.com, for instance, will do all of this. There are many storage facilities in the area that can be rented on a short-term basis. Consider sharing the space and cost with a friend.
For some suggested storage and moving companies, read our blog on Moving Out.
For more great tips, read our other blogs, follow us on Facebook and Instagram at haveuheard.com and share with other parents you know.