HaveUHeard.com includes links to third-party websites and advertisements for third-party products and services. Product and service-specific opinions mentioned within the content of our blogs are entirely the opinions of the HaveUHeard.com team and its staff. It is our hope that you will find value in the products and services these third-party organizations represent, and patronize these businesses. Such advertising and marketing partnerships help make our efforts at HaveUHeard.com possible. Thank you for your support and ongoing interest. For additional information, please read our full HaveUHeard.com Disclosure Statement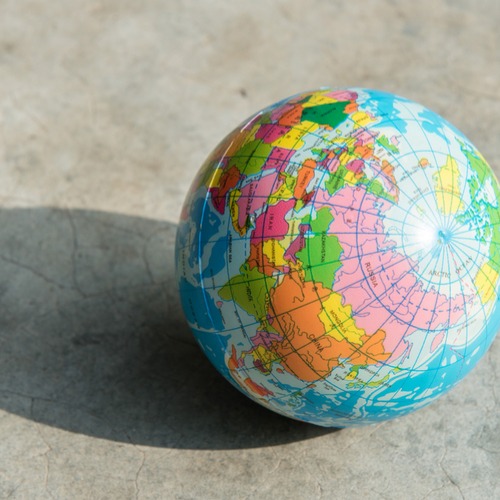 The World is your Classroom
I am a big believer in this adage. Apparently many students agree as Study Abroad programs have become increasingly popular. When researching this topic I was amused to read not only a plethora of information about the various things to look for in a program but also some amusing blogs written by students about how to convince one's parents to allow him/her to study abroad. Well, this parent is sold.
My oldest daughter studied at FSU's facility in London for a summer and it was fantastic. She loved everything about it (except for the mouse that set up camp in her flat, but we have decided that was all part of the learning experience that she never before had to deal with such a circumstance) and we took advantage of the situation and went to visit and used one of her long weekends to vacation in Paris together. If they will be traveling around and staying at hotels, which my daughter and her friends did on occasion, HaveUHeard that students can get a 10% discount if they verify their university status on Unidays?
FSU International Programs makes it pretty easy to find just the right program for your student. They have study centers in Italy, England, Spain, and Panama, but there are programs available in many other countries as well. Peruse the International Programs website to see all that is offered, and then try to narrow it down by deciding what sort of things they are looking for in a program.  Florence is one of the more popular abroad destinations. FSU acquired and renovated the Palazzo Bagnesi Falconeri, a 37,000 square foot palace in the heart of Florence. It is where FSU will move its Florence Study Center scheduled to open in early summer 2020. Inside will be a library, study space, reception area, coffee bar, experiential kitchen and outdoor patio. In addition to its classrooms, it will also house a sewing and textile lab and a newsroom and media lab. The third floor will house student apartments with room for 24 students.  (students can stay in several other residences nearby). I recommend making a list; but then again, my kids will tell you; I make lists for just about everything.
Language immersion?
Exploring the world; gaining a new perspective?
Internships?
Volunteering?
Budget?
Country or city of interest?
Coursework needed/accepted? (Remember to stay on the path towards graduation.)
How long to be away?
Some students would never consider doing a semester abroad during football season, so spring or summer sessions are better options. There are even mini-sessions during spring break.  As they begin to look at the various programs offered; they will notice that it includes internships.  Internships offered in, but not limited to, all four countries listed above, are an excellent way to accrue credits and gain experience. It is possible to participate in international programs as a transient student, outside of those directly affiliated with FSU, but it is important to get approval beforehand to be sure the credits will transfer.
The Moellership Program provides undergraduate and graduate students at Florida State University the opportunity to focus 8 – 12 weeks of their summer on service at a non-profit agency anywhere in the world. Students receive a stipend of up to $4,000 for participation in the program. There are also several Study Abroad scholarships available each year for FSU Study Abroad trips.
Research Programs
Another option for international study can be found through a research program. Students can design and implement their own research projects that can be carried out while living and working amongst other cultures. Students need to apply first to whichever program they are considering. There is a non-refundable $100 fee for applications, but if the application is done before the early-bird deadline, there is a $100 discount. Student Recruiters are always available to answer additional questions about the process as well as what to pack, classes to take, excursions, housing details, and life overseas.
Financing can get complicated based on Florida Prepaid, Bright Futures, and any other scholarships one might have, but it is possible to apply some of these monies toward studying abroad. There are many scholarships and fellowships available for studying abroad too. I am sorry to say that some require the dreaded FAFSA form first, but you should be an old pro at that by the time your student begins to consider an international program. Have your student make an appointment with Student Financial Assistance and they can walk them through the process.
Note: There are some scholarships available.  April 1, 2020 –  Scholarship Application Due for Fall 2020 Study Abroad Programs
In addition, while considering financing it is important to take note of things like housing, airfare, and tuition, but don't forget other things, like food (some meals may be provided, but others may require students preparing their own or eating out) and additional travel. The internet keeps track of all of your searches so you may want to open an incognito window so you can avoid increasing prices (the travel site is then unaware that you already searched for a low price on their website). The best time to book an international flight is typically 2-4 months before your travel date. Another tip is to check one-way tickets each way as sometimes you may actually get a better fare than the roundtrip price.
For housing, while FSU does offer to house them through their international program, other options include Airbnb's and hostels. If someone wants to immerse themselves even more so in the local culture, consider staying with a host family.
Finally, FSU has a special program for accepted students called First Year Abroad (FYA). The program offers students the opportunity to spend their first year of college abroad at one of their four study centers.
For ease of packing, my daughter used packing cubes which were great for organizing her clothes. We went with the ultralight packing cubes from eBags.
Make certain their passport (and yours) are current. They cannot travel internationally if a passport will expire within 3 months. Students may renew their passports at Florida State University International Programs office, officially designated as a Passport Acceptance Facility by the U.S. Department of State, for information. In the event that you need to expedite a passport or visa renewal, try Fastport Passport. They are registered with the U.S. Department of State.
You may want to consider having your student get Global Entry which runs approximately $100 for five years but makes getting through security so much easier. Or, have them download the Mobile Passport app which is free and helps to speed you through U.S. Customs. (officially authorized by U.S. Customs and Border Protection). They will still need their passport but it saves them time.
More passport info:
Through the Student Government Association, the FSU International Programs Passport Office has been granted the opportunity to offer 75 students passports at a subsidized rate. Students will only be responsible for paying the U.S. Department of State fees. The agency fees and cost for pictures, totaling $45.74, are waived. They ask you to check the FSU International Programs Passport Office's website first to ensure that you meet the requirements and will be able to obtain all needed documents:  If you meet all the requirements then the signup.
Once you have signed up, a member of the FSU Passport team will be in contact with you to set up a specific date and time for you to come and apply for your passport. Once you have signed up, you will have one week to respond to the email sent from the passport team or you will be removed from the list.
    The FSU International programs office is located at A5500 University Center Tallahassee, FL 32306  The hours of operation are Monday – Friday: 8:00 AM – 5:00 PM EST.
Consider purchasing student travel insurance for emergencies, which we pray they don't need. HaveUHeard recommends Allianz Travel Insurance.
A few other bits of helpful information:
 For students who are traveling abroad, they should enroll in the State Department's Smart Traveler Enrollment Program (STEP). To enroll their trip with the nearest U.S. Embassy or Consulate
 If a student is traveling abroad as an FSU RSO (registered student organization) to perform service, they should make sure they have completed all required forms: https://global.fsu.edu/travel-policy/student-travel-policy, and have completed all of the required steps including submission of proof of insurance.
For international students on an F-1 or J-1 visa that plan to leave the country during spring break, they need to make sure to have a valid student visa and an I-20 or DS2019 signed for travel within the last year. These will be required to re-enter the US.
If they will be traveling around and staying at hotels, which my daughter and her friends did on occasion, HaveUHeard that students can find access to special rates through StudentUniverse? Or, they can consider staying at a hostel. Hostels are not all so shabby anymore. Check out HostelWorld to see how nice (and inexpensive) some of them are.
Consider purchasing an unlocked phone that works on international networks. By purchasing in advance, your students can add their contacts and download their apps ahead of time.
Finally, when prepping and packing be sure to find out if they will need an adapter and/or converter. There can be varying prong set-ups from one country to the next and if they intend to travel (which they will) they should be prepared. Encourage them to keep a journal as well. It will be priceless in years to come. If they need to take any medications with them, be sure they travel with a prescription for documentation as some medications are illegal in other countries.
Looking for items students heading abroad need or want? Students love to travel to different destinations while abroad. GetYourGuide gives them guides to unique and unmissable things to do in their destination
Pass on these great tips, tell your friends and like us on Facebook, Instagram, Twitter, and Pinterest. Find out more about how to use HaveUHeard as a great resource. Sign up for other great tips at haveuheard.com.