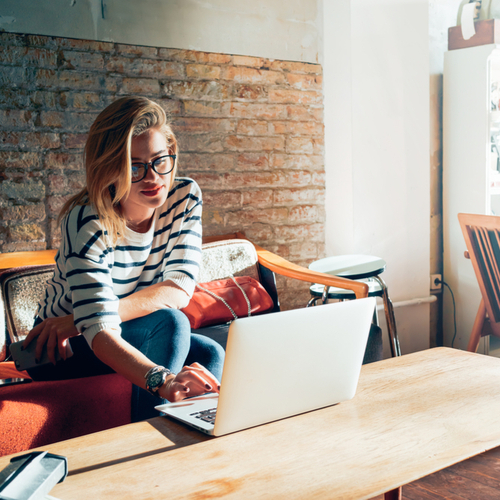 Finding a good place to study is very important for students.
Finding a good place to study on campus is like the ultimate jackpot. While most students love to study at the library, I just can't get myself to sit at an old wooden chair and stair at dusty books and grey walls, surrounded by my friends chattering. Hey, that works well for some students, but everyone has their own wants and needs when it comes to the perfect study location. I personally love a quiet spot, with good coffee, comfortable chairs, and good scenery.
IU Campus
IU is full of an abundant amount of adorable, hidden little rooms you never even knew existed. There are study areas on campus for literally every type of studier- the dark and quiet, the comfortable, the scenic, the outdoors- you name it, and IU has it.
Art Museum– Inside the Art Museum also lies a popular cafe that is a great study destination.
The Luzetta and Del Newkirk Café is a quaint coffee shop that has great beverages- with a way shorter line than Starbucks. It also allows students to study while being surrounded by art which can be a nice view for a change.
ICTC Building– If you are a late-night studier than this is the spot for you. In-room IT 131- students have 24-hour access- just don't forget your Crimson card.
Inlow Hall– If you can get past the hard, wooden chairs- McKinney School of Law has a hall that any IU student is welcome. Not only does the building have its own library, but it has one of the best views on campus overlooking Bloomington's cityscape.
Ruth Lilly Medical Library– Every IU student has access to this perfect study destination. It is full of big desks and computers that give each student their privacy.
University Hall– Although tiny, just as you enter the main entrance, you will find a hidden nook filled with the comfiest, big red chairs with desks attached. When I am studying for hours I definitely look for a big comfy chair that won't leave my back sore after sitting for hours!
University Tower- On the 2nd floor you will find a wide, open space filled with comfy couches that are perfect for doing group projects. It is also right around the corner to Tower Den making it the best spot for a study break and snack.
Off-Campus Study Spots
Chegg Study is also a great tool for help with homework, particularly when you are stuck at home. Learn from step-by-step solutions for 2,500+ textbooks in Math, Science, Engineering, Business, and more. Also, get answers in a pinch from experts and subject enthusiasts for your courses, 24/7. Stay ahead in your classes with Chegg Study for $14.95/month or $99.95/year.
Pass on these great tips, tell your friends and like us on Facebook, Instagram, Twitter, and Pinterest. Find out more about how to use HaveUHeard as a great resource. Sign up for other great tips at haveuheard.com.