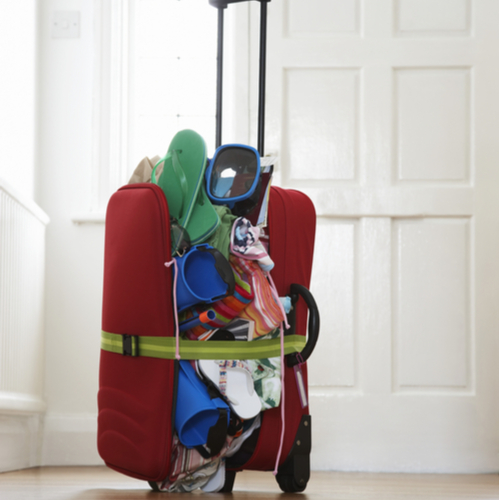 No, you don't need to bring that!
You might think you need to bring the kitchen sink…but really, read this first! If you haven't started shopping for your upcoming college lifestyle yet, whether for dorm items or clothes; well, then, I am here to tell you what you shouldn't even bother purchasing. Yes, there are lists everywhere of what you absolutely need as a freshman, but do you really need those items, or are they just trying to get your money? I am here to help solve that problem!
Don't Bring…
For instance, that printer you spent hours picking out. It turns out there are quite a few places around campus for printing and then you won't have to pay for continuous refills of ink, which can actually be more expensive than a whole new printer (seriously; a whole new printer can cost less than the ink). Printing around campus typically does cost money, which you have to upload on your Crimson card. However one page costs only $0.08, so students will not be breaking the bank.
All residence halls are considered to have free Wi-Fi but students are encouraged to also bring an Ethernet cord for direct connection. During my freshman year, I never once purchased an Ethernet cord and I never had an issue with wifi. I personally say save your money and if you have a wifi issue down the road, then you can purchase an Ethernet cord.
Leave Alexa or Echo home. In my junior year of college, my phone kept calling my friends when I was not even near my phone. After hours of thinking there was a ghost in my sorority house, we soon found that it was just Alexa listening to us gossiping and then calling that person. Let's just say we threw Alexa out faster than we ran out of class.
Freshman year I piled up almost all of my clothes to bring to college. Packing up at the end of the year I realized I did not wear, let alone see half the clothes I brought. How many t-shirts do you really need to sleep in? The answer is not 50! Chances are students will be home or parents will visit at least once before the frigid cold sets in, so it may be smart to exchange a few tank tops and bathing suits for some sweaters then. There simply isn't room no matter how many under-bed boxes you buy. The same holds true for shoes. I brought about 20 pairs of shoes with me to college and even though I made them fit, stacking them on top of each other, balancing on a shoe rack, I simply just did not wear half of them.
In the case that you have a mini-fridge or a Keurig in your room, it may be nice to bring paper plates, napkins, plastic cups, and plastic forks. There is definitely no need for anything too fancy considering most students won't bother hand washing plates in the sink. Until any students decide that Giada is their greatest role model, kitchen items are best purchased at the dollar store.
When it comes to trying to sneak in an adorable little puppy into a dorm… Don't even bother because they are not allowed and everyone on the floor will know of the puppy in seconds. If you are content with a tiny fish, then be my guest! IU's policies regarding animals in buildings.
Finally, it is strongly encouraged that students speak with their roommates before arriving at school. I always talked, texted, snap-chatted, and so on with new roommates, so we did not duplicate the same allowable appliances. I promise you, two microwaves are just not necessary and just more to clean. When it comes to college, sharing is caring.
With so many great deals out there on Overstock, Wayfair, Dormify, and Amazon in addition to the traditional big box stores like Bed Bath & Beyond, Kohl's,  Walmart and Target, if you plan in advance, you may be able to save some money too and not end up running around trying to find items that could possibly be sold out.
Pass on these great tips, tell your friends and like us on Facebook, Instagram, Twitter, and Pinterest. Find out more about how to use HaveUHeard as a great resource. Sign up for other great tips at haveuheard.com.