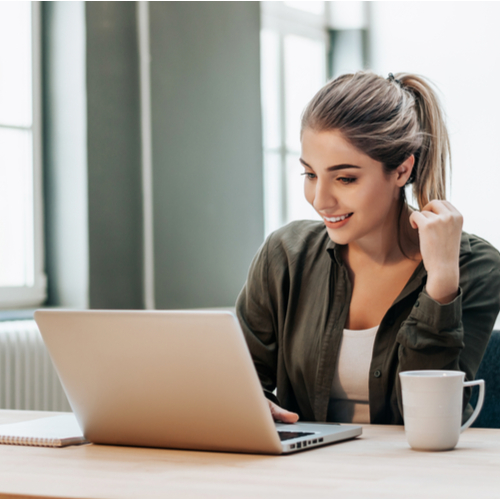 Online Test Taking for Today's Students
As weird as it is that most classes are online, there are some benefits of an online class. Personally speaking, I always get super anxious taking tests in person because I just truly don't feel comfortable being in a large classroom. I always felt like I was in a race to finish my test while competing against other students which can never be a good thing. When I had my first online test, I realized that all of my fears when it came to testing, dissipated. I felt confident and comfortable being able to take a test in my own time, in my own space and it ultimately allowed me to score better.
To avoid the situation of too many students being in close vicinity, many teachers opt to use a testing service called Examity. Examity is a live online proctoring service that allows students to take exams on their computers. Examity has several features that detect cheating amongst test takers. The service records the test taker at all times and documents all activity on the computer throughout the proctored test.
At the moment, the only option for online proctored tests is to use the Examity platform. Students can use this service on Mac, Windows, and Chromebook. There will always be live help if a student needs assistance. Typically the turnaround for test scores with Examity is between 24-48 hours.
To Proceed:
Complete the Online Proctoring Acknowledgment
Register for Examity and select an available time to take the exam on the assigned day of your exam
Have your valid photo ID with you
Close all programs on your computer except for the allowed websites
Have Adobe Flash Player previously installed or updated
Have a phone or mirror ready to allow the proctor to view the screen of the computer before the exam begins
Have your entire work area/testing space cleared before taking the exam — this includes notes on a wall or papers underneath the desk
The testing environment must be in a private area, preferably quiet and well-lit
You will be asked to remove all cell phones, smartwatches, and tablets before starting the exam
The proctor must be able to see your face through the camera of your computer for the entire duration of the exam
The proctor will start the exam once all requirements are met, as well as the timer if the exam is timed
Additional technical specifications.
It is very easy to use the program and very straight forward. We recommend immediately checking your syllabus to see what classes use Examity. Typically professors will also tell students when tests get published so they can register for the test as soon as possible.
Pass on these great tips, tell your friends and like us on Facebook, Instagram, Twitter, and Pinterest. Find out more about how to use HaveUHeard as a great resource. Sign up for other great tips at haveuheard.com.