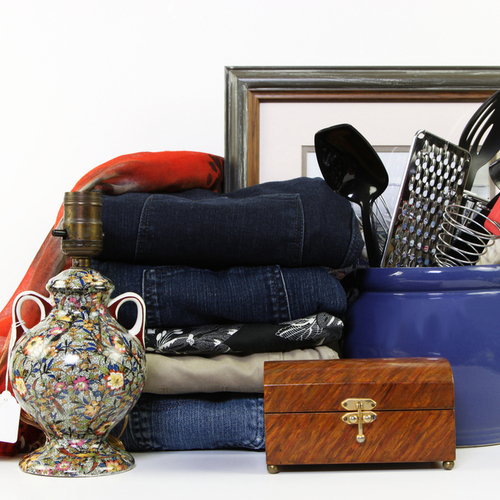 When You Need to Stay on Budget
Before coming to college, I knew I wanted an updated wardrobe. Being trendy and cute is important. So is being thrifty. A lot of my clothing in high school was old school shirts, and now it was time to upgrade those to new UCF gear. I also knew I would need day-to-day clothing, interview clothing, and new clothing for the Florida weather. However, I also knew that getting a whole new wardrobe costs a lot of money and is not completely realistic. Shopping at places like the campus bookstore, Target, and retail stores add up very fast. I needed to find a way to be economical and also find clothes and apartment decor to fit my budget. Fortunately, I have become thrifty and discovered thrift stores.
Thrifting isn't just a hot trend right now. It's an amazing way to stay in style while saving money. I discovered that there are many thrift stores in the Orlando area and places to go that wouldn't break my bank. Before I started buying new things, I created some space in my closet by bringing all of the clothes that I didn't wear anymore to stores like Plato's Closet, and Style Encore and also tried apps like Poshmark and Curtsy. These apps are similar to online shopping and I could post clothing here for people in my area to see to buy or rent. Everything that wasn't taken I decided to give to Goodwill. I can do a good deed and clean out my closet at the same time! A lot of the stores that I found also sell home goods, decorations, and appliances. Here are all of the places that I most recommend:
Plato's Closet (2 locations) Waterford and Oviedo
Postin Share – you can buy and sell your things! Founded by a UCF student.
Style Encore– a big sister for Plato's Closet. Pays cash on the spot.610 North Alafaya Trail
Orlando, FL 32828 407-930-5888
Goodwill– 1819 Alafaya Trail, Oviedo, FL 32765 407-706-0800
UCF Knights Pantry– They have more than just food but clothing for interviews, suits, etc…
O.U.R Bargain Store and Boutique–  911 W. Central Blvd. Orlando, FL 407-841-7578. Choose a variety of items from clothes to furniture (they also accept donations of clean, gently-used clothing and household items. Proceeds to help the homeless and families moving out of the Orlando Union Rescue Mission and into a home of their own.
Community Thrift Store- 6015 Edgewater Dr., Orlando, FL 32810 and 5456 Hansel Ave., Edgewood, FL 32809
Retromended– 930 North Mills Avenue, Orlando, FL 32803 407-674-8190. Known for their vintage clothing, accessories, and decor.
The Hope Chest Thrift Store– 1802 West Broadway, Oviedo, FL 32765 407-367-2989
ThredUp Online Thrift Store – online thrift store selling clothing, jewelry, handbags, shoes and more
Andee's Thrift shop–  4805 East Colonial Drive, Orlando, FL, 32803 321-300-4083. They carry everything from apparel to cosmetics, furniture, housewares, vintage & retro
A lot of the time, thrift stores have great clothing and items that you may be looking for and are hardly used for nearly half the price! It's so worthwhile to check out what some of these stores have before going to major retailers first. Budgeting in college is no joke, so be sure to try out some of these places and get thrifty!
What about donating to Thrift Stores? We know it is hard to let go of some of our childhood mementos. Smart Parent Advice shares their advice on How to Donate Stuffed Animals.
Pass on these great tips, tell your friends and like us on Facebook, Instagram, Twitter, and Pinterest. Find out more about how to use HaveUHeard as a great resource. Sign up for other great tips at haveuheard.com.
Erica Strum, UCF Intern, HaveUHeard