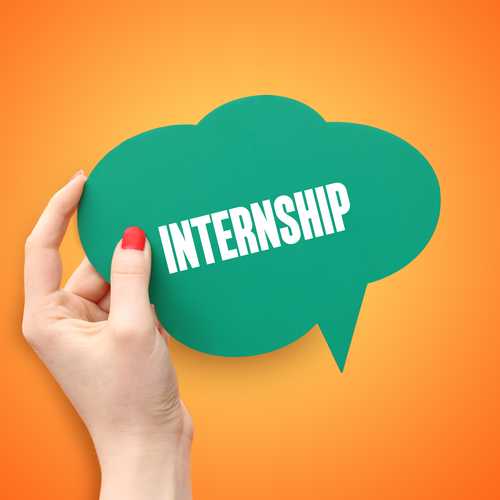 Get the experience you need with an Internship.
***UCF wants students to know that Career Services says students shouldn't slow down on thinking about internships even with the recent COVID-19 situation! Log in to your Handshake account using your NID credentials to schedule a phone appointment for topics such as resume reviews, cover letter reviews, LinkedIn critiques, job search strategies, general career readiness, and more.
Many students, unfortunately, have had their summer internships canceled. Handshake has some ideas for those in this situation. What better way to learn about a prospective field or career than to do an internship? What better way is there to get some experience that will beef up a resume for that real job someday? Obviously, I am a big believer in internships. It allows students to learn, but it also helps them decide if that is actually a career for them. Internships help them figure out, while still in school, whether the career they envisioned for themselves all along may (or may not) be just what they wanted?  The question is how to find one.
I'm not going to lie….if you know someone, now might be the time to put the word out there that your student is looking. Internships, full or part-time, in just the right field, can be difficult to find. If it is possible, tell your student to offer to work for the semester or summer without pay. Their experience is their paycheck and can be worth far more when they are looking for a job after college. Don't worry; many internships do pay.
UCF offers a service called Handshake where students can search for internships and jobs, sign up for events and interviews, and receive career counseling.
500 Companies Hiring Students on Handshake Right Now
Want to be a Social Media Star? These Top Companies are Hiring.
And then there is this:
Students have the opportunity to pursue short-term, professional, paid work experiences through Micro-Work Experiences which can be completed remotely. Through Micro-Work Experiences, students can demonstrate their skills, explore career paths, and develop their professional networks. These paid opportunities typically range from 5 to 40 hours of work, and students can be selected for multiple Micro-Internships. Interested students are encouraged to:
Create an account at info.parkerdewey.com/UCF
Fill out your profile as completely as possible
Review current Micro-Work Experience projects available
Apply to projects of interest
Continue to check the platform regularly for new opportunities
In addition, they run various career and internship fairs throughout the school year. These are a great resource. Find dates on workshops and informational sessions to help guide you through the process of finding an internship and job. If you are applying to a particular agency or brand, get familiar with their work prior to the interview. It impresses interviewers when you name-drop a campaign and can iterate why you find it effective and how you can learn from and contribute to it. In addition, always have 3 things that set you apart from the crowd and try to incorporate them into the interview. Even if you aren't asked "tell me about yourself," you can find a way to weave these 3 personal strong-points into your responses.
HaveUHeard which companies were selected as the 100 best internship programs in the U.S.? WayUp presents its Top 100. Vault also has its list of the Top 20 Most Prestigious Internship Programs for 2020.
You may want to check out our blog Dress for Success as professional attire is strongly recommended. Email quotesevents@gmail.com with your contact information and any questions you may have. Download the Career Fair App for the Internship & Co-op Fair! Search for Career Fair Plus on the app store or click the link. Use the Career Fair Plus App to reserve a spot with the following employers and Skip The Line. Students must download the Career Fair Plus App. Paper layouts WILL NOT be available.
IDEASForUs.org  is a non-profit that helps make the world more sustainable and helps students find internships for credit. Students can also email admin@ideasforus.org.
DeceptiveSpeed.com is debuting a new internship for college sports content creators for fall 2020 called The Student Section. Work will be published on a national college sports website. Email erik@deceptivespeed.com for more information.
There are also many websites that list potential internships. Internships.com, as most of the sites do, allows students to put in their city and field of choice and even whether or not they are looking for paid or unpaid internships. From there a proper cover letter and resume would be the next step. Occasionally a skype interview may be requested. Using sites like Indeed or SimplyHired may be worth a try, but spending a lot of time on these to simply hit the "apply" button and having their resume sent into a black hole generally doesn't prove too successful as most of these positions get filled by students with a more personal connection.
UCF also partners with The Washington Center (TWC) for internships in Washington, DC.
Some websites, like Internmatch.com, allow students to sign up to get daily notifications for new postings about jobs that may be of interest to them. Glassdoor.com and YouTern.com are also useful websites to find an internship. FindSpark.com is better known for its more creative internships and entry-level jobs in NYC.
LinkedIn can be an excellent resource. Perhaps your student saw a position at a company they are interested in one of the above sites and then by scouring LinkedIn they can make a connection. To search for internship listings, be sure to have a detailed and updated LinkedIn page ready to go, then go to the jobs tab at the top of the page and put "internship" in the search box. Refine your search by filling in the boxes on the left side of the page. A LinkedIn Jobseeker account allows you to view profiles and send InMail messages starting from $29.95 per month. HaveUHeard that LinkedIn has a version specifically designed for students looking for their first jobs? The LinkedIn Students app is free, and lets you research jobs, view companies where alumni from your schoolwork, and connect with more people. You can create an account and get started right away without spending a dime.
Finally, many students are creating their own videos or websites to show off all they have done and are capable of. It can be better than a long portfolio that may exceed the amount of space for uploaded information. These are generally used for more majors like graphic design or advertising, and not finance. Websites can be created on Wix, GoDaddy, WordPress, and many others. Prices vary with many starting at $5/month.
Here are a few new internships we recently uncovered:
Valtech: This internship is looking for junior or senior-level college students to assist with research, correspondence, and some content production for their RETHINK Retail magazine and social media for their brand. The internship is 12-weeks and unpaid internship. Students must commit up to 20 hours per week and college credit is available. Students can pick their own schedule and be able to work from home. Students interested in applying must be studying communications, journalism, marketing, or any other relevant fields. Submissions must be sent with a writing sample and resume to Kirah.bradley@valtech.com
Inside The Magic – This internship with Disney theme parks is looking for a student for their video editor internship. To apply, submit a reel or video clips to sean@insidethemagic.net.
DIA Sports Performance: This internship is searching for 1-2 undergraduate students to take on the role of the videographer(s). Contact Chad at chad.herring@Knights.ucf.edu if interested. Lockheed Martin: This internship is looking for a student for their part-time Communications Specialist role. The intern will work with the Talent and Organizational Capability team in driving participation for training and development.
DasFlow Athleisure Apparel – looking for an intern to apply for the social media internship. This involves publications on the industry, festivals, retail, etc.
Matooki LLC: This internship will work with Healthcare Organizations and Human Resource Leaders to improve healthcare outcomes. The company is looking for:
Graphic Design – printing materials, creating websites, and presentation enhancement
Resourceful use of technology – setting up customer management software, automating content distributions, and outreach messaging.
The League of Women Voters Spring Internship – They are looking for a student who wants to learn about the ins and outs of a non-profit. If interested, students should contact Regina Sheridan, Operations Manager at Regina@lwvfl.org. Submit a letter of interest that explains why you'd like to intern with the league and relevant experience. Resumes are also accepted.
Cella Molnar & Associates Internship – Part-time (20 hours per week) internship. This internship position is for their downtown Orlando office. You can learn more about our company here: For more information contact Brianna Smith at bsmith@cella.cc.
Orange County Animal Services Internship – Paid internship that provides the experience of handling live media segments, creating and posting social media content, gathering research and audience listening, building external/internal communications, etc. If you have any questions, contact Samantha.Holsten@ocfl.net or Office: 407-254-9249
Identifying Conferences and other organizations. For more information contact Rachel Scheinberg at rachel494@yahoo.com.
AceApplications: This internship is looking for a PAID Marketing & Inside Sales Representative. Interns will work with both Marketing and Inside Sales duties. For more information, students can log in to their Handshake account and search "Marketing & Inside Sales Representative Intern" in the Jobs section of Handshake.
Students are able to intern within the Legislative Scholars Program. They are looking for 20 students to intern in Tallahassee for the 2020 legislative session. This program is a scholarship or a paid internship program. It includes a $3,000 scholarship and free housing! Students who are interdisciplinary studies, political science, public administration, criminal justice, or legal studies then this is a great opportunity. Students must email nassc@ucf.edu for more information. The deadline is September 15.
WORK STUDY OPPORTUNITY- Experiential Learning is hiring for a Student Assistant to support the job shadow program. This is a Federal Work-Study position and students must be awarded work-study (through their financial aid package).
To apply:
Email a copy of your resume and work-study award (2019-2020 school year) to vrhaniku.haynes@ucf.edu.
Architecture Co-op –  Woolpert, Inc.
Graphics and Animation Intern – Onsite in Tallahassee, Orlando, Gainesville offices, or remote work option – Enfoglobe, LLC.
Part-Time Internship as a Legal Intern at Coye Law Firm
Web Content Development Intern – Education Guru LLC
Graphic Design Intern – BioSchwartz
Special Events Intern – City of Longwood
Hospitality Ambassador Internship Fall 2019 – Holiday Inn Club Vacations
Front Office Operations Intern – Fall Semester- Hilton Grand Vacations
Children's Safety Village Internship – Marketing, Advertising & PR opportunity at Children's Safety Village of Central Florida
Social Media & Digital Marketing Intern – Fountainhead Commercial Capital
Digital Marketing Fall Internship – Pet Alliance of Greater Orlando
LSQ Copywriter/Editor Internship – LSQ Funding
J-1 Exchange Visitor Program Coordinator/Intern – Westgate Resorts
Graphic/Web Intern – Selah Freedom
Equality Florida
Hilton Grand Vacations
Women's and Gender Studies
UCF Office of Global Perspectives
The Washington Center
Orlando Health– searching for a  Government Affairs Intern
Convention News Television- searching for a Video Production Intern
Tribune Publishing– Searching for an Events Intern
MCO ORLANDO– searching for a Human Resources, Business Administration, Generalist Intern
Central Florida Commission on Homelessness– searching for Student Internship (Nonprofit, Graphic Design, Management)
Nurses First Solutions– searching for an HR/accounting and marketing/admin intern
McDirmit Davis CPAs– searching for a Tax Intern for the Spring 2020 term
WBQ Design & Engineering Inc.– searching for a Civil Engineering Intern
Orange County Utilities Dept.– is searching for a Student Intern in the Engineering Division department
Lake Nona Social Internships- Lake Nona Social, a marketing agency, is looking to recruit a few interns in the following areas: Social Media Marketing, Graphic Design, Podcast, Videographers
Synergy Oviedo Chiropractic Internship
The Washington Center Paid Internships – email info@twc.edu as soon as possible.
Orlando Health is currently accepting applications for a PAID Healthcare Marketing Internship.
Internship- UCF ABC Collaborative Internship with ABC news and the Hispanic Media Initiative in New York. contact Erik Smith at erikksmith@knights.ucf.edu
Teach Reading Classes for summer 2020 with the Institute of Reading Development. Should your internship take you out of state, learn about housing options.
Good to know about an Internship…
A select number of majors at UCF are eligible to receive internship credits ranging from 1-6 credit hours per semester.  Students should speak to their advisor and fill out an internship form by their employer and academic advisor BEFORE the first week of the fall semester. The last day to submit these documents is August 22nd at 3:00 pm.
Pass on these great tips, tell your friends and like us on Facebook, Instagram, Twitter, and Pinterest. Find out more about how to use HaveUHeard as a great resource. Sign up for other great tips at haveuheard.com.