HaveUHeard.com includes links to third-party websites and advertisements for third-party products and services. Product and service-specific opinions mentioned within the content of our blogs are entirely the opinions of the HaveUHeard.com team and its staff. It is our hope that you will find value in the products and services these third-party organizations represent, and patronize these businesses. Such advertising and marketing partnerships help make our efforts at HaveUHeard.com possible. Thank you for your support and ongoing interest. For additional information, please read our full HaveUHeard.com Disclosure Statement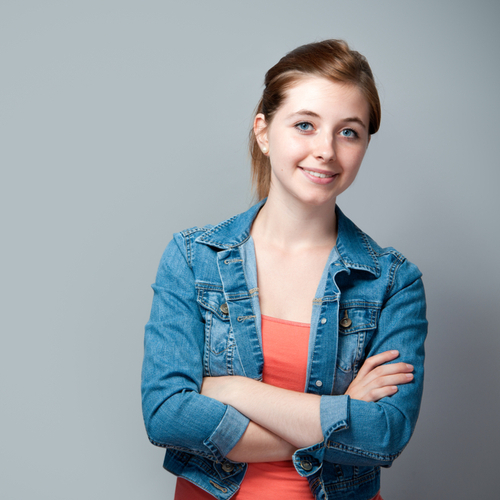 Here Are Tips & Tricks on What to Wear
Adding another chapter to your life is a big deal. If you decide to go through sorority recruitment at UCF, it can feel incredibly overwhelming. We wrote this blog with you in mind! we have all of the tips and tricks on what to wear and what to expect during recruitment week to make sure that you are ready for the week ahead of you. UCF allows students to move into their dorms in advance as long as you call and schedule your move-in date. If you live in an off-campus apartment, check with the complex to make sure that they allow you to move in early.
This week can be tough, but you won't be alone. Recruitment counselors, called Rho Gammas, are there to guide you throughout your Panhellenic journey. These counselors are a part of chapters of their own, but keep their chapters a secret to make sure that you get unbiased advice. Never be afraid to talk to your Rho Gamma. They are here for YOU! Right before recruitment week begins, UCF Panhellenic will host a meeting for all potential new members. Here, you will be divided into your Rho Gamma group and learn all about what the week has in store for you.
Round 1 – UCF Day 1 & 2
This is the first round where you are introduced to each of the 12 sorority chapters. UCF Day 1 introduces you to 6 chapters and UCF Day 2 introduces you to the remaining 6 chapters. This way you are able to get to know each chapter. These two days typically last 15- 20 minutes per chapter, but this also includes the sorority chant and a little song before and after the meeting, so it feels shorter than 20 minutes. This day is all about introducing yourself and making yourself stand out since hundreds of girls are going to each chapter. They will ask you questions like, "what are your hobbies?" or "where are you from?" to get to know you. You will start to get tired by the end of Day 2 because a lot of the questions from these two days are very surface level.
Another tip I have for these two days is wearing the same pair of shorts. You go to different sorority houses on these days so no one will notice if you repeat outfits. You won't know the color of the shirts until close to rush so I would recommend having white, black or jean shorts or a neutral color. Some girls like to dress in flowy shorts with a comfortable flat. You don't have to wear the same ones but it may make it a little easier unless you want to coordinate with the colors of the shirts.
What to wear: Nice shorts or a skort with the Panhellenic shirt that is provided to you the morning of. Wear cute, but comfortable shoes! You will be walking all over Greek park.
Shoes: Nordstrom Rack Lulus Princess Polly
Jewelry:  Princess Polly     Baublebar
Round 2 – Philanthropy Day
Potential new members are possibly invited back to a maximum of 8 chapters to learn about the chapter's philanthropy. Here, you will be shown a possible video or slide show of what the philanthropy is. Sisters will explain what they do throughout the year to volunteer and fundraise for their assigned philanthropy. They will ask you what resonates with you and what you like about the philanthropy. They will also ask if you have ever fundraised or volunteered (it is totally okay to say no!). During this day, girls will also learn about the chapter's dues so they are aware of how much each sorority costs. This is the first day you're able to really show your style and wear what you want to wear.
What to wear: Most people usually wear nice sundresses, rompers or skirts. Again, you're outside so I would avoid jumpsuits and long pants because it's going to be super-hot out. Expect to be walking around a lot so I would wear comfortable sandals and flats or any other comfy pair of shoes for this day too. You don't need heels yet either so stick to a cute pair of flats or sandals.
Outfits: Francescas Forever21 Lulus skirt Lulus top
Shoes:   Nordstrom Rack Lulus Nordstrom
Jewelry:  Nordstrom    Bauble Bar

Round 3 – Video Day
Potential new members are possibly invited back to a maximum of 6 chapters during this day to watch the chapter's recruitment video. This video showcases sisters from the chapter and what a day in the life is like. This allows girls to picture themselves in that video and ask questions about hobbies and activities they love to do. If the sorority has a house, they will also offer house tours. This is a great day to ask questions about the sorority's values and what makes them unique. They will be asking you the same! This is the last day before preference night, so show the chapter why you make a great fit. Tell them your values, how you grew up, and what sisterhood means to you.
What to wear: This round is very similar to the second round but you can make it a little dressier. Another romper or nice sundress is perfect for this day. You also have the option to wear wedges today, but if you do that, I would bring a pair of flats or comfy shoes with you when you're walking and traveling to each of the houses. You don't want anything too fancy though so avoid the "prom dress" style or "night-out" look.
Outfits: Show Me Your Mumu Revolve Lulus
Shoes:  Nordstrom Rack Revolve Target
Jewelry: Nordstrom   Baublebar   Baublebar
Round 4 – Preference Night a.k.a. Pref Night!
This is definitely the most important round in the entire week. Potential new members are invited back to a maximum of TWO chapters. Going from so many houses to only two (possibly) is a huge change. If you don't get invited back to a house you went to the day before, do not let it discourage you from making a great connection on this day. This day, sisters will have really meaningful, heart-to-heart conversations about sisterhood. It is normal to open up about family, mental health, or anything else that has a significant place in your heart and mind. Today is also a really fancy day. Dress to impress as if you are going to a cocktail party.
What to Wear: This has the feel of a nice cocktail party so this is when you should wear your nice dresses, skirts, or a "midi" will do. It is your last impression so try to keep this in mind as well. Most people wear dress shoes, heels or nice wedges to this night, but also bring a pair of flats or comfy shoes for when you're walking around outside the houses.
Shoes:  Lulus Nordstrom Bloomingdales
Jewelry:  Nordstrom   Baublebar   Baublebar
Bid Day
The day is finally here! If invited, potential new members will gather in the Education building with their Rho Gamma group. There will be speeches from Panhellenic and you will even get to see which chapter your Rho Gamma is in! You will be given an envelope with a bid day invite inside. On a count together, everyone will open up their bid day card and see which chapter has formally invited them to become a new member of their sorority. Girls will jump on assigned buses that drop them off to each house to meet new sisters, eat, hangout, and be a part of the sisterhood. Each chapter will also have a bid day retreat planned so it is an entire day in your new letters! You are given a shirt this day, so you only need to worry about shorts and shoes. Past bid day events have been trampoline houses, Fun Spot, etc. so it can be more active than the other days! Sisters will also give you a t-shirt of their own and other goodies that you can take home with you.
What to wear: On bid day, you can wear your shirt from day 1 or will give you a bid day shirt to change into. Not all campuses will but you can wear a skirt, even shorts and definitely sandals or flats and even comfy sneakers. You can even wear the flats you wore in Rounds 1 and 2. For jewelry, keep it to your style, whatever you feel best expresses you or anything simple and classic. You want to make sure that you're following your own style.
Outfits: Lulus American Eagle
Shoes: Revolve Amazon Nordstrom Rack
Jewelry: Etsy  Baublebar
Find more great outfits, shoes, and jewelry at the stores below. We hope you will look them over.
And when they are officially in, they will undoubtedly want to fill their closets with clothes that scream sorority pride. Here are some of our favorites: Greek Gear, Greek Creations All that Jas BaubleBar.
Pass on these great tips, tell your friends and like us on Facebook, Instagram, Twitter, and Pinterest. Find out more about how to use HaveUHeard as a great resource. Sign up for other great tips at haveuheard.com.
Shelly Massre, UCF Intern