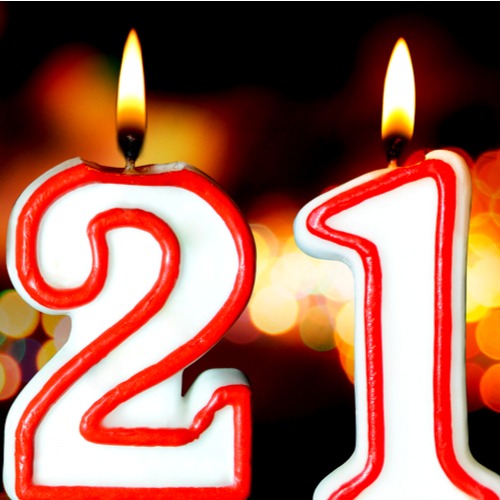 An official adult now! Have fun!
My daughter turned 21 in October of her junior year at UF as do many students. At UF, many girls who turn 21 have what is called a sign night when their friends make a pasteboard sign that sums up their personality.  Here are the favorite places that those 21 and over recommend when going out to have 21-fun.
DOWNTOWN
The Arcade Bar – This is what happens when you combine a pub and a bar. This three-story bar has a bar on the first floor with tv's for Gator fans, a wraparound mezzanine overlooking the first floor with classic arcade games, hockey and more and a full-service bar with foosball, pinball, skeeball on the third level. They also have an outdoor patio.
Boca Fiesta- While a Mexican-style restaurant, those over 21 love their full outdoor bar with a big screen TV airing Florida sports. Check out their local and touring bands and DJ's.
Madrina's- A Cuban-American cocktail bar specializing in fine rums, classic, and original cocktails, was recently voted one of the Top Ten New Cocktail Bars in the Eastern United States.
Rockey's Dueling Piano Bar – When you are looking for something to do with your group of friends, or when your parents are visiting, head over to this dueling piano show. Music, drinks and stand-up comedy every Wednesday.
White Buffalo –  One of the newer bars that have opened in the downtown area. Serves up cocktails, beers and finger foods
MIDTOWN
Fat Daddy's Bar & Grill – Think a dark, somewhat cheap bar but very loud bar that college kids seem to love. They do charge a cover and on many weekend nights, expect a wait.
JJ's Tavern- This pizzeria and bar opened last year, taking over long-running Copper Monkey, and is already attracting a lot of the over 21 crowds.
Rowdy Reptile Bar & Grill – Located on the second floor in midtown, this place gets pretty packed on game days. Besides the drinks, Rowdy's has a basketball hoop and a small dance floor. Cheap drinks with daily specials and bar food
Salty Dog Saloon – The Salty Dog is one of those places students cannot wait to go to when they are of age. Offering up over 80 imported brews from all over the world, finger foods, pizza, and sandwiches. Happy hour specials served every day from 4-7 during fall and spring semesters. Not a place to dress up- somewhat of a dive bar
Social at Midtown – One of the newest restaurants and sports bars in midtown, this one has a rooftop bar. Come for their 32 craft beers on top, cocktails, and a full menu. Go to watch football on their 60 flat-screen TVs.
BREWERIES-BEER
Gainesville has also become a mecca for breweries. Here are the top ones:
Big Top Brewing – originally from Sarasota, this newest Brewery is located next to Mark's Prime Steakhouse on SE Second Avenue.
Blackadder Brewing Co. – Blackadder, one of the newer Gainesville breweries, was opened by a couple that is active homebrewers- they've medaled in over 30 beer competitions throughout Florida and the U.S., so I would definitely trust their brewery skills. Serving over 30 different beers and ciders. For the non-beer drinking types, check out their wine and natural soda. And when you need some food as a follow-up, they have a food truck outside.
First Magnitude Brewing Company – A craft brewery and taproom with four year-round beers but There are four beers that the brewery has year-round balanced out by their seasonal favorites. To go you're your beer, head outside to check out the food truck- there's a different one every day.
Swamp Head Brewery – This is one of the original breweries in Gainesville, you can take a tour, try one of their five year-round brews, or one of their seasonal brews. Try your hand at cornhole, Darts, Jenga or their giant Connect 4, preferably while you are sober. Food specials include Cilantro Taco Tuesdays and Sausage & Suds Thursdays.
Cypress and Grove Brewing Company –  Located downtown, this brewery is located in a former ice house. They now use the well that draws its water from the Floridan aquifer that was used to create the ice now is used to brew their beers. The brewery features six distinct brews created on-site with seasonal and limited release beers as well as a selection of wine and Kombucha.
Pass on these great tips, tell your friends and like us on Facebook,  Instagram,  Twitter, and Pinterest. Sign up for other great tips at haveuheard.com. Are you new to HaveUHeard? Here is how to best use the site.