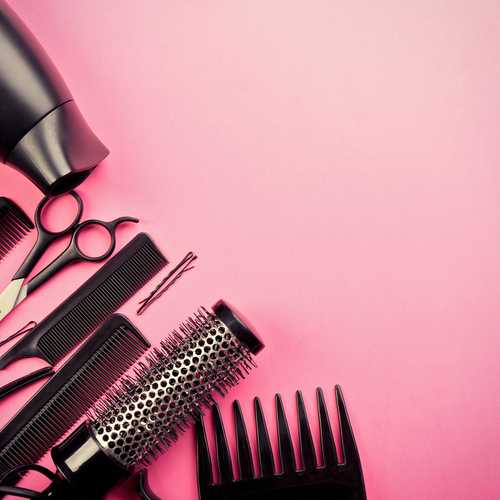 Beauty and the Beast
It's not just for fairy tales, getting the beauty treatment makes her happy.
As the mother of girls, I know all too well that not being able to go to get their hair cut, nails done, eyebrows waxed is something they really miss when they are away at school. My nephew is the same way. Now before anyone gets ready to jump all over the "beauty is skin deep" bandwagon, let me just say, when your student is away for an entire semester, being able to get a hair trim or eyebrows waxed may be important to them. And for special occasions (Greek formals, university banquet, job interview on campus), they want to make certain their nails look polished.
So where are students to go for hair treatments (cut, color, and highlights), eyebrow waxing or threading, manicures, and pedicures?
Even our interns and our own daughters do not always agree on places because this is such a personal service. Everyone's expectations are different. Here are some of the recommended places:
Hair Salons
A Nu Twist Salon – 1031 NW 6th St B3. Specializing. Specializing in African American hair
Avant Garde – 1310 SW 13th Street located on the ground floor of Shands/UF Health South
Beach Break – 603 W. University Avenue. Men and Women's Haircuts. Their Dermalounge does waxing. Closed on Sundays.
Ciao Bella Salon – 235 S. Main St., Ste 102.  Closed on Sunday and Mondays
E'lan – 115 N. Main St., Also does waxing. Closed on Sunday and Monday
Parking Tower. Hair, Manicures, Pedicures, Waxing. Closed on Sunday and Monday.
Ulta Beauty – Located in Oaks Square on West Newberry Road. It offers Hair, skin, makeup, and brows beauty services. Click on the link for special offers.
Barbershops
Gents & Co. –  Located at 490 NW 60th St. #5
Mode Salon East – Located on E. University Ave. Closed on Sunday and Monday
Randy's Haircut for Men – Located on West University Avenue. Closed on Sundays.
So Sharp Cutz and Stylz – located on W. Newberry Road.
Nails
Bellagio Nail Spa- 3045 SW 34th St Ste 26
Cosmo Nails – 3205 Clark Butler Boulevard, #50. Also does hair, waxing. Wine for those 21 or over. Opened 7 days a week
Gator Nails – 821 NW 13th St. Closed on Sundays. Manicures, pedicures, and waxing
Luxury Nails- Also offers waxing. For those 21 or over, complimentary wine. Closed on Sundays
Nails First – located in The Oaks Mall, open 7 days a week. Also, does waxing
Swan Nails – 1515 NW 23 Avenue. Closed on Mondays
Tami Nails – 5230 SW 34th St. Open 7 days. Also, does waxing. Check website for coupons
Tiffany Nails- 3733 University Ave. Open 7 days.
UF Nails- 917 W University Ave. Open 7 days. Does waxing and sugaring, the latest trend in hair removal.
Zen Nails & Day Spa -1497 NW 16th Ave. Closed on Sundays. Also do waxing, facials, and massages
Waxing/Threading
Brazil Waxing Center – 4817 SW 34th Street. Closed on Sundays
Uni K- 3832 Newberry Road. One of the more requested by students is Ziba. She goes to a lot of the sorority houses but also works at Uni K. Waxing
Tattoo Parlors
Anthem Tattoo Parlor- 230 NW 2nd Ave Gainesville, FL 32601
Bodytech Tattoos and Piercing- 806 W University Ave, Gainesville, FL 32601
Wunderland Custom Tattooing- 235 S Main St #101, Gainesville, FL 32601
Pass on these great tips, tell your friends and like us on Facebook, Instagram,  Twitter, and Pinterest. Sign up for other great tips at haveuheard.com. Are you new to HaveUHeard? Here is how to best use the site.