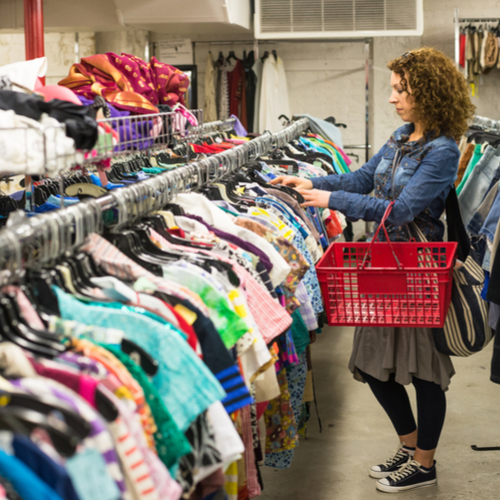 When You Need to Stay on Budget, Be Thrifty!
Being a college student, it can be stressful to be thrifty and stay on budget throughout the semester. There can be interviews, social events, and many occasions for a new outfit. In between, living in a rental, I like to redecorate my room and living space with my roommates. Spending money at the mall, popular house décor stores, Target, or discount stores, such as Homegoods, can add up quickly.
Fortunately, I have discovered thrift stores and Gainesville has many great options for thrifty shopping for almost any type of item. From gently used kitchen appliances, wall decorations, lamps, clothing, and much more, thrift shops allow for students on a budget to not only enjoy their living space but feel confident at interviews as well!
Additionally, many thrift stores in Gainesville are non-for-profit. For example, Outreach Thrift Store offers high-quality clothing and household goods for sale and partner with local churches and community agencies in helping individuals and families in need of clothing and household items. The Repurpose Project is a non-profit community-based effort to divert useful resources from the landfill, redirect these items to the public for art and education and inspire creativity to rethink what is thrown away.
Alachua County Humane Society Thrift-4205 NW 6th St, Gainesville, FL 32609
A Rai of Sunshine Thrift Store-125 NW 23rd Ave #5, Gainesville, FL, 32609
Attic Resale Stores -300 NW 8th Avenue Gainesville, FL 32608 Sales generated at the Attic Resale Stores directly financially supports Haven patients and families as well as many other people in the community served by our programs and services.
Flashbacks Recycled Fashion-818 W University Ave, Gainesville, FL 32601
Goodwill Thrift Store-3520 SW 34th St, Gainesville, FL 32608
Outreach Thrift Store-2430 NW 6th St, Gainesville, FL 32609
Plato's Closet-3441 W University Ave B, Gainesville, FL 32607
Salvation Army Family Store-55 NW 23rd Ave, Gainesville, FL 32609
Sandy's Savvy Chic Resale Boutique-4148 NW 13th St, Gainesville, FL 32609
St. Patrick Thrift Shop-2010 NW 6th St, Gainesville, FL 32609
The Repurpose Project-1920 NE 23rd Ave, Gainesville, FL 32609
Uniquities Consignment Shop-Used Furniture & Home Décor- 526 N Main St, Gainesville, FL 32601
Urban Thread – high-end thrift store located at 1236 NW 21 Avenue. Think vintage and brands such as Urban Outfitters, Free People, Anthropologie
Stella Fedele, UF Intern, HaveUHeard
Pass on these great tips, tell your friends and like us on Facebook,  Instagram,  Twitter, and Pinterest. Sign up for other great tips at haveuheard.com. Are you new to HaveUHeard? Here is how to best use the site.