HaveUHeard.com includes links to third-party websites and advertisements for third-party products and services. Product and service-specific opinions mentioned within the content of our blogs are entirely the opinions of the HaveUHeard.com team and its staff. It is our hope that you will find value in the products and services these third-party organizations represent, and patronize these businesses. Such advertising and marketing partnerships help make our efforts at HaveUHeard.com possible. Thank you for your support and ongoing interest. For additional information, please read our full HaveUHeard.com Disclosure Statement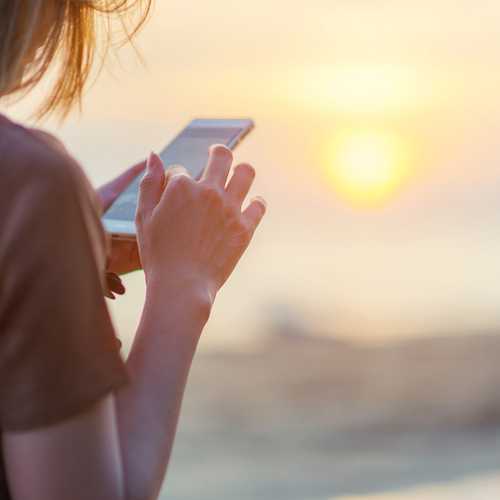 UF and College Studying Apps
Remember when you were in college and everything you needed was easily accessible via apps on your phone? No? Well, me either. Our kids, however, do live in this world and there are apps that provide everything from food delivery to tutoring services, not to mention how to create a budget or even the perfect bibliography. Below is a list of the ones I thought most useful. Please forgive me its length, but there is truly an app for EVERYTHING. How could I narrow it down?
UF Apps
GatorSafe — I'm starting my list here because the first thing on my list is ALWAYS my child's safety.  With the  GatorSafe app, students can report a problem silently via text, also attaching pictures, video and audio files if available, and even anonymously. It empowers students to prevent assaults or other incidents before they get out of hand. Its features include being able to view crime around the UF Campus, trigger Mobile BlueLight to send your location, and call UFPD. The app includes a toolbox that contains a flashlight, loud alarm, and the ability to send your location as well as transportation information and links to U Matter, We Care.
GatorWay – The official app of New Student and Family Programs at UF. You can download guides to various events including GatorGrowl, Family Weekend, Preview and more. Includes a campus map.
UFMobile —  Gives students access to UF resources including campus maps, Web courses, ONE UF Mail, the library, dining, shuttle service, emergency information, and more.
Florida Gators — This newest app connects your Ticketmaster account for mobile entry. Users may also securely store their credit card in the app if they desire a cashless experience at concession stands. In addition to tickets and concessions, other in-venue benefits for fans include purchasing #SwampMoments (like video board messages), seat upgrades, and exclusive events; tracking the Florida Football games you've attended via the Orange and Blue Fan Journal; and reading the latest Florida Gators news, watching exclusive videos, and viewing gameday information.
TapRide — This app is tied into SNAP and allows you to request a safe ride. It is UF's version of uber at night.
TransLoc – This app provides real-time bus tracking and location of all RTS vehicles, as well as access announcements that might impact your ride. Download the free app for your device.
College Studying Apps
AnkiMobile Flashcards — The best app for learning over-time/long-term. It utilizes an algorithm for spaced repetition so that you do not forget the information that you memorized a week prior. It is free on every device except Apple products.
CamScanner – As its name implies, this allows you to scan docs and save it as .jpeg or PDF. It's a great resource if you need to email or fax an important document. You can actually upload the saved document through UF Mobile and turn in your assignment. Syncs with your other devices.
Canvas — Just like the website, students can instantly access their Canvas courses for free without having to lug around a laptop to keep up with your homework. You can see your grades, submit assignments, send and receive messages, view content and modules, watch videos, take quizzes, and more.
Chegg – Highly recommended. Often you can rent a book for about half the price that a bookstore is renting it out. Students can rent, buy and sell their books. They also offer assistance with completing homework and gives access to tutors, at a cost.
Easybib – An online citation generator. At some point (if they haven't already), every student will have to write a paper that requires citations. Especially after an all-nighter, remembering how to do that properly can be difficult. This app allows them to simply plug in the information and it will create a document of works cited. It's that easy, but proofreading is still recommended. Even easier, if they have the physical copy of the textbook, they can just scan its ISBN and the app will create a citation that way. What I would have given for THIS app, back in the day!
Evernote — A free app that pushes note-taking to the next level. Students can brainstorm ideas, make to-do lists, take pictures of pages and sketches, organize everything into a notebook format, and share with others or collaborate as a group. The app even has the ability to search handwritten content, so finding your past notes is easy.
Google Drive App — This app allows you to access any files while on the go, from presentation needs to proof of purchase. It also allows users to take a photo of a document, sign, or other text and use optical character recognition to convert to text that can be edited.
GroupMe – At some point in their college career, your student will have to participate in a group project, which means the fate of their grade depends on working together. While GroupMe can't force the group slacker (should there be one) to carry their fair share, it can facilitate communication. It works like a group chat, and because you don't have to meet up anywhere, everyone in the group saves time and money by making plans and discussing problems via their phones.
iClicker — Participate in iClicker classroom polls and quizzes with your Apple or Android smartphone.
iHomework 2 — If your student is really organized then skip this app, but I know a few that could definitely benefit from it. This free app can keep track of their assignments, deadlines, and tasks, then plan them out over a certain time period so they're not left to their own cramming-at-the-last-minute devices.
LitCharts – Great for English majors. (Oh, how I wish this existed when I was in school…) This free app helps reinforce comprehension and understanding of literature. Find reviews, summaries, themes, and quotes for hundreds of titles without any in-app ads. Think of it as a portable Spark Notes.
Mathway – This app is great for college math. It guides students step-by-step to either find the solution or check your work to see if it matches up to theirs.
Offtime – This app costs $2.99 and is worth it if your student is looking to disconnect and avoid distractions in order to focus on homework or studying. It blocks websites, apps, text messages, phone calls, and other notifications for a set period of time so you don't get off-topic.
OneDrive — A Microsoft app that allows students to get and share documents, photos, and other files from their Android device, computer (PC or Mac), and all Windows devices. This app allows you to open and save files in Office apps (Word, Excel, PowerPoint, OneNote).
Quizlet – My kids started using this app in high school, but the good news is this great study tool remains super useful. Quizlet is a free study app that allows the user to take other people's quizzes or create their own. A user can create multiple-choice, matching, true/false, and open-ended questions and use them in various ways, such as flashcards and games. Students can share their "study sets" with others in their class and even encourage a professor to create one.  Brainscape is another similar study tool, but Quizlet even has pre-made flashcards on thousands of subjects. Both are free.
RealCalc Scientific Calculator App — Although I would never have used it, my son, an economics and business major, could have. This app means students don't have to lug around that fancy scientific calculator because this free app allows them to complete all of their computing right from their mobile device. Keep in mind there might be limitations to its use anytime there are limitations to phone access, like during an exam.
Slader – Provides step-by-step solutions to questions from the most popular textbooks for math, science, Spanish, history, economics and more. Free, but they do offer a pro subscription for $1.99.
TopHat — Your professor may have chosen this format for their course, and will typically give you a class code to enter for access to the materials.
Wolfram/Alpha — While we're on the subject of computations, Wolfram/Alpha is actually a fancy search engine that can answer questions, perform computations, conduct analysis, and prepare reports. Your student can get help with complicated algebra and calculus equations or find chemistry, engineering, or physics formulas. This app is $2.99.
Restaurant & Entertainment Apps
BitBite — An app developed by a Gator that touts itself as the best way to find things to do and eat near you, then rewards you via a point system.
DoorDash — This is the same concept as UberEats. They have an easy app that guides you through your order. They have also launched Project Dash. This initiative helps tackle food waste and hunger in the local communities that they serve.
EatStreet — Online and mobile food ordering and delivery service provider
GCM (Gift Certificates & More) — Just enter your location into the app ("Gainesville, FL") and it will show all of the local restaurants that participate with GCM. Many places do offer $5 off a meal or more, depending on the restaurant! Additionally, this app is not limited to restaurants — you'll find movie theaters, clothing stores, and services such as cleaners and movers that have redeemable gift certificates.
GrubHub – Simply browse menus, pick what you want, and submit your order.  Local suggestions are great and most deliveries are around $3. It also allows you to order food (Starbucks, Chick-fil-a, etc.) on campus without waiting in line, and they run specials if you sign up for their emails.
Fandango NOW — A streaming service offering movie rentals. Yay, study break time!
Hooked Deals — Another Food & Drink App available in college towns including Gainesville. It works similar to GCM.
Pocket Points – I love this app! It literally incentivizes students to keep their phones off or out of sight during class. They just open the app, lock their phone, and earn points for the time it is off. Later, they can trade the points for discounts at participating restaurants (e.g. Big Lou's NY Style Pizzeria, Hungry Howie's, Dominoes) as well as local and online businesses (Office Depot). There are even Two Point Tuesdays (which is great since my daughter has three classes on Tuesdays).
Postmates — A large on-demand delivery and pickup platform, the Postmates app gives you access to delivery of anything from anywhere. Similar to Uber, Postmates couriers receive an order for your food, groceries, or whatever you need, then deliver it to your doorstep. Need another charger? Party supplies? Postmates will get it to you within the hour.
Seamless — Super easy way to order food for delivery or takeout, and you can cash in on their Perks, too. Their very likeable motto: "Whatever you're in the mood for, wherever you're in the mood for it, you've got it." Can there be a life app like that?
UConnection — A college-student-only food and drink app with exclusive deals, daily specials, and more from local restaurants and bars.
UberEATS — So they don't have to stop studying to go pick up dinner. Another food and drink app, UberEATS brings the food directly to them.
Zupp (formerly Party Tutor) – My daughter uses this one often. Zupp touts itself for being just a tap away from the best events and experiences happening around campus. It's designed to facilitate access for college students to explore local specials and deals at nearby restaurants, apartments, bars, and local businesses.
For music, many students recommend Apple Music (offering a student discount), Spotify, and Pandora.
Money, Finances & Getting Around
CashApp —  Similar to Venmo, it's another mobile payment service to transfer money immediately. This app has a feature that gives $5 dollars to the person who invites a friend to use the app along with $5 dollars to the new user.
Mint — My son is a big fan of this one. We all know that managing money while in college can be a struggle. Mint is a budgeting app that helps students keep track of their finances, as well as help them understand where they can make some budget cuts of their own. This free money manager and financial tracker app are from the makers of TurboTax.
TransLoc – This app allows you to track RTS bus transit. It provides real-time transit tracking, arrival predictions, and proximity alerts, and can check bus times and routes.
Venmo – I am mentioning this because I think it is so easy to use, but your students probably have it already. TBH, my kids are the ones that introduced me to it! Venmo allows students to pay each other back for anything purchased on their behalf. That includes their share of the electric bill, half the groceries, half the Uber ride…and so on.
Come to think of it, your students should also have the Uber app (and an account) so they never get stuck walking home alone after dark. If they prefer, they can also use Lyft which works the same way as Uber. And make sure they know and practice the safety rules for using those apps: riding in a group, trip tracking and sharing, and "What's my name?" to note a few.
Rakuten (formerly known as Ebates) — If you like to online shop but hate spending any more money than necessary, then you may get hooked on this app. I use it more often on my laptop, but you can make an account to get cashback from so many online stores! I simply look up any store and it will give me a notification about if and how much cash I can get back. No exaggeration — I've received almost $1000 back over the last few years! Rakuten is also accepted by Amazon, so if students purchase any textbooks or school supplies on Amazon then this app is a highly recommended money saver. And when you need coffee — because don't we all?? — download Dunkin' or Starbucks to pay for your purchase and earn easy (and caffeinated!) rewards.
Target — The Target (Cartwheel) app has saved me so much money. I don't buy anything through the app, I simply click "cartwheel offers" and it shows me every coupon that is currently available. I can save as many coupons as I want to the app. When I am ready to go to the store and buy my products, I show them the app barcode and it takes all the coupons at once.
Wag — A Dog-Walking app, think "Uber" for Dog services. Its services are affordable and the walkers are all thoroughly vetted. Upon signing up, Wag will send you a free lockbox to safely leave your key for the walkers. Wag offers dog-walking, dog-sitting, and dog boarding.
Health, Wellness & Fitness
Headspace – Perhaps this should have been the first app I wrote about. I use this one too because everyone deserves a mental break. The aim of Headspace is to "make meditation accessible to everyone." It acts like a personal trainer for meditation, taking just ten minutes a day to guide your brain toward developing meditation muscle-memory and mindfulness. They offer a free ten-day trial before enrollment in a year plan. If nothing else, the app is a daily reminder that for ten minutes a day, we all should calm down, breathe, and separate from our stresses and surroundings, while also trying to focus on a deeper level of feeling. (Note: My expansive "we" includes parents here, too, because wouldn't the world would be a better, calmer place if we all did this?)
MyFitnessPal — Track your diet and exercise with this app to determine optimal caloric intake and nutrients needed to achieve your fitness goals. Calorie charts, nutrition facts, exercises, and more are included, and the app uses gamification to motivate the user.
Pillow — Here's a free app that tracks your sleep. It works as an alarm clock and also gives you an analysis of your sleep. It can be used with Apple Watch as well as iPhone. Could this be the way to have our students start keeping themselves accountable for how much they sleep? Just pipe dreaming here, I'd wager…
Calm — Another great source for sleep and meditation. This app also includes music and nature scenes to aid in focus and relaxation, as well.
Sworkit — Wow! Personalized video workouts that are easy for students to do in their dorm or apartment. They'll have the ability to choose from pre-built workouts for specific types of exercise such as strength training, yoga, and Pilates. Sworkit offers a helpful FAQs page to get the most out of the the app and students can keep track of their progress as they go.
Wholesome —  Students can use this app to find ratings for healthy recipes they can cook on their own (depending on their living situation). App users can also obtain personalized nutrition information to help identify nutrition gaps and make suggestions for better food choices. This is a perfect app for students who are working to stay healthy and eat the right foods while away at college (and a great boon for the mother who would like to resign from talking about this till she's blue in the face).
FindMyHeadphones — This app is AWESOME. It can find any BlueTooth device. My daughter's roommate has linked it to her airpods, computer, iPad, and just about anything that is Bluetooth. It is truly a great app to have if you easily misplace things. (I'll have to ask if she's linked it to her car…)
It's a wonder we ever made it through school without some of these. There are even more: fitness apps, language translators, and so on, but at the risk of overwhelming you (scroll back to Headspace if I have), I tried to keep this list pared to my favorites.
Pass on these great tips, tell your friends and like us on Facebook, Instagram, Twitter, and Pinterest. Find out more about how to use HaveUHeard as a great resource. Sign up for other great tips at haveuheard.com.