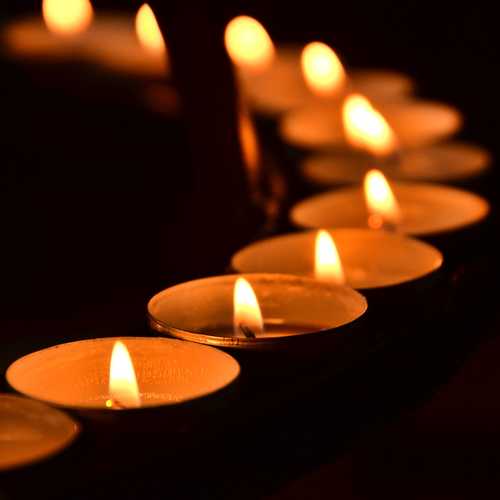 Continuing Traditions of Worship
For all students, being able to continue to worship, pray and adhere to their religious beliefs is extremely important for several reasons. The most important thing is for them to be able to follow their faith. But having a place to worship on or near campus allows them to meet other students and have a Rabbi, Minister, Bishop or Priest to turn to should they need spiritual guidance. UF is a very diverse campus. At or around UF, there are places to worship, regardless of your students' faith.
A month after my daughter started college, the first of the most important Jewish holidays were coming up (think the equivalent of Good Friday and Easter Sunday).  We had always gone to services together and had huge family dinners with the entire extended family. Since the holiday fell on a weekday, she was unable to come home. So, she did what many other Jewish students did; she went to services at the Hillel Student Center. To keep the family traditions of worship there are many religious and spiritual organizations at UF.
Here is a list of those organizations:
Baptist
Anthem Church –  located at 2902 SW 75 Street in Gainesville,  this nondenominational has a group specifically made up of college students.
Catholic
First Church of the Nazarene – Located at 5020 NW 23 Avenue in Gainesville, this is a mission-oriented congregation.
Catholic Student Fellowship at UF- located at 1738 W. University Avenue.  Offering Mass, Student Events, Retreats, Mission Trips.
Greenhouse Church – Meet at University Auditorium next to Century Bell Tower.  Sunday Night live worship. Locations also in NW Gainesville, SW Gainesville, East Gainesville.
Gator Christian Life – Glen Springs Church – Worship service held on the UF campus every Sunday at 11 am. Have many worship and prayer events as well as social events.
Christian
Campus Church of Christ – located at 2720 NW 2nd Avenue, Sunday morning services and they offer bible studies at the University of Florida.
Episcopal
Episcopal Church of the Incarnation – 1522 W. University Avenue across from Library West.  Services are held twice a week on Wednesdays and Sundays at 5:30 p.m.
Holy Trinity Episcopal Church – 100 NE First Street. Weekly worship on Sundays and Healing services held on Wednesdays
Jehovah's Witness
There are several places of worship Jehovah followers can attend in Gainesville scattered throughout Gainesville, some a distance from the UF campus. The closest one to the UF campus is 3780 NW 16th Boulevard For additional information, search here.
Jewish
Hillel: A non-profit  50©(3) organization catering to Jewish students. They run Shabbat services at 6:30 pm followed by a free dinner. They hold services during the High Holidays, Passover, and other Jewish holidays.
Chabad –Lubavitch – located on campus at the University of Florida, Chabad welcomes all Jewish students regardless of their background, observance or affiliation. Chabad runs services on Shabbat as well as all of the Jewish Holidays but students need to RSVP. They also have a Jewish Gator Semester Kosher Dining Meal Plan.
Campus  Krishna – A registered on-campus organization that practices meditation, spirituality, simple living and higher thinking. They are known for their $5 all-you-can-eat meals served at UF's Plaza of the American's 11 am – 1:30 pm everyday classes are in session.
Islam
For UF students that are Muslim, there is a student organization called Islam on Campus. There are several centers in town where Muslims can practice their faith.
Hoda Center – Located minutes from the University of Florida. Offering Friday prayers. 5220 SW 13th St., Gainsville, FL 32608
Islamic Center of Gainesville – 1010 W. University Ave. They do have a facebook page with information on their programs and events.
Lutheran
First Lutheran Church Located blocks away from the University of Florida, the church has Sunday worships, an opportunity to join the choir, special events. They also have a Lutheran Student Fellowship in which college students can come every Sunday during the academic year for College Lunch and Tuesday evening bible study.
University Lutheran Church and Campus Ministry – located at 1826 W. University Avenue directly across from campus.
Methodist
Trinity United Methodist Church – With a special group for college students, the group meets Wednesday evenings and also has midweek social activities. Sunday and Wednesday worships are held in their chapel located at 4000 NW 53 Avenue, Gainesville.
Mormon
The Church of Jesus Christ of Latter-Day Saints –  There are three locations in Gainesville, 1220 SW 5th Avenue, 3745 NW 16th Blvd. and 10600 SW 24th Avenue.
Presbyterian
Westminster Presbyterian Church  – located at 1521 NW 34th Street. They do have a college ministry that serves undergraduate and graduate students from UF with weekly Bible study.
First Presbyterian Church of Gainesville – located at 300 SW Second Avenue. They have a college ministry for undergraduate and graduate students and College Café which offers a free home-cooked meal each Sunday from September to May following their 10:55 a.m. worship students as well as meetings for Bible study, discussion, and fellowship.
Pass on these great tips, tell your friends and like us on Facebook, Instagram,  Twitter, and Pinterest. Sign up for other great tips at haveuheard.com. Are you new to HaveUHeard? Here is how to best use the site.