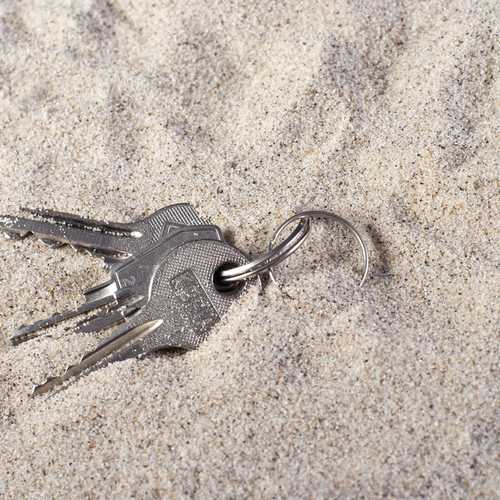 OH NO…It Happened! It's Lost.
We have all had the misfortune of losing something really important. My daughter's roommate was doing study abroad in London. She had the unfortunate luck of losing her wallet on a train, which of course contained all of her vital ID's, money and other valuable keepsakes. Thankfully her passport was back at her flat which would have been a huge hassle to fix while away from home. She tracked her credit and debit cards and eventually canceled them. Luckily, her bank had locations in London and she was able to obtain temporary cards while still abroad.
Losing It…
My other daughter loses more sweatshirts and calculators than any other student I know! Conduct a search on the student UM page, and you will see daily posts for lost keys, wallets, cell phones, ID's and so forth. And, while clearly my kids are not the only ones who lost valuables, or had them stolen, it does happen.
Ironically, my daughter won The Tile at a family holiday grab bag event.  The Tile is a small lost and found a device that you attach to the things you don't want to lose, be it a computer, bike, keys, luggage, wallets- even pets (attach to their collar). Unfortunately, she chose not to use it while abroad. During the tumultuous week, while continually trying to calm her down via text and calls, I received an email from the Tile Team with the subject line "We know how to help you find your wallet." The coincidental timing was funny to me, however, my daughter, who has a great sense of humor, responded: "too soon." Had she had The Tile in her wallet, I would never have had her go on her own to find it but perhaps she could have enlisted the help of the local police.
Lost Phones
For lost phones, they have a Find My Phone or Device Manager to access, provided their phone is not turned off. Whether you have a student studying abroad or on campus, perhaps a gift of a tracking device will alleviate the frustration, anger, and tears should they lose something valuable.
For Lost and Found items at the Coral Gables Campus please contact (305) 284-6666.
For items, your student may have misplaced or forgotten in a UM library click here.
Pass on these great tips, tell your friends and like us on Facebook, Instagram,  Twitter, and Pinterest. Sign up for other great tips at haveuheard.com. Are you new to HaveUHeard? Here is how to best use the site.