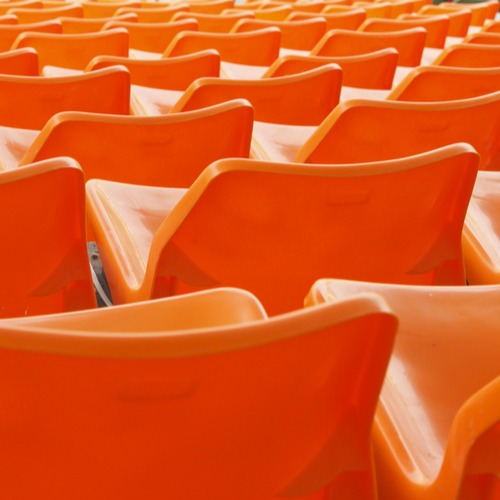 Everything you'll need to know about UM football and sports!
Way back, when your student was deciding on where to go to college, attending Miami Hurricane sports probably came into play. It's just what we do. And it's fun…even if you don't know what's really happening on the court/field. (Who me?) The important part is to know when to cheer when to Throw up the U (Throwing up the U is taught at orientation and if you missed that class, it's pretty easy to catch on, but I will describe later) and when it's a good time to run out and get a drink (I mean water. It gets extremely hot on some game days.) The key is learning where to sit in the stadium based on time of game and shade.
Student Sports Tickets
Did U know…UM, students get into all Hurricane athletic events, including football with their paid student activity fee. Football, basketball, and baseball are most popular, but tickets are available to view golf, volleyball, swimming & diving, tennis, and track & field too. All they need to do is enter through the student entrance and present their current Cane Card.
UM competes as a member of the National Collegiate Athletic Association (NCAA) Division I level primarily competing in the Atlantic Coast Conference (ACC) for all sports and has 16 participating sports teams. The Hurricane's athletic department fields 16 teams. They have collectively won 21 team national championships, as well as numerous individual national and conference titles. The Hurricanes football team has won five national championships and The Hurricanes baseball team has won four national championships.
The Hurricanes play at Hard Rock Stadium. The official seating capacity is 65,326. Hard Rock Stadium recently underwent a 2-year major renovation in preparation for the Super Bowl LIV in 2020 including an open-air canopy that covers most of the seats to protect you from sun and rain, 4 massive jumbotrons in each corner so you never miss a play, upgraded food vendors, and upgraded seats.
Alumni
With a large and loyal alumni base and strong student support, the excitement of game days builds rapidly depending on the start time. There are RV areas in the stadium parking lot, with alumni starting to tailgate hours before each game, fraternity houses hosting parties and many locals competing for best tailgate displays. The most outstanding tradition in Hurricanes football then occurs when Sebastian the Ibis exits the tunnel, runs through the smoke onto the field and The Band of the Hour plays the "Hail to the Spirit of Miami U," which you will learn in no time. Probably most important, is to practice "Throwing up the U".  Put your hands together with your thumbs out touching to form a U.
Non-Student Tickets
Non-students may not use student tickets as entry does require showing your student ID. You can purchase tickets on the official Hurricane Sports website providing the game is not sold out. A secondary source is through StubHub. Depending on the game, tickets can get pretty costly. Try to map out which games are of interest to you now; the earlier you purchase tickets, the easier it can be.
Beware: There are many scalpers roaming around the stadium prior to the game, but oftentimes they are asking not only for a large markup on the face value of the ticket but you never know if it is a legitimate ticket. If you choose to take that chance, it is recommended you know the full layout of the stadium beforehand.
***MUST READ***
Because the Miami Hurricanes play in a professional NFL stadium, all fans are required to follow stadium rules when it comes to bringing bags, purses etc. in the stadium. Any guest not following these guidelines will be asked to return those items to their vehicle before entering the stadium.
Below are the NFL approved bags fans may carry into the stadium:
•One bag that is clear plastic, vinyl or PVC and does not exceed 12" by 6" and 12" or a one-gallon clear plastic freezer bag (Ziploc bag or similar).
•In addition to one of the clear bags noted above, fans may also carry in a small clutch bag or purse approximately the size of a hand, with or without a handle or strap.
•An exception will be made for medically necessary items after proper inspection at Gate E designated for this purpose.
•Diapers and wipes can be carried in a clear bag. Each member of a family, including children, will be able to carry an approved clear bag and a clutch purse, providing ample storage capacity.
Go here to read the full NFL policy.
Hurricane Graduates – We Haven't Forgotten You
Many of our students graduate and are now lifelong Canes fans, but can't get back to Miami for the games. Good news: There are many bars dedicated to alumni throughout the country; and not just in Florida!
Pass on these great tips, tell your friends and like us on Facebook, Instagram,  Twitter, and Pinterest. Sign up for other great tips at haveuheard.com. Are you new to HaveUHeard? Here is how to best use the site.