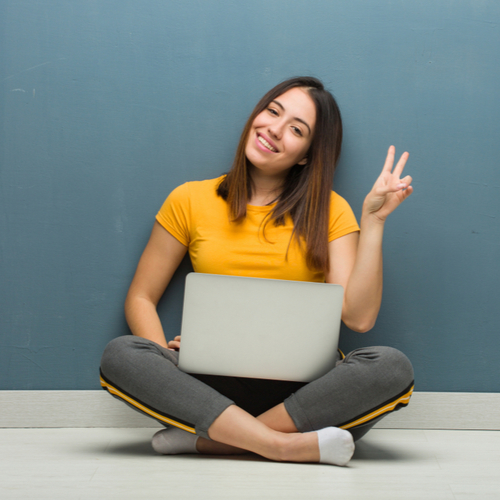 Scholarships Can Be a Huge Help
Once your student makes the official decision of attending UMD in the Fall, the idea of actually paying tuition looms. Hopefully, you have prepared in some way but fear not, finding scholarships can help with the cost of college.
Every year, I hear stories about thousands of dollars in scholarship money that are never applied for.  It does take a lot of work and time to research scholarships, apply for them, and to validate the authenticity of them.  But that work can pay off at a reduced cost. Some are quite competitive, some last for four years, and some are downright silly, but pay for something.  Some scholarships require essays and believe it or not, those are the ones most avoided; therefore, have the least amount of people applying. Don't steer away from these; seek help with the essay instead. It is also recommended to apply for any scholarships as early as possible and be sure to have your FAFSA form completed beforehand.
UMD Scholarships
UMD awards merit-based scholarships to many incoming freshmen. Students are automatically considered for an academic scholarship when they apply for admission to UMD by November 1, the early action deadline. UMD offers three scholarships for freshman: Banneker/Key Scholarship, President's Scholarship, and Dean's Scholarship. Students can receive one merit scholarship and must meet certain standards each year to maintain their scholarship. Merit-scholarships are based on academic and applicant information at the time of applying.
Banneker-Key Scholarship: This is the most prestigious merit scholarship offered to incoming freshmen at UMD. It can cover up to the full cost of tuition, mandatory fees, room and board, a book allowance, and includes admission to the Honors College. The scholarship looks for potential academic leaders, who as individuals and as a group, will enrich and benefit from the campus learning environment. If you are selected as a semifinalist for the scholarship, you are then invited to interview in late February or early March as part of the final selection process.
President's Scholarship: This scholarship provides four-year awards ranging from $2,000- $12,500 per year. This scholarship can be awarded to booth in-state and out of state applicants.
Dean's Scholarship: This scholarship offers annual merit awards that range from $1,500 for freshman year or $4,500 per year for both freshman and sophomore year. This scholarship is not renewable, and only in-state applicants are eligible.
The University of Maryland also has a National Scholarship Office (NSO). This office helps students search for awards that fit their goals and status as a student. National scholarships are highly competitive, prestigious awards. They have opportunities sorted by class year, goal, graduate students, international students, and minority and diversity. These scholarships are often awarded to students with strong interests and goals who take advantage of every constructive opportunity that will help them reach their objectives. If you would like further assistance with these scholarships, students can make appointments with NSO staff through emailing scholarships@umd.edu.
Within the university, there are specific college scholarships:
Note: If your student receives monies from a private scholarship in a check made out to them, they need to alert the university by bringing it to the Lee Building so it can be credited to your student's account. Make sure to include their UID on the check. They can also mail their private scholarship checks to the address below:
University of Maryland
Office of Student Financial Services and Cashiering – Outside Scholarships
1109 Lee Building
7809 Regents Dr.
College Park, MD 20742
Here Are the Tell-Tale Signs a Scam
Guarantee of a Scholarship – No company or organization can guarantee the receipt of a scholarship, especially before an application is submitted.
Advanced Fees – There is no reason to pay upfront for a scholarship search since there are a number of free resources online.
Financial Information – Bank account or credit card information is not required by legitimate scholarship grantors.
High-Pressure Sales Tactics – No matter how much the promoter claims you can receive, don't give in to pressure to sign up for any product or service immediately. Ask for written information and then research the company and the product before committing to any contract or payment.
Dodging the Question – If you receive vague or evasive answers to your questions, this is a big red flag. Walk away.
We have found Goingmerry.com as a reliable scholarship resource website.
Consider creating a separate email address just to be used for scholarships. Some scholarship websites sell your email information to third party companies. This will allow you to keep your personal email address and your .edu email address private.
If your students are lucky enough to land a scholarship (or a few), it is highly recommended that they write a thank you note to the donor.
Pass on these great tips, tell your friends and like us on Facebook, Instagram, Twitter, and Pinterest. Find out more about how to use HaveUHeard as a great resource. Sign up for other great tips at haveuheard.com.