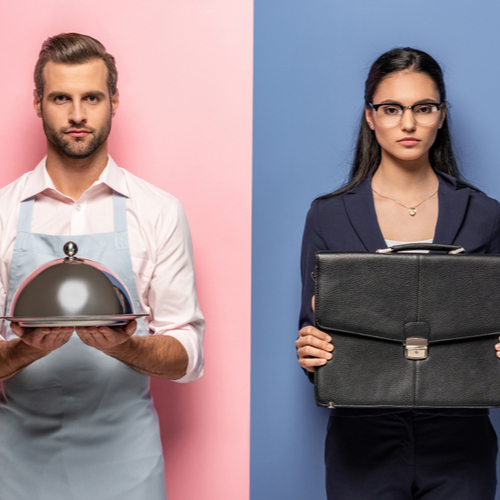 How To Align Your Studies With Your Future Career Plans
As a freshman in college, being asked to decide your major and think about your eventual career can be daunting and overwhelming. Lots of students feel unsure of what major to pick and what kind of job they can see themselves doing. Major decisions are difficult and switches are often made.
I myself started college as an undecided freshman and spent my first two semesters meeting with advisors, researching majors and course requirements, and of course, researching different careers and what kind of knowledge and degrees are required for those careers. However, it's still hard to know where your future will be when you as a student have no real experience in a career field of say, finance, biology, or entertainment management.
If you're looking for more guidance, the school has many events including fairs, guest speakers, and discussions designed to broaden students' horizons, peak their interests, and in general just provide students with a look at accomplished professionals in their fields. While many majors will often have small career events or fairs, the Osprey Career Fair is by far the largest and the most important on campus.
The Osprey Career Fair occurs biannually, with the first being in the Fall semester, and the second in spring. This year's Fall Career Fairs will be virtual on Tuesday, October 6th from 3:00pm-6:00pm.  Check our calendar for dates. The fair attracts over 80 companies from many different industries, so the fair is beneficial not only to all different majors, but also to those who have yet to decide on a major and are searching for some direction, information, or simply something that seems interesting to them. The fair is also open to alumni, as well as students who are interested in internships or jobs, and offers networking with employers and companies from Jacksonville, Florida as a whole, and the Southeastern United States.
The career fair can really be a life-changing event for many students. Going can not only provide you with information on jobs that you already have an interest but can also expose you to career opportunities you had no idea existed. Furthermore, being able to speak to members of your field of interest, ask questions about potential careers, and receive information and make connections for future jobs and internships are all priceless moments that most students would otherwise never have access to. To stay up to date on what employers are going to be attending, students should log into Handshake, UNF's student career portal, located under Student Tools in MyWings.
When attending a career fair, it is important to remember that the people you are meeting are accomplished, professional, and possible future employers. You should dress to impress, in business or business casual attire. Button downs, business pants or a skirt for girls, is a great way to look clean and professional, showing the business at the fair that you're serious about your future and about working with them. A great place to look for some professional clothes is Nordstrom Rack in Town Center! Nordstrom Rack offers all the great brands of Nordstrom but at discounted prices as the stores clean their shelves. Jacksonville is also full of giant thrift stores, including two large Goodwills on Beach Blvd and Southside Blvd, respectively, and a Salvation Army. Read our blog on Dressing for Success. Remember, many stores offer student discounts so make sure to bring along your student ID.
UNF has Ozzie's Closet, (Ozzie's closet is temporarily closed)located in Alumni Hall. This initiative provides free professional attire to students participating in job interviews, career fairs, and entering the workforce. They also accept donations of ready-to-wear suits, dresses, skirts, pants, ties, belts, and other apparel that is appropriate for the workplace and for interviewing.
Another tip to prepare yourself is to check out the employers that will be going, and see if any interest you right off the bat! That way, you will know who you want to speak to and learn more about while you are there. Write down any questions you may have, either general or specific, for certain companies. Having things to say and asking questions is a great sign to the employers at the fair, as it shows you're truly interested, proactive, and are seriously motivated about learning and furthering your career.
 HaveUHeard that LinkedIn has a version specifically designed for students looking for their first jobs? The LinkedIn Students app is free, and lets you research jobs, view companies where alumni from your school work, and connect with more people. You can create an account and get started right away without spending a dime.
Sarah Toth, UNF Intern
Pass on these great tips, tell your friends and like us on Facebook, Instagram, Twitter, and Pinterest. Find out more about how to use HaveUHeard as a great resource. Sign up for other great tips at haveuheard.com.