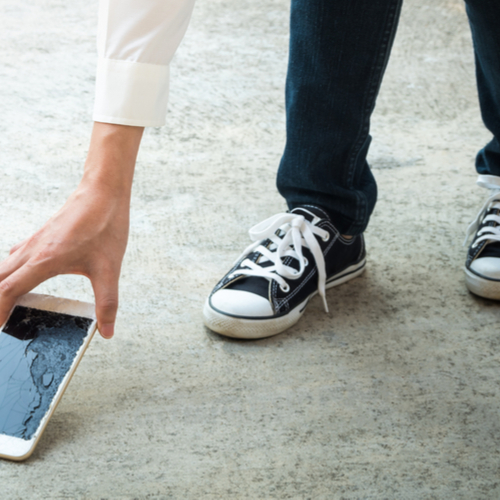 When Disaster Strikes, repair it!
Ugh, nothing is more annoying than when your cell phone stops working or when your computer suddenly shuts down. For students, this minor catastrophe turns into a major problem. I do however highly recommend a backup system. I presently use Mozy for myself and my students' computers. It simply backs up their computer daily (or however they deem necessary) so if they ever run into a jam, they don't have to panic that all their work has been lost. As for the phone, encourage them to plug it into their computer (or some use iCloud) once in a while to be sure all their contacts and photos are backed-up.
I also highly recommend a good phone case. They can find some fun cases on Casetify so perhaps they won't complain as much about having a case on their phone.  Casetify even offers a 15% student discount with a verified student status registration or link through for other special offers.
Luckily there are repair places on and near UNF including an Apple store.
The ITS Help Desk is located on the 1st floor of the Thomas G. Carpenter Library and provides a number of services for UNF students. While they do not repair hardware, the Help Desk will help fix all other aspects of your students computer, laptop, tablet, or phone. They will install software, and in most cases teach them how to use various programs.
Located in St. John's Town Center, the Apple store is open Monday – Saturday from 10-9 and Sunday from 11-6.  The Apple store only repairs Apple products and with most Apple stores, having an appointment is best.
With two locations, CPR is a local shop for smartphones & other small electronics, plus refurbished phones for sale & trade. They repair iPhones, smartphones, iPads, tablets, Mac's and laptops.  Two locations – 3267 Hodges Blvd Suite 5, Jacksonville and – 7035 Philips Hwy #9, Jacksonville.  Both locations are about the same distance from UNF. They recommend scheduling an appointment.
Geek Squad in Jacksonville is located in Best Buy.  The closest Best Buy is 4906 Town Center Pkwy which is in the St. John's Town Center shops.  Geek Squad repairs any electronic devices including phones, screens, laptops and more.  Your student can bring in their device without an appointment and most times will have to return at a later time or day to pick it up.
LifeLine Repairs, located at 4131 Southside Blvd, Unit 103 Jacksonville, is a full-service repair shop for phones, electronics, and computers. You can schedule an appointment, mail in your device, or just walk right.  Repairs are typically done the same day.
Locally owned and operated, The iPhone 911 store fixes all Apple products.  Repairs come with a 90-day warranty. The iPhone 911 also sells Apple products.  Located very close to campus at 11757 Beach Blvd, Jacksonville.
Conveniently located off of Southside at 9823 Tapestry Park Circle, Unit 3, uBreak can assist with any electronic repairs.  From smartphones and tablets to laptops and gaming consoles, most repairs are completed the same day. They offer a price match guarantee and a 90 days nationwide warranty.
None of the locations above listed anything about a student discount, but it can never hurt to ask.
Pass on these great tips, tell your friends and like us on Facebook,  Instagram,  Twitter, and Pinterest. Sign up for other great tips at haveuheard.com. New to HUH, here is how to use the site.